Workday
has agreed to acquire
Adaptive Insights
in a deal valued at $1.55 billion. The offer, which includes the assumption of some $150 million in unvested equity issued to Adaptive Insights employees, represents a sizable premium for the company, which was on the cusp of its IPO later this week—a deal slated as the latest in a string of VC-backed public offerings that represent
a return to form for the public markets this year
.
Founded in 2003, Adaptive Insights, a developer of cloud-based financial management software, had pegged the price range for its IPO of some 8.2 million shares at between $13 and $15 apiece. A midpoint pricing would have raised $114.8 million at an estimated valuation of about $627.3 million and would have given the company a fully diluted market value of some $705 million. That's a far cry from Workday's appraisal, representing roughly 2.2x their anticipated post-IPO market cap.
Workday's deal is reminiscent of networking giant
Cisco's move in early 2017 on AppDynamics
, which was scooped up in a $3.7 billion deal on the eve of its IPO.
ONSET, Norwest win big
The deal represents a massive win for
ONSET Ventures
, a firm that had backed Adaptive Insights since the beginning. The investor held a 17.9% stake, with the exit earning it some $277.5 million. Likewise, longtime backer
Norwest Venture Partners
, which held a 16.5% stake in the company, should grab $255.8 million. Not to be left out,
Bessemer Venture Partners
will nab some $181.4 million from its 11.7% stake.
Adaptive Insights raised a total of just $173.4 million in equity from its investors. Here's a look at its funding rounds down the years: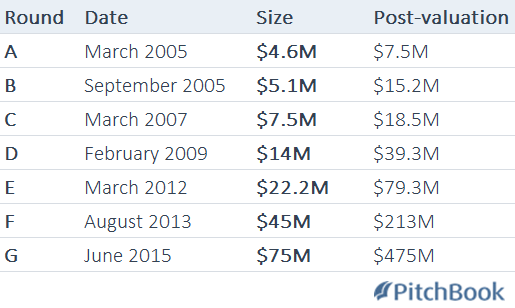 Work-a-day M&A
Upon completion, the acquisition of Adaptive Insights would become Workday's
11th to close since the start of 2007
, according to the PitchBook Platform, as well as its priciest over that period, by a comfortable margin. In 2016, the company picked up data-management software maker
Platfora
in a $200 million deal.
This transaction is one of an increasing number in the sector. Global
M&A activity in the HR tech space
has steadily picked up since the start of 2007, again per PitchBook data, comprising some 348 completed deals. This year has notched 17 completed transactions to date following last year's total of 44 deals, which fell just short of 2014's record-setting 45 acquisitions for the period.
Workday's deal for Adaptive Insights is also interesting to consider in the context of a robust employment picture, with the US economy enjoying, on the one hand, its lowest unemployment rate since 2000, and on the other, the first hints at wage growth after a sustained period of stagnation.
With the purchase, Workday, itself an enterprise cloud applications provider for finance and human resources teams, gains a suite of business planning products to provide customers advanced modeling capabilities, and those tools can operate as an alternative to spreadsheet-based planning and modeling. In this way, the deal furthers Workday's ongoing effort to satisfy the demands of its enterprise clients as organizations leverage central planning, especially around the core general ledger, to drive corporate decisions.
Adaptive Insights has enjoyed some sizable YoY growth in total revenue. For its fiscal years ended January 31 of 2016, 2017 and 2018, revenues were $61.7 million, $81.8 million and $106.5 million, respectively, per an SEC filing. The company will continue to be led by CEO Tom Bogan.
Allen & Company served as financial advisor to Workday, while Fenwick & West was its legal advisor. Meanwhile, Morgan Stanley acted as financial advisor to Adaptive Insights, while Cooley was its legal advisor.
Not a subscriber to our daily M&A newsletter? Sign up today.