New trends within the VC landscape pop up all the time. Identifying those emerging spaces in their nascency—before your competitors key in—can be a challenge. By leveraging PitchBook's Emerging Spaces feature, you can quickly discover niche corners of the market within relevant sectors and identify promising investment trends based on the number of companies founded in a new space by year, total deals over time and year-over-year context for growth metrics.
What are emerging spaces?
Emerging spaces
is a unique segment classifier developed by PitchBook analysts to describe nascent but growing (and promising!) areas that could someday become full-fledged industry verticals. From 3D printed buildings to waste-to-energy, we track more than 100 emerging spaces in the platform—and that number is ever-growing.
What is PitchBook's Emerging Spaces feature?
To surface trends and actionable insights across all of the emerging spaces we've identified, PitchBook launched its
Emerging Spaces platform feature
in 2019. Leveraging the feature, PitchBook customers can discover and track these niche spaces on the rise within the sectors most relevant to them. The offering promotes discovery and gives PitchBook users an advantage by providing meaningful context on accelerating market segments.
How to discover and track emerging spaces with PitchBook
With PitchBook's Emerging Spaces platform feature, our customers can stay on top of changes as emerging spaces shift and leverage the insights they glean to take action. To make the most of PitchBook's emerging spaces feature, log into your PitchBook account and follow the steps outlined below.
Accessing and navigating the Emerging Spaces feature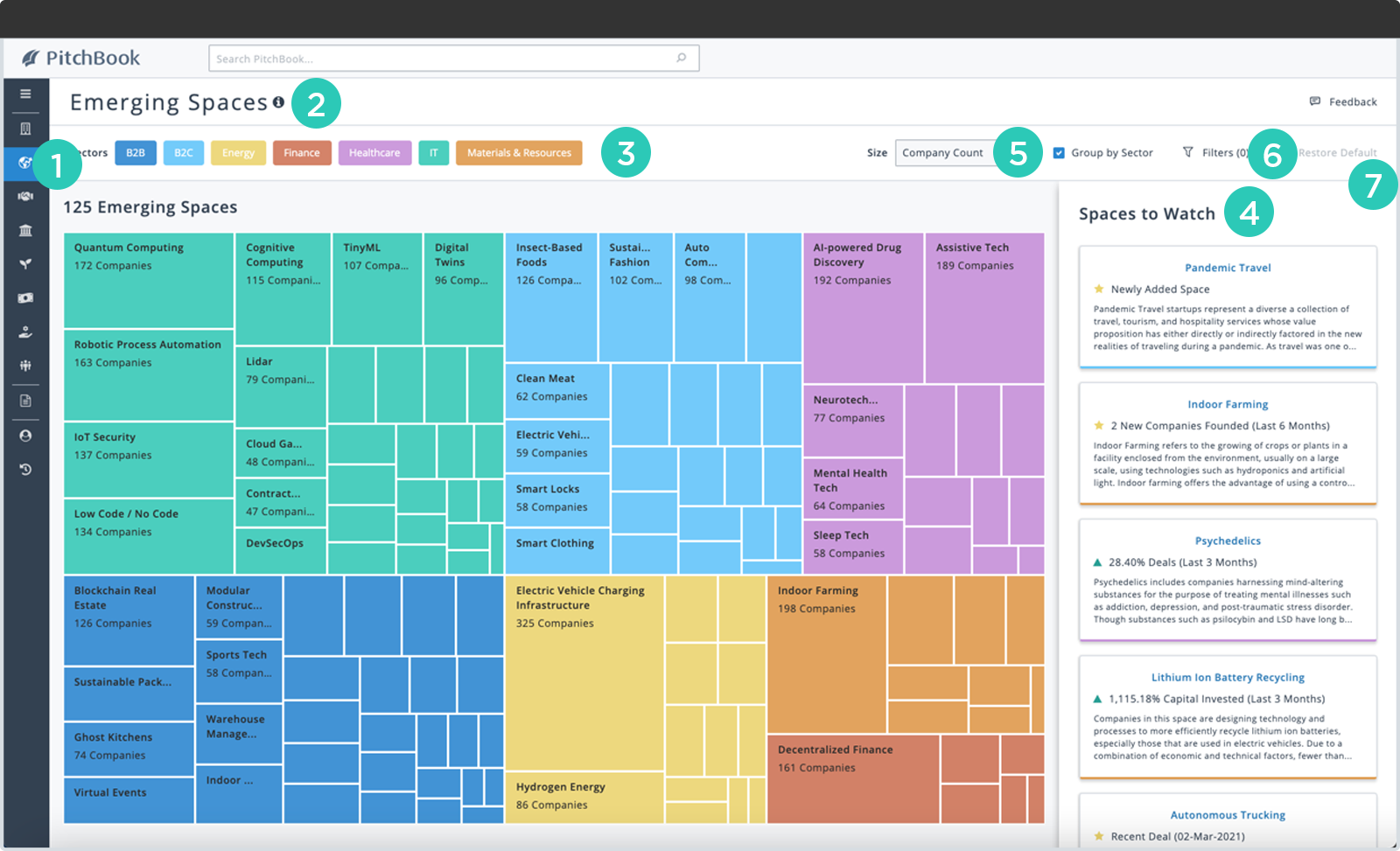 From the platform's home screen, click the Market Analysis icon on the left navigation sidebar and choose Emerging Spaces from the dropdown menu.
Now that you've accessed the Emerging Spaces feature, you'll see a colorful on-screen layout that's comprised of boxes and rectangles. Each color represents a different industry sector, and by default, all industry sectors are visible on this main screen.
Using the Sector buttons on the main navigation bar along the top of the feature, deselect any industry sectors you're less interested in exploring. As you deselect, the boxes and rectangles will reformat themselves and fewer colors will be represented.
With the most fitting industry sector(s) selected, explore the Spaces to Watch section on the right side of the feature. Spaces to Watch gives a high-level look at recently added emerging spaces within your target sectors, as well as spaces where new companies are being founded, an increase in deals has occurred in recent months and more.
Next, choose what metrics the emerging spaces are organized by using the Size dropdown option along the top. Sort the spaces by company count, deal count or capital invested.
Add additional criteria to your search with the Filters dropdown, including backing status, year founded, location, deal type or current deal status. Select Group by Sector on the main navigation bar to see which verticals each emerging space overlaps with.
Click Restore Default to reset to the feature's default search settings.
Dig deeper into the emerging spaces that interest you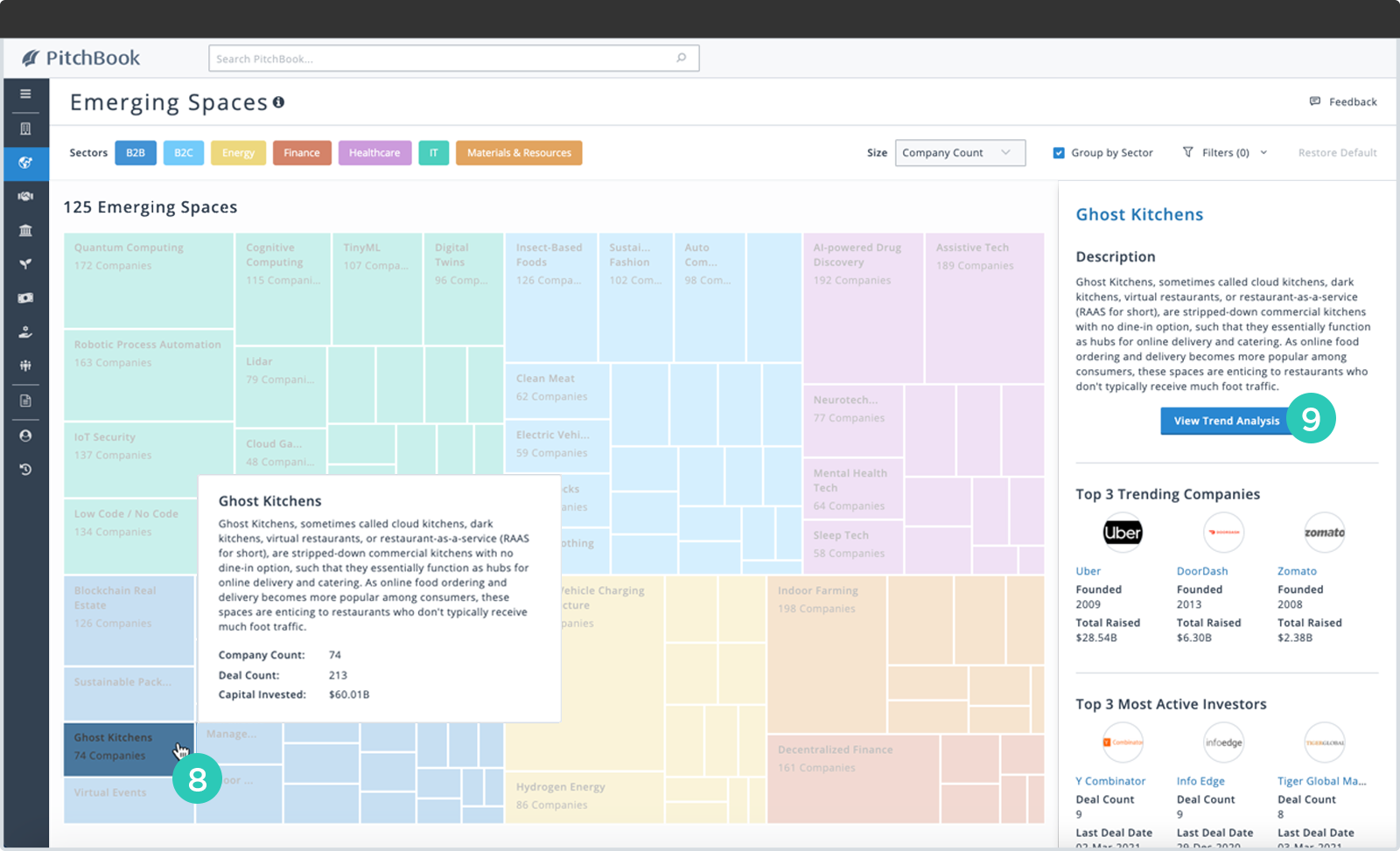 At any point, hover your mouse over an emerging space to see a short description of that space, as well as its current company count, deal count and amount invested.
Click on an emerging space to quickly see its top trending companies, most active investors and most recent deal. Use the View Trend Analysis section along the right to dive deep into an emerging space's most granular details.
Emerging spaces FAQ
What methodology does PitchBook use to define an emerging space?
PitchBook defines emerging spaces using a
set of criteria developed by our analyst team
. To be designated as an emerging space and added to the platform feature accordingly, each space must represent:
Impressive innovation
Rising awareness and popularity
Accelerated growth
Not be established enough (yet) to be considered an industry vertical
What emerging spaces does PitchBook track?
When the features launched in late 2019, PitchBook tracked roughly 70 emerging spaces. Since then, the number has expanded by nearly 50% to 125. To see a
running list of all our emerging spaces
—from desalination tech to smart mirrors—check out our blog post.
Take a closer look at some of PitchBook's emerging spaces:
How are emerging spaces different than emerging technologies?
Although emerging technologies and emerging spaces sound similar, they are not interchangeable.
Emerging technologies
is a term used widely across the industry, while emerging spaces are a unique concept that originated at PitchBook.
Emerging technologies are used to provide research coverage of a broad industry that may include several types of products or technologies offered by startups that share similar characteristics. Emerging spaces consist of very specific products or technologies that may only represent a small segment or opportunity within a larger vertical.
Using PitchBook for
private market intel
, including our Emerging Spaces feature, you can be confident your next move is the right move. Download our
Private Market Intelligence Guide
today.