Big Things
9 big things: SoftBank-backed layoffs are everywhere
January 12, 2020
It was less than two months ago that Recode reported Zume was on the brink of raising new capital at
a potential $4 billion valuation
, despite the fact the startup and its original plan for pizza-making robots had become "an easy shorthand for tech insiders looking to portray an industry untethered from reality." One of the investors expected to fund the round was SoftBank, which had funneled $375 million to Zume the year prior.
But it's now a different, sadder story. Reports emerged this week that Zume is laying off 360 workers, comprising about half its staff, as well as shutting down the pizza-making business that made the company a minor sensation in the first place. And it wasn't the only instance of a SoftBank-backed business having to pare back its workforce in the past week. Far from it, in fact.
After SoftBank reshaped the VC world in recent years with its $100 billion Vision Fund, the Japanese giant's portfolio is in turmoil. And that's one of nine things you need to know from the past week: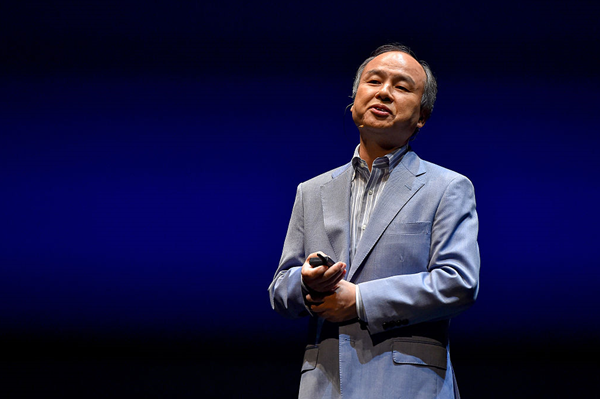 1. SoftBank's new severity
News of Zume's layoffs first surfaced Monday. On Tuesday, The Information reported that Getaround, a car-sharing startup that raised $300 million in a SoftBank-led round during 2018, is planning to lay off 150 people, about a quarter of its employees. Thursday brought news that Rappi, a Latin American delivery startup that SoftBank invested $1 billion in last year, was laying off 6% of its staff. And Friday, Bloomberg reported that SoftBank-backed hotel operator Oyo had laid off some 1,800 people across India and China, with plans for more than 1,000 additional cuts in the coming months.
Rappi told media that SoftBank played no role in the decision to conduct layoffs, and it's uncertain to what degree (if any) the Japanese investor influenced any of the other job cuts. But either way, they're part of an inauspicious trend: More than 10% of the companies in SoftBank's Vision Fund portfolio have recently laid off workers, according to various company announcements and media reports.
Layoffs aren't the only sign that things are changing at SoftBank. Axios
reported this week
that the firm has pulled out of multiple nine-figure term sheets in recent months after stringing startups along with promises that cash was just around the corner. One potential reason, per Axios, is that SoftBank's attempts to raise another $100 billion for a second Vision Fund aren't going as smoothly as founder Masayoshi Son had hoped.
It's all part of a new reality in Silicon Valley and beyond. Being profitable is more important than it used to be. I wrote in more length about the trend
earlier this month
. After years of investing as if growth at all costs were the platonic startup ideal, backers seem to have renewed their focus on making sure the companies they pump millions of dollars into will be generating at least a little cash of their own.
The downsizing has also reached well-funded companies that aren't backed by SoftBank. Mobility startup Lime, whose rapid rise to unicorn status was symbolic of the Valley's former obsession with growth,
announced plans this week
to lay off 100 people and cease operations in a dozen cities. But to talk about the causes for the new attitude is to return the conversation to SoftBank: The headline-grabbing collapse of WeWork, which is now controlled by SoftBank, presented investors with a new and horrifying worst-case scenario for unchecked growth gone awry.
This is probably a good time to note that even if all these layoffs were to presage complete collapses for the companies involved—which almost certainly won't be the case—it likely wouldn't be a problem of existential import for SoftBank.
The whole idea of venture capital is that most of your bets won't work out, but a select few will work out in a very big way. The Vision Fund is an attempt to inject that idea with anabolic steroids. The investments that don't work out will be bigger and messier. But the ones that do could make up the difference, and then some.
The most obvious example, and the one that may have sparked the idea for the Vision Fund in the first place, is Alibaba. SoftBank reportedly paid $20 million for its initial stake in the Chinese commerce colossus back in 2000. As of Nov. 6, SoftBank's Alibaba holding had an equity value of $123 billion. With a "b."
If I could tell you definitively which companies in the Vision Fund's current portfolio were most likely to generate those sorts of returns, well, I'd be in a different line of work. But one need only look to ByteDance (the owner of TikTok) to counter any idea that all of SoftBank's investments are in trouble.
Still: The recent spate of layoffs across SoftBank's portfolio isn't a good thing, to state the obvious, any more so than when it was SoftBank-backed names like Fair, Katerra and Opendoor cutting jobs in recent months. Together, it's a collection of ill news that might be unprecedented in VC.
The health of that portfolio in the coming year will be a measure of just how much things have changed. It could also go a long way toward determining whether SoftBank's plans for a second Vision Fund come to fruition.
2. Fundraising diversity
In the private market, the fundraising picture is a lot more complicated than it used to be. We've got private equity firms raising public equity vehicles: Bain Capital and TPG Capital are both in the process of doing so, according to Bloomberg, with Bain said to be seeking up to $7 billion. We've got tire companies raising VC vehicles, in the form of Goodyear Ventures, a new $100 million fund focused on mobility. And we've got best-selling memoirist J.D. Vance and his newly formed Narya Capital, which has raised $93 million toward a $125 million goal, according to an SEC filing. The new vehicle will focus on non-traditional VC geographies, according to Axios.
3. Active Insight
Few firms (if any) got off to a busier start in 2020 than Insight Partners, which this week was involved in a trio of billion-dollar deals spanning across PE and VC. First, Insight agreed to buy cybersecurity specialist Armis Security at a $1.1 billion valuation. Then, the New York-based firm inked an agreement to purchase data management company Veeam
in a $5 billion deal
. And finally, it led an investment of more than $100 million in Sisense, valuing the data analytics provider at upward of $1 billion.
4. Spilled milk
Borden Dairy filed for bankruptcy protection this week, becoming the second major milk producer to do so in the past two months. Borden, which is backed by private equity firm Acon Investments, hoped the move would allow it to reduce a $255.8 million debt load while remaining in operation; the company's creditors, though, had a very different idea. KKR's credit arm promptly objected to the move, describing it as an "economically irrational" attempt to negotiate a deal that will benefit Acon, according
to The Wall Street Journal
.
5. Unicorn roundup
ClassPass raised $285 million this week at a $1 billion valuation, becoming a rare fitness unicorn more than five years after raising its Series A. HighRadius, which makes financial software for enterprises, collected $125 million at a $1 billion-plus valuation. High-profile executives Meg Whitman and Jeffrey Katzenberg announced a fresh
$400 million in funding
for Quibi, their gamble on short-form video content. And reports emerged Friday that Chinese ecommerce specialist Little Red Book is seeking to raise $400 million of its own at a new $6 billion valuation.
6. Platinum status
Back in 2018,
I predicted
that Platinum Equity could be one of the next private equity firms to raise a $10 billion buyout fund for the first time. This week, the Los Angeles-based firm announced that it's done just that,
unveiling a $10 billion close
for its fifth flagship effort. That's almost as much capital as Platinum collected for its previous two funds combined.
7. IPO dreams
Casper Sleep filed on Friday for a long-awaited public offering, a little less than a year after the mattress startup raised $100 million in VC at a $1.09 billion valuation. The company's net loss of $92 million for 2018 means it will be another test of Wall Street's appetite for money-losing startups. Two other high-profile companies also had IPO visions dancing in their heads this week: Topgolf, which is reportedly seeking a $4 billion valuation with its debut, and Olo, a developer of food-ordering software that's eyeing a $1 billion valuation.
8. Animalia
Corvus Insurance (as in ravens and crows) banked $32 million in Series B funding for its AI-powered commercial insurance products. Komodo Health (as in the dragon) raised a $50 million Series C this week to keep building out its healthcare software. And sneaker unicorn Allbirds (as in … all birds) has raised $25 million toward a $75 million target for its Series D, according to an SEC filing.
9. Jeb!
Evolv Technology is a maker of innovative weapons-screening technology designed to keep guns out of public places without thousands of pat-downs. This week, the business announced $30 million in total funding from names like DCVC, General Catalyst, Bill Gates and Finback Investment Partners, the firm of Jeb Bush, the one-time frontrunner for the GOP's presidential nomination. One takeaway: Investing in tech to improve public health sounds great to me. Another: Jeb Bush has a firm? How did I miss this? A third takeaway, as always:
please clap
.