Scooters
Lime departs 12 cities, lays off 100 employees in a push for profits
January 9, 2020
View comment

(1)
Lime
is the latest tech upstart to embrace the industry's new calling: be profitable.
The electric scooter and bike-sharing company said that it is retreating from 12 cities worldwide and laying off 14% of its workforce, or 100 employees, as it seeks to cut costs.
"Financial independence is our goal for 2020, and we are confident that Lime will be the first next-generation mobility company to reach profitability," Lime CEO and co-founder Brad Bao said in a statement to PitchBook.
That sentiment reflects the new urgency felt by mobility startups that until recently put aggressive growth ahead of everything else. But in a post-
WeWork
world, startups like
DoorDash
,
Fair
and
Getaround
have entered cost-cutting mode.
Lime rivals
Bird
and
Lyft
have also reportedly looked to cut costs through layoffs in their micromobility operations over the past year.
"In many cases, the investors behind some of these companies are wanting to conserve capital, are wanting to show profitability sooner rather than later," said Horace Dediu, an analyst at Asymco, a mobile and micromobility industry research firm.
Just a few years ago, micromobility was all the rage in Silicon Valley. But venture capital funding for micromobility startups throughout the globe had fallen to around $2 billion, down from more than $5 billion in 2018, according to PitchBook data.
Lime raised $310 million at a $2.4 billion valuation in February 2019 from investors including
Bain Capital Ventures
,
Andreessen Horowitz
and
GV
. At the time, co-founder and then-CEO Toby Sun said the funds would allow it to expand into new markets. The company later followed through on those plans with a major expansion in Latin America.
The startup shook up its executive team last year, as Sun handed the reins to Bao, a fellow co-founder and former Tencent executive. Lime also named a new chief technology officer, chief marketing officer and president.
Lime has faced its share of challenges, from fears over batteries catching fire to legal battles with the cities in which it operates. The company's car-sharing effort, LimePod, reportedly shut down in September amid of wave of similar pullbacks in the nascent industry.
E-scooter breakeven analysis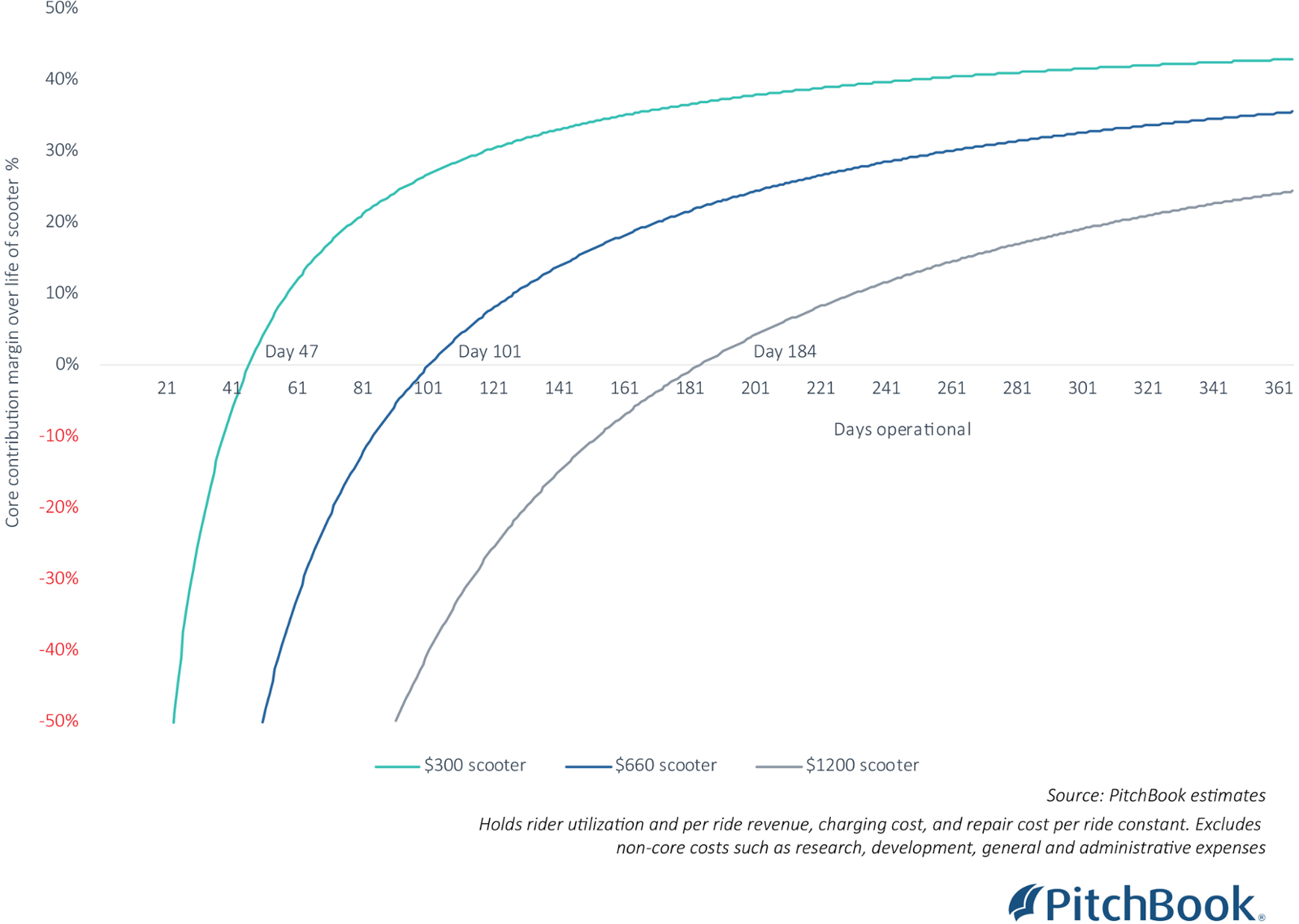 The economics of scooter-sharing, which depend on the cost and durability of scooter fleets, are daunting. A PitchBook analysis showed that scooters costing in the mid-$600 range would likely need an operational life of at least 100 days to break even.

Lime plans to shut down operations in Atlanta, Phoenix and San Antonio as well as seven cities in Latin America, including Bogota and Buenos Aires. Bao said Lime may re-enter the cities it is leaving "when the time is right."

Featured image via Sean Gallup/Getty Images News/Getty Images Europe