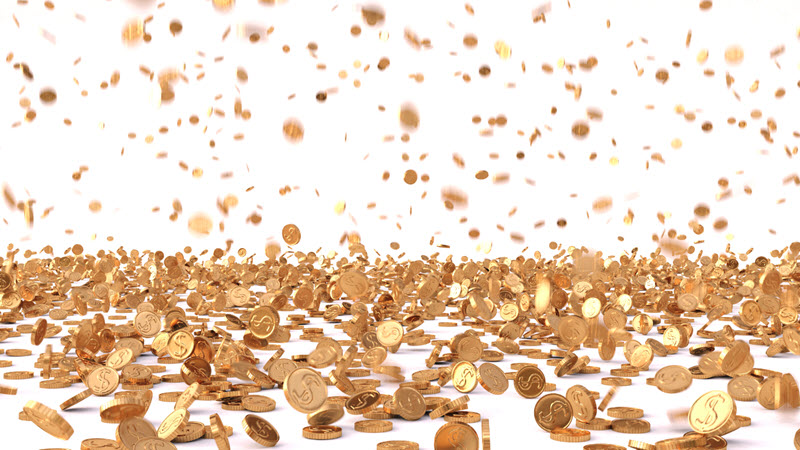 Check out Part I to meet the members of the $10 billion fund club and Part II for a recap of key trends
.
As we've detailed over the past several weeks, 11 different private equity firms in the US have raised a $10 billion fund since the start of 2009. Today, it's time to examine who the next members of the club might be.
We'll start with the firms already knocking on the door of $10 billion, then proceed to some of the buyout shops a little further away. Criteria considered include the size and date of the firm's latest funds and the industries in which it invests. With LP interest in software booming, investors in the tech space in particular seem well-poised for future fundraising.
Here are nine private equity firms that might be next to hit 11 figures:
ON THE BRINK
Bain Capital
Considering its name recognition and pedigree,
Bain Capital
is perhaps the most surprising omission from the current club. The Boston buyout shop closed its latest vehicle on $9.4 billion last year, following a $7.3 billion effort just three years prior. It's worth pointing out that Bain Capital has raised billions more in recent years across various other strategies aside from its main buyout series, including funds focused on Europe, Asia and impact investing: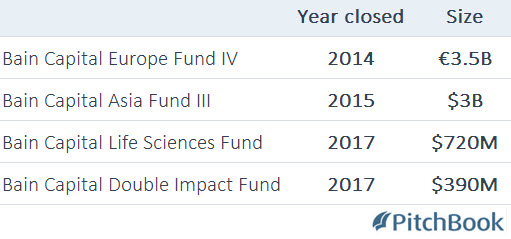 Leonard Green & Partners
The Los Angeles-based firm came oh-so-close to $10 billion with its latest effort, closing its seventh flagship fund on $9.6 billion in June 2016. That represented a step-up in size of more than 50% from its previous vehicle, which raised $6.25 billion in 2012, and continues a steady increase in fundraising capacity over the past 15 years. It seems likely that whenever
LGP
closes its next effort, it will be with at least $10 billion in commitments.
Thoma Bravo
Fund sizes have skyrocketed this decade at
Thoma Bravo
, increasing from just $1.25 billion for the firm's Fund X in 2011 all the way to $7.6 billion for its Fund XII, which held a final close in September 2016. One reason for that rise in LP increase is the firm's expertise in the white-hot software sector, as we detailed in a
recent Investor Spotlight
.
POSSIBILITIES
American Securities
If
American Securities
does join the $10 billion fund club, it probably won't be any time soon. Less than three months ago, the New York-based firm closed its seventh flagship fund
on a fitting $7 billion
, besting a $6 billion target. While its stated preference for relatively smaller deals—between $200 million and $600 million per investment—may not be an obvious sign of forthcoming mega-funds, the increase in size from a $5 billion predecessor is promising.
BDT Capital Partners
BDT Capital Partners
doesn't even have a website. But the firm, founded by
Goldman Sachs
alum Byron Trott, doesn't have any trouble collecting billions. It closed its second fund on $6.2 billion in 2016, per Private Equity International, more than doubling a debut that raised $3 billion in 2011. With all that cash, BDT pursues huge deals, including its participation in a recent
$21 billion add-on of Dr Pepper Snapple
.
Centerbridge Capital Partners
Most of the other firms on this list have raised vehicles in the past year or two, during an environment much more conducive to raising cash. But it's been four years since
Centerbridge
, which is led by alums of
Blackstone
and
Angelo, Gordon & Co.
, closed its latest fund on a reported $6 billion in 2014. Put that fundraising prowess to work when LPs have money to burn, and a $10 billion effort might be around the corner.
Platinum Equity
While the $6.5 billion vehicle
Platinum Equity
closed in March 2017 is far from $10 billion, the increase in size from a $3.75 billion predecessor indicates that the Los Angeles firm could still have plenty more runway. And considering Platinum has raised only four flagship funds in its founding—far fewer than some of the other names on this list—the firm also seems to have plenty of time to grow: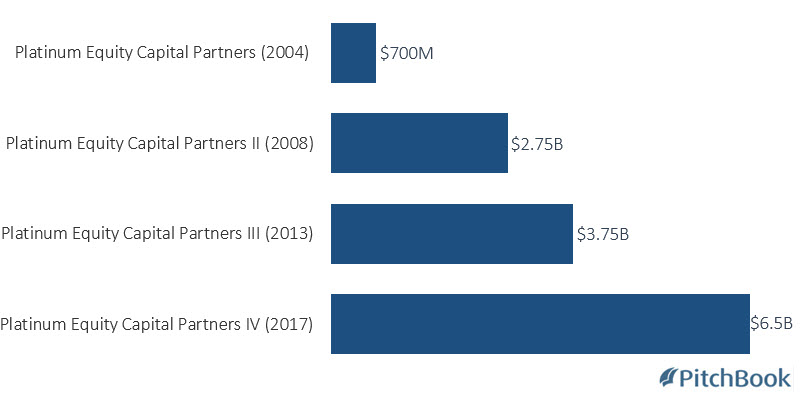 LONGSHOTS
Francisco Partners
It's been only six months since
Francisco Partners
closed its fifth namesake fund on $3.975 billion—so both the dollar figures and the timeline are a ways off from a $10 billion fund. But there are other signs pointing in its favor. The San Francisco-based firm makes two-thirds of its investments in tech, per the PitchBook Platform, which means it could be poised to ride the wave of software in a way similar to
Vista Equity Partners
and Thoma Bravo in recent years.
Genstar Capital
Genstar
keeps raising bigger funds, and it keeps raising them quickly. The firm closed a $3.95 billion vehicle in March 2017, which followed a $2.1 billion fund in 2015. Genstar also completed more investments in 1Q 2018 than any other firm in the US, per PitchBook data. If those paces continue—and if Genstar opts to branch out from its middle-market roots—a fundraising flurry could follow.
​
Check out the 11 firms that are already members of the $10 billion fund club.