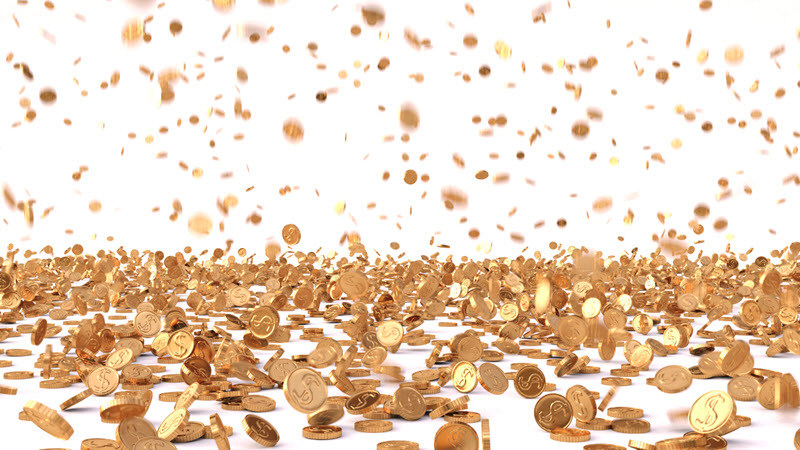 Dating back to the start of 2009, eleven different buyout firms in the US have raised at least one fund with $10 billion or more in capital commitments.
On the one hand, there's nothing special about that threshold: $10 billion is just a number. But it's a very massive number. There are 70 countries in the world with less than $10 billion in GDP, according to the latest United Nations figures.
On the other hand, that number functions as a neat dividing line. A few other investors could insert their names into the conversation, but those 11 firms can make a strong case for being the 11 most notable private equity investors in the nation.
Over the next few weeks, we'll be examining these mega-funds and the firms behind them, including a breakdown of trends in recent massive fundraisings and a look at which buyout shops might soon raise 11-figure vehicles of their own. But first, we'll begin with the firms that are already in the $10 billion fund club.
Who are they? And what are they doing with all that money? Let's take a look.
Advent International
The Boston-based firm has been in a steady rhythm in recent years, raising massive new buyout funds in 2016, 2012 and 2008. Interestingly, each of those vehicles has been denominated in euros: a €12 billion Fund VIII in 2016, preceded by an €8.5 billion Fund VII in 2012 and a €6.6 billion Fund VI four years before that. At the time of their raises, those figures converted to $13 billion, $10.8 billion and $10.4 billion, respectively.
Advent
pursues investments of several different sizes on several different continents in several different industries, with a particular focus on the healthcare, B2C, business & financial services, communications and industrial sectors. The firm has averaged more than 30 investments per year since the start of 2009, per the PitchBook Platform, including multibillion-dollar tech takeovers of
Worldpay
(in conjunction with
Bain Capital
) and
TransUnion
(along with GS Capital Partners).
Apollo Global Management
If the topic is mega-funds, then
Apollo
has to be part of the conversation. Last summer, Leon Black's firm closed the biggest buyout fund in history, per PitchBook data, a $24.7 billion monstrosity it will use to continue its strategy of pursuing large-cap deals across a range of sectors. Four years before that, in 2013, Apollo raised another massive vehicle, this one checking in at $18.4 billion.
As you might expect, that's led to some large investments. The firm has completed more than two-dozen deals worth at least $1 billion in the past decade, according to PitchBook data, including plenty in recent months. Last year saw the $2 billion takeovers of communication service provider
West
and the
Lumileds lighting unit
, while the year before that brought a $6.9 billion take-private deal with security specialist
ADT
. More than 90% of Apollo's investments since the start of 2009 have occurred in the US or Europe.
Blackstone
When Apollo raised the largest PE fund ever last year, the record it broke belonged to
Blackstone
and its $21.7 billion fund from 2007. And while Stephen Schwarzman's shop has downsized with its more recent efforts, it hasn't been by much: Blackstone reportedly brought in more than $15 billion for its sixth flagship fund in 2010 and followed it up with an $18 billion pool of capital in 2015. All told, the firm raised around $55 billion for buyout vehicles in the span of nine years.
Since the start of 2009, Blackstone has used all that money to complete a whopping 669 investments, third-most among all US firms over that span, per PitchBook data. While many of its largest acquisitions have been related to real estate, Blackstone has ventured into other sectors as well, including a take-private acquisition of
Team Health
for $6.1 billion last year. In early 2018, the firm went even bigger, announcing a deal to buy a majority stake in the
Thomson Reuters
financial and risk business for $17 billion, per reports.
Here's a rundown of some of Blackstone's major deals from last year: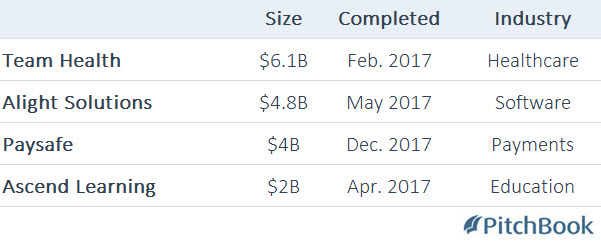 The Carlyle Group
In 2013,
Carlyle
hauled in $13 billion for its sixth flagship buyout fund, its first since the beginning of the financial crisis. And now, the firm is in the process of raising a follow-up: In March, the buyout shop confirmed that it had raised more than $15.5 billion so far for its next effort, working toward a reported target north of $18 billion. In the meantime, Carlyle has raised several different smaller funds focused on particular geographies and strategies.
Remember how Blackstone ranks third among US firms in new investments over the past nine-plus years? Carlyle is number one, with 692, per PitchBook data. That's what's possible when you have 31 offices spread across 19 countries, as Carlyle does, working to manage around $200 billion across more than 300 separate investment vehicles.
Clayton, Dubilier & Rice
CD&R
is the most recent entrant to the $10 billion fund club, hitting that number on the nose with its 10
th
flagship buyout vehicle last April (and surpassing a reported target of $8.5 billion). That marked a major size upgrade from its two predecessors, which had closed on $6.4 billion in 2014 and $5 billion in 2009—an indicator of the worldwide fundraising largesse of 2017.
Earlier this year, the firm began putting its freshly raised capital to use in a major way. CD&R announced an agreement to acquire building products manufacturer
Ply Gem Industries
for $2.4 billion on the final day of January, and the firm completed the take-private buyout in April.
Hellman & Friedman
H&F
is another firm that's only raised a $10 billion fund once: in 2014, when it closed its eighth flagship vehicle on $10.9 billion. The Bay Area-based investor has already deployed around half of that capital, according to PitchBook data.
H&F has completed 290 investments since the start of 2009, with more than 42% of them occurring in the financial services sector and nearly 18% more in the IT space. That includes
MultiPlan
, a provider of cost-management software for the healthcare industry that the firm bought in 2016 for $7.5 billion. Here's a closer look at the firm's sector-by-sector activity: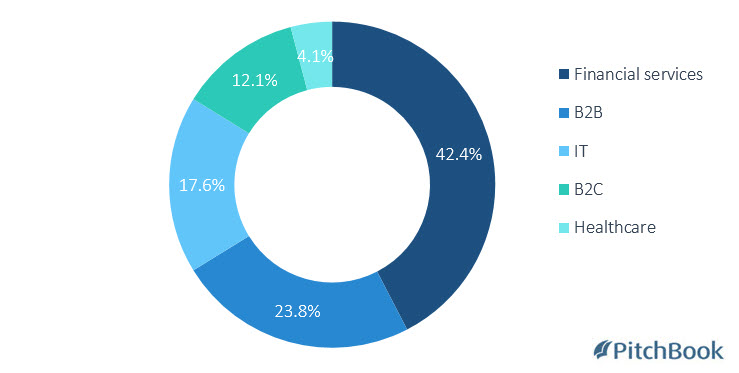 KKR
Surprisingly enough, the famed buyout shop has only raised $10 billion or more for one US fund in the past decade. It happened last March, when the firm closed its KKR Americas XII Fund on $13.9 billion. At the time, it was the second-largest fund in the world since 2013, although several other firms—including Apollo,
CVC Capital Partners
and the next name on our list—have since surpassed it.
While
KKR
may not have been busy raising mega-funds in the past decade, the firm was sure active pursuing new investments. It's executed more than 680 of them since the beginning of 2009, according to PitchBook data, including more than 100 each of the past two years.
Silver Lake
A little more than a month after KKR closed its Americas fund,
Silver Lake
topped it with a new $15 billion vehicle, the firm's biggest ever and one of the largest tech-focused vehicles ever raised. That was Silver Lake's fifth flagship fund; four years earlier, in 2013, the firm closed its Silver Lake Partners IV on $10.3 billion.
As you can read
more about here
, Silver Lake's rapid rise to prominence in private equity has been driven by a focus on tech investments, including two gargantuan deals with
Dell Technologies
and
EMC
that combined to top $90 billion in value. On the whole, Silver Lake conducts fewer deals than many of its big-market peers: The firm has completed 143 investments since the start of 2009, according to PitchBook data—less than a quarter of KKR's total over the same time—reaching an annual high of 21 in 2012.
TPG Capital
For most firms, $10.5 billion is a massive pool of capital only to be dreamed of. But when
TPG
gathered that amount for its seventh flagship fund in 2016, it actually represented a major decrease in size from its predecessor. To be fair, though, the firm's sixth flagship fund was a monster: a $19.8 billion vehicle that closed in September 2008, in the early days of the brewing financial crisis.
In terms of where it puts that money to work, TPG has been a rather close proxy for the private equity industry. Around 30% of TPG's 348 investments since the start of 2009 have been in the B2B sector, followed in frequency by B2C, IT, healthcare and financial services—the exact same order as the PE industry as a whole.
Vista Equity Partners
The latest example of
Vista
's rise
up the private equity ladder
came last May, when the firm wrapped up an $11 billion vehicle—nearly twice the size of its predecessor, which closed on $5.8 billion just three years prior. Focused entirely on enterprise software investments ever since its inception, Vista has been well positioned to capitalize on the industry's ongoing maturity.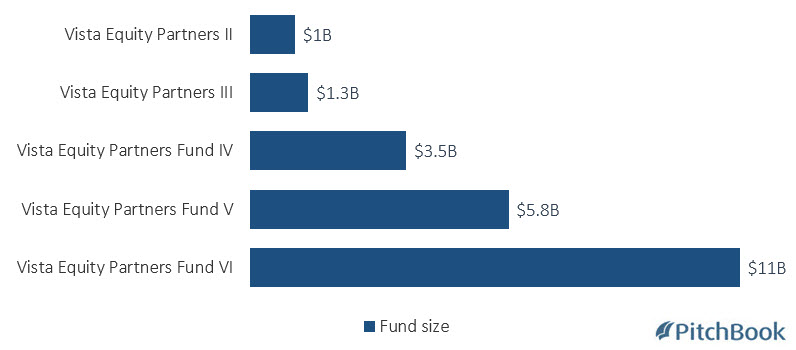 On average, the firm has completed fewer than 25 investments per year since the start of 2009, but several of those deals have been worth at least 10 figures. And those billion-dollar deals are growing more frequent. Vista completed 11 investments worth at least $1 billion between 2014 and 2017 after executing just three such moves between 2009 and 2013, according to PitchBook data.
Warburg Pincus
No US buyout shop has raised two $10 billion funds in quicker succession during the past decade than
Warburg Pincus
, which collected an $11.2 billion flagship vehicle in 2013 and followed it up with a $13.4 billion effort in 2015. Before that, it had been six years since the firm raised its previous fund, a $15 billion effort in 2007. With the timing of a massive fund in the early days of the financial crisis followed by a long layoff between new vehicles, Warburg Pincus and TPG have followed somewhat similar paths.
They've also had extremely similar levels of activity: While TPG has completed 348 new investments since the start of 2009, Warburg Pincus has executed 352. More than most firms in the $10 billion fund club, Warburg Pincus is active in the energy sector, with nearly 18% of its investments in the past nine-plus years falling in that space. The firm is also unique in its preference for smaller deals: Warburg Pincus has executed just seven investments worth more than $1 billion since the start of 2009, per PitchBook data.
Here's Part II of our series on the $10 billion fund club, and here's Part III.