PE Fundraising
After record-breaking 2019, US PE fundraising expected to dip in 2020
January 10, 2020
Last year, private equity fundraising in the US hit record territory, with firms raising north of $300 billion, according to PitchBook's
2019 Annual US PE Breakdown
. Despite the capital haul, the industry saw the number of fund closings decline to 202—the fewest across the country since 2012's 183.
Taken together, the figures reflect how dominant mega-funds were last year. Six vehicles of at least $10 billion happened to close in 2019, including new flagship funds for
Advent International
,
Vista Equity Partners
,
Thoma Bravo
,
Leonard Green & Partners
,
TPG Capital
and
Blackstone
, which pulled in the industry's
largest-ever private equity fund
. We say "happened to close" because fundraising numbers are inherently lumpy, especially using our methodology of only counting final closes. Many of those LP commitments were made in 2018, but the funds only hit their targets last year, which makes the 2019 record something of a coincidence.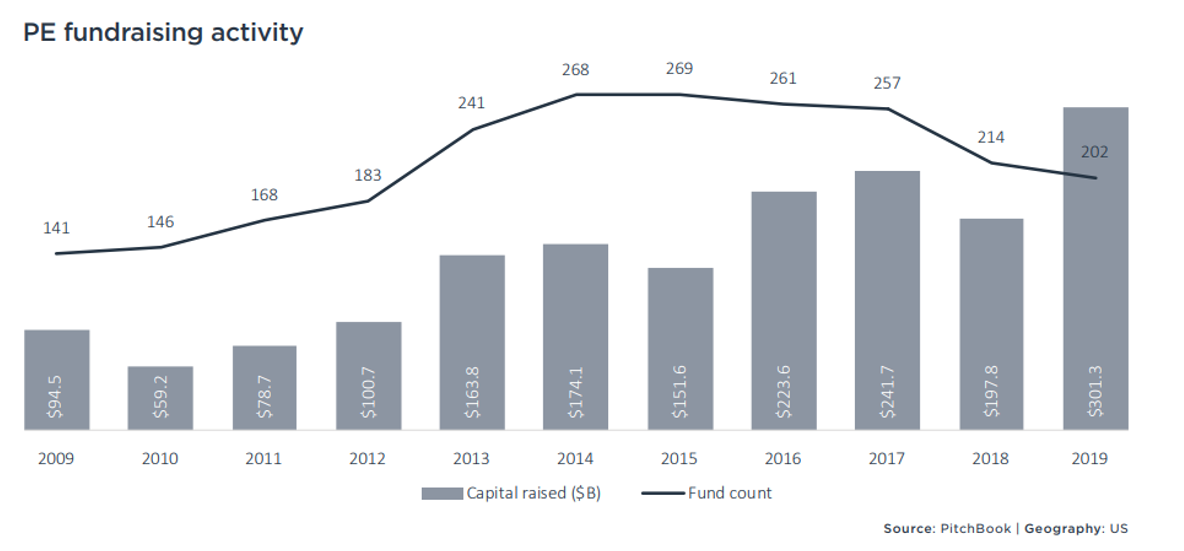 That's one reason we're predicting a moderate dip in 2020 fundraising. Based on timing, it's unlikely we'll see an encore record-setting performance, even though the first multibillion-dollar fund came just a week into 2020 in the shape of
Platinum Equity
's
$10 billion effort
. We see PE fundraising levels passing $200 billion this year, which itself would be impressive coming off of $300 billion. That would be half a trillion dollars of private equity fundraising in the US alone in the span of two years. LP sentiment is as good as ever, considering that 95.5% of 2019 vintages were larger than their predecessors, also according to PitchBook's 2019 Annual US PE Breakdown.
As we note, LPs have been fleeing hedge funds in favor of private equity, even though hedge funds tend to outperform in times of market dislocation (which some predict is right around the corner) and PE is much more correlated to equity markets (which some believe are headed for a correction). Apparently, those are risks LPs are willing to take, especially at the high end. $5 billion-plus funds accounted for over half of all capital raised last year, for the first time since 2007.
Even if fundraising numbers go down this year, that won't mean dealmaking will in 2021. With rates remaining low and positive economic sentiment throughout the market, it would be safe to predict strong numbers both this year and next.
This column originally appeared in The Lead Left.
Featured image via owngarden/Moment/Getty Images