Slack is at a crossroads: If it closes a reported $500 million round of funding at a $5 billion valuation it will likely remain independent, appeasing CEO and co-founder Stewart Butterfield, but perhaps upsetting the likes of Amazon, Microsoft, Google and Salesforce, which are all interested in making an offer for the communication software unicorn, per Recode.

If Amazon decides to pull out its checkbook, reports say Slack could go for upwards of $9 billion—but is Slack worth it?
Update: Amazon has agreed to acquire Whole Foods for $13.7 billion.
From failed internet game to communications software unicorn

Slack, a tool now used in thousands of offices, was born out of a failed web-based multiplayer game. In 2009, years after Butterfield's (left) photo-sharing company Flickr sold to Yahoo, he and Cal Henderson co-founded Tiny Speck and sparked the interest of Accel and Andreessen Horowitz, which injected more than $15 million into the company from 2010 to 2011. But the game was not a success and in 2012 it completely shut down.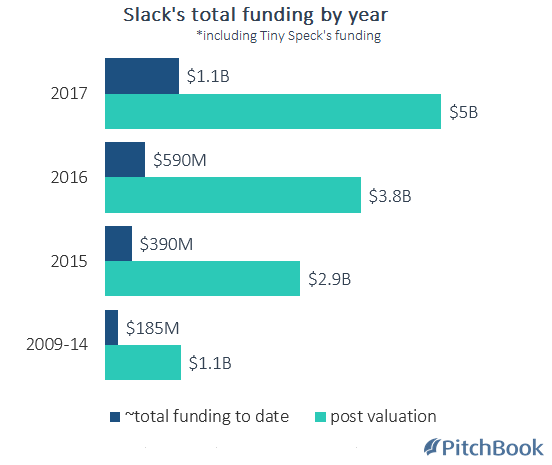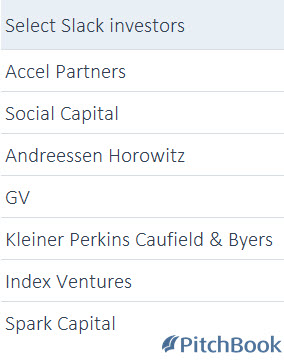 By 2014, Tiny Speck had changed its name to Slack Technologies in a massive pivot and launched its flagship product, a messaging and file-sharing platform for businesses. Existing investors Accel and Andreessen Horowitz along with a new investor, The Social+Capital Partnership, pumped $42 million into the newly branded company as it scaled up—its customer base was flourishing at around 15% growth per week at the time.

Fast forward one year and the San Francisco-based startup is worth nearly $3 billion, with a number of investors backing it, including KPCB, GV and Index Ventures. To date, Slack has raised about $570 million, not including the rumored $500 million in the pipeline, and reportedly earns about $1 billion in revenue.

However, if reports of the various parties interested in acquiring Slack are true, the $500 million round may be scrapped. Microsoft, the most recent corporate acquirer to approach Slack, abandoned a potentially $8 billion deal after Satya Nadella and Bill Gates reportedly favored investing money internally instead, leaving Slack on the market—right where Butterfield wanted it. So, the question remains whether or not Slack would even consider a sale if Amazon really is ready to cough up that sort of cash.
Would Amazon pay $9 billion for Slack?

A sticker price of $9 billion would have been unprecedented in Amazon's acquisition history until Friday's agreement to acquire Whole Foods for $13.7 billion. Since 2008, Amazon has picked up 40 companies, according to the PitchBook Platform. And although $9 billion may look like a drop in the proverbial bucket for a company with a current market cap of roughly $460 billion, Amazon takes to dealmaking lightly. Like Microsoft, Amazon tends to prefer organic growth. So, it rarely splashes the cash to acquire what it might instead build. Still, Slack fits the basic profile of an Amazon target in all but one important fashion: it's super expensive.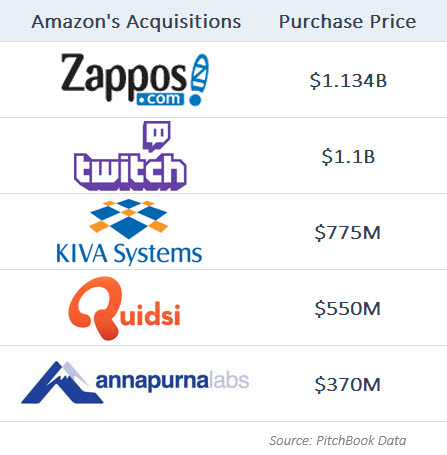 At the end of 1Q, Amazon reported an operating cash flow increase of 53% to $17.6 billion. So although a $9 billion deal for Slack would be a quite the leap, it would allow the tech giant to continue its push into business services.
Earlier this year, the ecommerce and cloud-computing company unveiled Amazon Chime, a chat and content sharing platform similar to Slack, and for its part, Slack recently introduced Enterprise Grid, a version of its platform that makes it easier for employees to collaborate across teams at big companies.
Viewed in this light, Slack could undergird the communications offerings within Amazon Business, the unit that grew out of AmazonSupply and caters to customers in the $7 trillion wholesale and distribution market. In addition, Slack would provide a slick way for Amazon Web Services clients to communicate.

But above all, it could come down to a play for talent that gets Amazon CEO Jeff Bezos to pull out the checkbook. As Amazon pushes deeper into AI with Alexa-driven products like the Echo, Slack's growing Search, Learning, & Intelligence Group run by Noah Weiss (left), a former SVP of product at Foursquare, makes Slack an appealing acquihire. At $9 billion, though, that's a lot to pay for Giphy integration.