PE Fundraising
Carlyle gives European fundraising environment a jolt with €6.4B PE fund
October 24, 2019
The Carlyle Group
has closed its fifth flagship Europe fund on €6.4 billion (about $7.1 billion), exceeding its target by nearly €1 billion. Dubbed Carlyle Europe Partners V, the vehicle also surpassed its two predecessors, which pulled in €3.75 billion and €5.35 billion in 2014 and 2007, respectively.
Focusing on upper middle-market companies across Europe, the new fund has already made five investments in businesses in Spain, Italy and the Netherlands. And it's not hesitating to spend on big transactions. The largest deal thus far came in October 2018, when Carlyle and GIC closed their purchase of the specialty chemicals unit of
AkzoNobel
at an enterprise value of €10.1 billion. And earlier this month, the firm struck another blockbuster, agreeing to buy between 30% and 40% of Spanish gas company
Cepsa
from
Mubadala Investment Co.
; that stake could be worth up to $4.8 billion.
As a whole, private equity fundraising slowed in Europe after a record year in 2017, according to PitchBook's
3Q European PE breakdown
. In fact, this year was expected to be the lowest for capital commitments in three years, and fund count may still drop to its lowest total in a decade.
The downward trend wasn't unexpected, however, because of the challenges LPs would encounter when justifying commitments to the region, given the looming uncertainty over Brexit and
its myriad effects on European PE
. However, the data shows an increasingly bifurcated fundraising environment, in which established fund managers in the UK and Ireland, for example, have been able to accelerate fundraising, while more esoteric managers have struggled to keep up.
That acceleration has helped put 2019 on pace to slightly surpass last year's fund count—but it would still be the second-lowest total of the decade: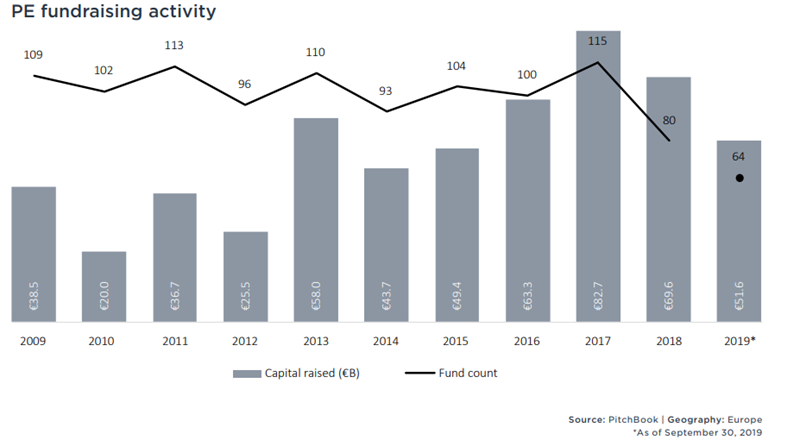 However, the month of October has dramatically changed that picture in terms of capital raised. Last week,
Permira
closed its seventh flagship fund on €11 billion, marking the largest 2019 European buyout fund to date. That, along with Carlyle's latest effort, should push European PE fundraising past 2018's dollar total with more than two months remaining in the year.
Indeed, Europe's well-established private equity fund managers have continued to go big in 2019. In January,
Ardian
closed its fifth infrastructure fund on €6.1 billion. In May,
Cinven
closed its seventh flagship buyout fund on €10 billion after just four months of fundraising. And in July,
CVC Capital Partners
closed its latest buyout effort on €4.6 billion—all clear signals that the region's largest PE firms have been undeterred by a tumultuous period, both economically and politically.
Featured image via mkos83/iStock/Getty Images Plus