Even with a $400M valuation, scooter startup Bird faces an uphill battle
April 20, 2018
View comments

(2)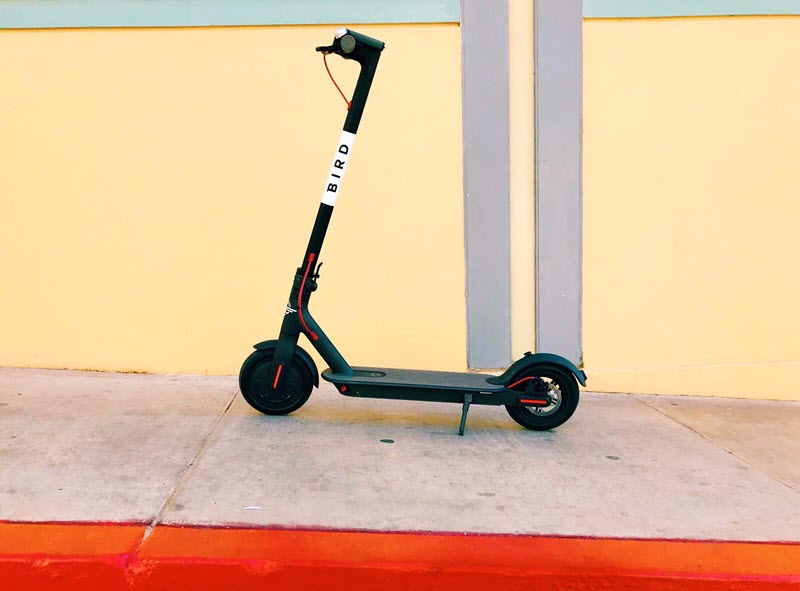 Who knew scooters could cause such controversy?
Bird
, a startup launched by a former
Lyft
and
Uber
exec, has raised $118 million in venture capital funding, and it's not even a year old yet. Per a PitchBook estimate, the company, which provides dockless electric scooters users can rent with an app, has a valuation of $400 million, though Bird would not confirm that figure or disclose an alternative valuation.
But, much like when
Spin
and
LimeBike
released their dockless bikesharing fleets in US cities, people have experienced a range of emotions from intrigued to irritated since the scooters were dumped in Santa Monica, San Francisco, Austin and elsewhere in recent months. To some, the scooters and bikes are an affordable, accessible way to reduce traffic congestion and pollution. To others, they're street litter, complicating commutes rather than facilitating them.
Bird has already dazzled investors. Now, it has to win over consumers and city officials—many of whom are in the process of establishing measures to regulate scooter-mania.
Bird's big bet on scooters
Bird was started last May by former Uber VP and Lyft COO Travis VanderZanden. The company raised a $3 million seed round in June, followed by another $15 million this February and then the $100 million Series B led by
Valor Equity Partners
and
Index Ventures
announced last month.
The scooters, or "short-range electric vehicles" as VanderZanden reportedly prefers they be called, can go up to 15 miles per hour, and, like LimeBike or
Ofo
, they can be picked up and dropped off anywhere. They cost $1 to launch plus 15 cents per minute to ride.
Bird isn't the only startup hoping scooters become a common method of transportation. Spin and Lime have both
added electric scooters
to their vehicle portfolios.
Taking cues from Travis Kalanick
Last September, Bird released its scooters in its hometown of Santa Monica without a mobile vending license. While the company was able to generate a lot of buzz, it also ultimately agreed to pay a $300,000 fine in February as part of a plea agreement after the city attorney's office filed a nine-count misdemeanor criminal complaint against Bird and VanderZanden, per reports.
Then the company expanded into Austin earlier this month, using the same contentious business practices that got it in trouble in Silicon Beach. The Austin American-Statesman reported that the startup
hadn't sought the proper permits
from the city, resulting in the Austin Transportation Department announcing that any scooters left in the right of way of citizens would be impounded.
In San Francisco? The same story. Bird launched before the city had established a permitting process for scooter companies. The San Francisco city attorney Dennis Herrera sent the scooter trifecta (Bird, Spin and Lime) cease-and-desist letters on Monday for their unlawful operation of scooters, per TechCrunch. The following afternoon, the San Francisco Board of Supervisors voted to require that companies have permits to deploy their scooters in the city.
For its part, Bird spokesman Nick Somonas said the company had business licenses in all three of those cities.
VanderZanden seems to be taking his cues from another Travis who worked at Uber. Former Uber CEO Travis Kalanick was notorious for adopting a "don't ask for permission; beg for forgiveness" strategy in the ridehailing giant's early days.
Uber would show up in a new market with no permissions and was issued cease-and-desist letters frequently. At TechCrunch Disrupt in 2012, Kalanick reportedly said, "Every city we go to, eventually the regulators will make something up to keep us from rolling out or continuing our business."
The ridehailing company is still banned in some markets in the US and abroad, including Denmark and Vancouver, BC.
Making money
Regulatory issues aside, pulling a profit isn't going to be easy for Bird. TechCrunch recently
crunched the numbers
and concluded that a single Bird scooter costs about $400. If, for example, each has a lifetime of 300 rides at an average of 25 minutes apiece and consumers charge the scooters themselves 50% of the time (it costs the company $20 to charge a scooter vs. the $5 that Bird pays users for charging it themselves), Bird will break even on a single scooter after 220 rides. That's $147 of profit, or a 10.3% profit margin.
Another option: A single scooter's lifetime is 500 rides with an average ride duration of 20 minutes, meaning Bird could break even after 165 rides with an $813 profit per scooter, or a gross margin of nearly 41%.
Investors must be optimistic about the latter option.
But who knows? Maybe Bird will be scooped up before it has time to worry about its financials.
Mobike
, another dockless bike company, similarly raised $100 million quickly after it launched, then went on to raise an additional $900 million before being acquired for $2.7 billion earlier this month, about two years after its founding. That's quick liquidity for investors—something that's become more and more unusual in the current venture landscape.
Related read: 'Bikesharing is the next Uber'