PE Fundraising
On the precipice: What's next for European PE when the taps are dry and a recession looms?
September 13, 2018
View comment

(1)
After a stellar run for European PE fundraising, aided by a buoyant capital-committing environment and low interest rates, signs are that the end of the blockbuster capital raising era is near.
Following three years straight of rising capital commitments, European PE funds have raked in almost €60 billion in the year to August, per PitchBook data, putting it on track to beat last year's €81.3 billion mark. This would be another impressive 12 months of capital raising in historical terms. However, with fairly few large vehicles left open in the continent, including 10-figure vehicles from
Bain Capital
and
The Carlyle Group
, many feel that the market is finally going to head for a turn.
European PE fundraising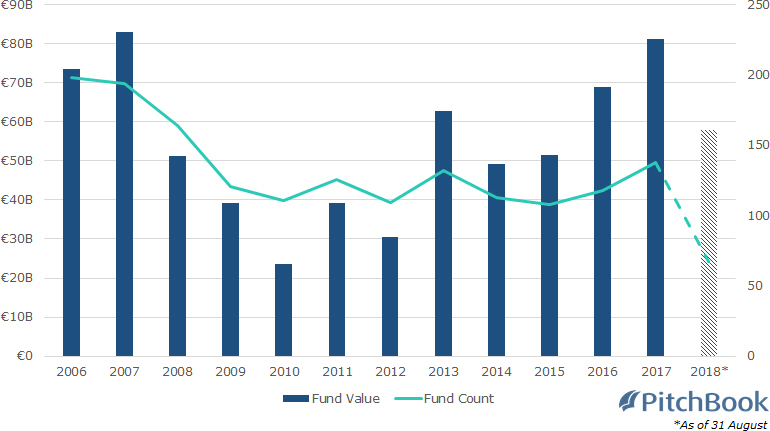 It's important to not get ahead of ourselves, however. Fundraising in the private market is a cyclical business dependent on the supply of capital and the demand from new and open funds. In addition, fundraising data tends to be lumpy; just a few large fund closes can change the trend for an entire year.
The last couple of years suggest GPs saw a window of opportunity in the buoyant environment—low interest rates driving LPs to riskier asset classes, for one—to either raise a new vehicle altogether or increase pre-fundraise targets to allow for the greater inflow of capital. Indeed, Swiss investor
Capvis
announced a final close of its fifth flagship vehicle on €1.2 billion this month, smashing its original target of €1 billion. Despite this, looking at a rolling four-quarter average of PE fundraising activity, GPs going cap in hand to LPs increased massively in both volume and value from the end of 2016, and slipped in 2Q this year.
European PE fundraising four-quarter rolling average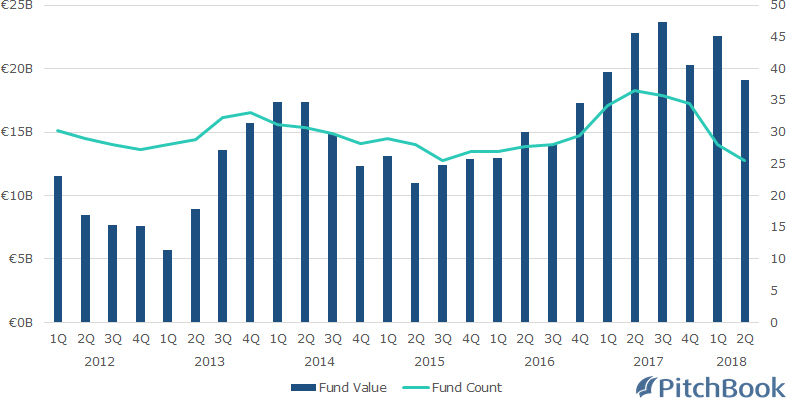 When compared to investment activity, too, neither is the amount raised particularly out of line.
At the end of 2017, Europe's PE funds had more than €142 billion in overhang to spend, according to PitchBook data. If these PE funds stopped raising tomorrow, it would take them around 4.2 years to deploy all of their dry powder. This is only slightly higher than levels seen since 2012.
Yet with potential headwinds on the horizon, it's possible private equity needs every extension to that runway it can get.
Both the US and, generally speaking, the European economy, too, are humming along nicely. The S&P 500 share index has, by some measures, broken the record for
the longest bull market in US stock market history
, just as the global economy continues its recovery from the depths of the last recession.
However, several industry figures,
including PE investors themselves
, are increasingly expecting another downturn to arrive shortly, with some even mentioning 'bubble' when looking at the current sky-high deal multiples.
This can be a problem, regardless of how much money PE has to spend. For one, GPs may well be forced to sell existing portfolio companies into a depressed market because of their mandates, meaning lower-than-expected prices and returns. Secondly, a recession brings with it tighter credit markets, making larger leveraged buyouts much harder to finance. This would come at a time when the leveraged loan market in the US alone has surpassed $1 trillion this year. On top of this, existing portfolio companies affected by a downturn will need much more hands-on analysis from GPs in order to keep businesses as going concerns.
Despite this, a recession is not all bad news for private equity investors, in particular when it comes to spying future opportunities.
While firms may struggle to make a profitable exit from current portfolio companies due to a recession, this also implies that they should be able to acquire future ones at a discount. An economic downturn could bring current frothy valuations down to more realistic levels, and in effect see buyout firms investing in a downturn with the upside of picking up a relative bargain. Indeed, per PitchBook data, median buyout value
fell for three consecutive years
from 2007.
Companies struggling during a downturn may also seek refuge under PE's wing. According to a study from earlier this year from Northwestern University's Kellogg School of Management, UK companies backed by private equity
fared better during the financial crisis
than those which were not, due to their access to private financing.
Europe's private equity firms have loaded up in the good times and filled their coffers to the rafters, and are now set to be scouring markets for deals at a time when potential targets could be caught cold by a widely expected economic downturn. They'll be expected to spend it, however opportunities for larger deals may be few and far between. Instead, they could look to pick up struggling companies on the cheap in order to nurse them back to health, or wait for better times…if their LPs let them.