VC Fundraising
Sapphire Ventures raises $1.4B in capital for late-stage tech deals
December 18, 2019
Tech startups are waiting longer than ever to go public, relying more and more on sizable sums of capital from venture investors to finance their growth. And VC firms are raising larger and larger funds to keep up.
Sapphire Ventures
announced Wednesday that it has raised more than $1.4 billion in new capital split across a fresh $1 billion growth fund, an inaugural $150 million opportunity fund and extensions to previous funds. The majority of the capital will target expansion- and late-stage technology startups in the US, Europe and Israel. It's the Palo Alto-based firm's largest fundraising to date, bringing its total AUM over $4 billion.
The new growth fund is about 30% larger than its 2016 predecessor, according to Sapphire Ventures CEO and managing director Nino Marakovic, with the majority of activity expected to remain in the Series C and Series D range.
"The new capital raise gives us the flexibility to write initial investments as small as [$3 million to $5 million] for what traditionally would have been a Series B company, all the way up to $100 million for the right later-stage company," Marakovic wrote in an email to PitchBook.
The news makes Sapphire the latest VC to register a significant increase in fundraising, part of an industry-wide effort by investors to better position themselves for the sorts of high-priced late-stage deals that have proliferated in recent years. Including Sapphire's, over a handful of US venture funds have raised $1 billion or more so far in 2019, according to PitchBook data.
US-based VC funds of $1B+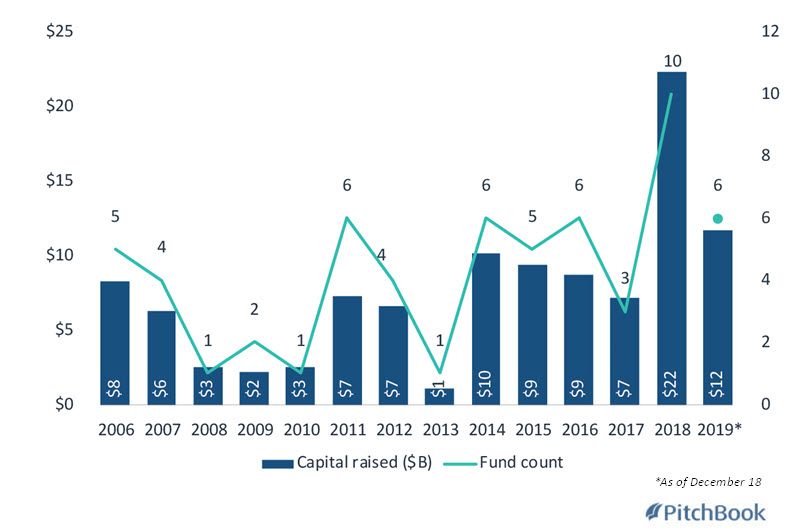 In January, Silicon Valley mainstay
TCV
closed its 10th fund on $3 billion, the firm's largest in its 25 years of operation. In May,
Andreessen Horowitz
made its first official foray into the late-stage scene with a $2 billion vehicle. Peter Thiel's
Founders Fund
raised a $1.5 billion
multi-stage fund
this year. And in late November,
Norwest Venture Partners
closed its 15th flagship vehicle
on $2 billion—also the firm's largest yet.
For Sapphire, which spun off from German software giant SAP in 2011, one area of recent interest has been data analytics startups. In 2019, the firm has taken part in mega-rounds for three different companies in the sector:
ThoughtSpot
($248 million),
DataRobot
($206 million) and
Segment
($175 million).
"There is significant opportunity in companies that can help the average knowledge worker extract the same sort of value from data that today takes a highly specialized data scientist," Marakovic wrote. "AI, [machine learning] and data analytics is one of the areas we're excited about."
Featured image via Andrei Stanescu/iStock/Getty Images Plus