Healthtech
Telehealth could be at the heart of a new beat in VC-backed healthtech
July 16, 2019
VC activity in the US healthtech sector is on the rise in 2019, with capital invested on track to exceed 2018's record high.
In the first six months of this year, 352 VC deals were struck in the vertical in the US, worth a hefty $4.7 billion—more than halfway to last year's total of $8.2 billion, which was spread across 749 deals, according to the
2Q 2019 PitchBook-NVCA Venture Monitor
. While 2009 through 2012 saw increasing investment counts, that period was relatively stagnant in terms of overall value, with the annual total consistently capped under $2 billion. Healthtech truly broke out in 2013, surging to $2.5 billion invested across 504 deals, and the sector has steadily grown since then, with 2018 setting record highs that more than tripled 2013's total value; through 1H, this year is on pace to nearly quadruple that total.
Particularly eye-catching in 2Q was
ClickDiagnostics
' $100 million Series C from the Hutchison Port Group and
Plug and Play Tech Center
. Although the company is operating in stealth mode with limited information publicly known, this nine-figure round ranks as 2Q 2019's third largest VC-backed healthtech deal and is the largest to date for the San Jose-based startup, which was last valued at $61 million after a $16 million Series B in 2015. ClickDiagnostics is developing a software platform to help doctors diagnose patients more efficiently.
Here's a closer look at US VC investment trends in healthtech since 2009: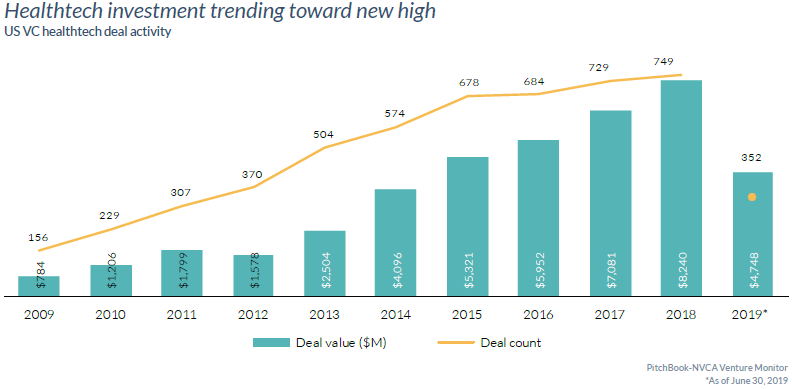 The growth of the sector overall is largely attributed to an increase in expensive chronic health problems, the continued rise in healthcare costs and rapid consumerization in the space, particularly with the growth in mobile healthcare options. As such, a key element of healthtech's overall potential is the subsector of virtual health, colloquially known as telehealth, which focuses on connecting distant patients with doctors via multimedia communication. The niche scored nearly $895 million of capital at its peak in 2018.
While telehealth is still somewhat nascent, accounting for only about 10% of healthtech's broader deal activity last year, the rapid advancement of technology is helping to make startups in the space possible. Likewise, the demand for such offerings is driven by the healthcare industry's desire for both cost savings and an opportunity to reach traditionally underserved demographics, such as people in rural or underdeveloped areas.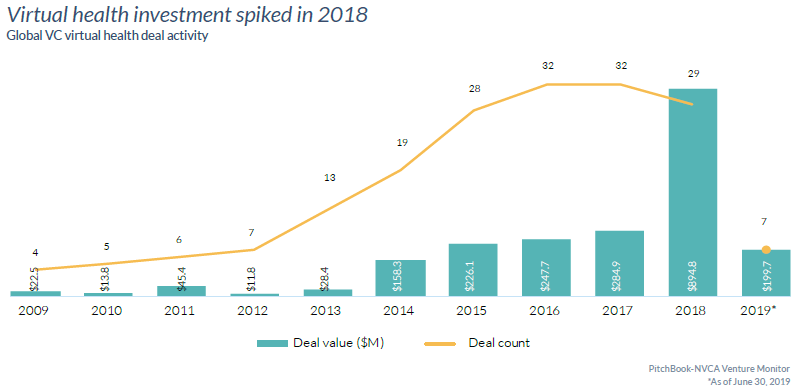 One of the larger recent deals in telehealth occurred last June, when
American Well
raised a $291 million Series C that valued the company at $972 million. Founded in 2006, the Boston-based provider of a telehealth platform has banked investments from
Anthem
, Teva Pharmaceuticals and
Allianz X
, among others. This mega-deal alone accounted for more than 30% of 2018's total capital invested in telehealth and nearly 4% of the year's broader healthtech investment total, while 2019 has yet to come close to replicating such a large round.
Growth in such a nascent space often isn't without controversy, however, and healthtech—and telehealth in particular—has been no exception. With the rise of diagnoses being made virtually, investors may be cognizant of potential liabilities that could result from the disruption of traditional in-person services. For example, in 2018, US health insurer Anthem refused to pay for emergency room visits it deemed unnecessary, instead advocating for lower-cost alternatives such as telehealth. Such a policy was immediately condemned by the American College of Emergency Physicians, the American Medical Association and the American Hospital Association, citing non-emergency and emergency symptoms often overlap, making it dangerously difficult for patients to predict which ER visits may end up being deemed as unnecessary by the insurer.
As telehealth operates largely based on the developing trust that a doctor can sufficiently diagnose some ailments at a distance, a failure for both patients and the industry to adopt such a remote exchange may threaten the continued growth of this subsector. Even with growth in healthtech investments overall, it remains to be seen whether the venture capital industry continues to support or shies away from this particular area of development.
Featured image via IgorNelson/iStock/Getty Images Plus
Join the more than 1.5 million industry professionals who get our daily newsletter!