Unicorns
Unicorn exits are booming in 2019. Will it last?
August 21, 2019
The population of unicorns in the US has been growing steadily for a decade, reaching 187 by the end of 1H, according to PitchBook's
2019 Unicorn Report
. It makes sense, then, that the quantity of exits is also increasing, as the investors behind all those billion-dollar companies grow ever more antsy to realize returns.
So the fact that 2019 is on pace to set a new annual record for the number of unicorn exits in the US might not come as much of a surprise. The tremendous spike in the value of those exits, though, could certainly raise a few eyebrows: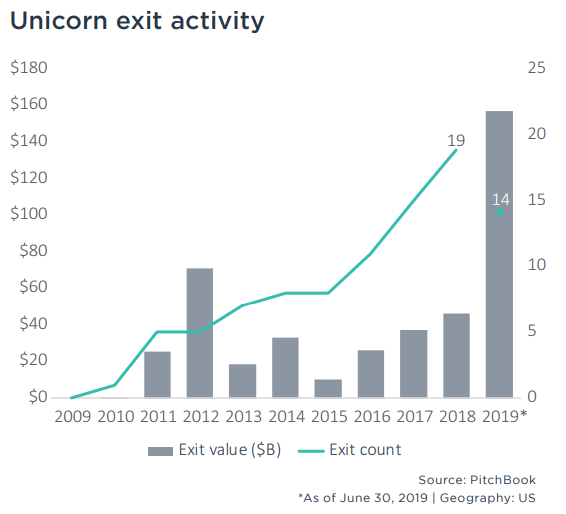 The primary culprits for the leap, of course, are
Uber
,
Lyft
and the rest of the highly valued companies behind an unprecedented run of VC-backed IPOs that occurred this spring. IPO exit sizes are based on the pre-money valuation of the company at the time of its listing, meaning Uber—which was valued at just shy of $70 billion before going public in May—was responsible for a little less than half of the nearly $160 billion in overall exit value in 1H.
Yet even without Uber, the value of US unicorn exits in the first six months of 2019 would have eclipsed the total for any other complete year this decade. There's more to the trend than one or two outliers. And 2019's annual exit value could still increase significantly in the coming month, with a number of other high-profile IPOs in the works. Most significant among them is
WeWork
's, an expected debut that will likely add tens of billions of dollars onto the yearly tally.
The surge in enormous exits didn't come out of nowhere. By the tail end of 2018, anticipation for the IPO wave to come was already beginning to build. It was also presaged by another piece of data from our 2019 Unicorn Report: The fact that 2018 saw a huge increase in the amount of capital raised by companies that were already unicorns, reaching $32.9 billion to more than double the total of any other year this decade. This leap in what we call subsequent unicorn financing included companies like Uber and
Beyond Meat
raising their last rounds of VC before hitting the public market: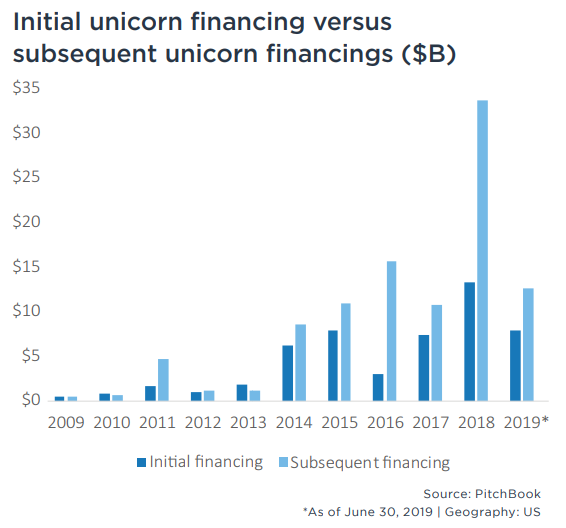 Will the trend continue? It's a matter of degrees. Unicorn exit value has risen every year since 2015, and as mentioned above, it's a logical cycle that the ever-increasing number of unicorns in the US will continue to lead to more and more unicorn exits. In the big picture, unicorn exit count and exit value both seem poised to continue trending up. But it seems unrealistic to expect a repeat of 2019's exit value boom in 2020; more likely, it would seem, is a return to somewhere between 2018 and 2019 levels.
Maybe not, though. Companies like
Airbnb
and
Palantir Technologies
have already been connected to potential 2020 IPOs that could lay the groundwork for another year of exorbitant unicorn exits. Maybe the trend of VC-backed businesses staying private for longer will make such IPO booms an annual occurrence, as companies take increasing amounts of time to build up their private valuations before going public.
It's hard to know what will come next in this new era of the unicorn.
Featured image via onurdongel/iStock/Getty Images Plus
Want more data on the most valuable VC-backed companies in the US? Check out our full 2019 Unicorn Report.
Join the more than 1.5 million industry professionals who get our daily newsletter!