Sports
What's up with that VC-backed football league?
September 18, 2018
View comments

(2)
Every February, a nation of football fanatics hangs its collective head as a post-Super Bowl malaise sets in. How to satiate a hunger for touchdowns and pancake blocks during the seven months of the NFL offseason? Other leagues have attempted and failed to fill the void. In about five months, a new effort with serious VC connections will get underway.
Back in March, reports emerged that a new professional football league called the Alliance of American Football
had raised venture cash
from some of the industry's biggest names, including
Founders Fund
,
Slow Ventures
,
The Chernin Group
and Keith Rabois of
Khosla Ventures
.
At the time, details were sparse. In the past six months, the picture has begun to fill out. Earlier this month, that included a look at the league's burgeoning tech aspirations: The league announced that its developers have built a proprietary gambling and fantasy football app in partnership with MGM that's designed to foster in-game betting on AAF action.
What, exactly, will it look like when Silicon Valley crosses paths with professional football? Let's take a look.
The League
The Alliance of American Football is an eight-team league that plans to play its first game on February 9, a week after this year's Super Bowl. The league will conduct a 10-game season followed by two playoff rounds and a championship game on the last weekend of April. Its co-founders are Charlie Ebersol, the son of longtime NBC Sports executive Dick Ebersol, as well as veteran NFL exec and current ESPN analyst Bill Polian. The AAF's first game and championship game will be broadcast on CBS, and in between, one game per week will be shown on the CBS Sports Network.
The league seems to have two primary goals: Forging a connection with fans (which will create revenue) and establishing itself as a developmental route for players with NFL dreams (which would attract more talented players, which will attract more fans, which will—you guessed it—create revenue). One method for achieving both aims is putting several former NFL stars in leadership positions. Former NFL defensive player of the year Troy Polamalu is the AAF's head of player relations, while one-time Super Bowl MVP Hines Ward and five-time Pro Bowler Jared Allen are both player relations executives and two-time Super Bowl champion Justin Tuck is an advisor.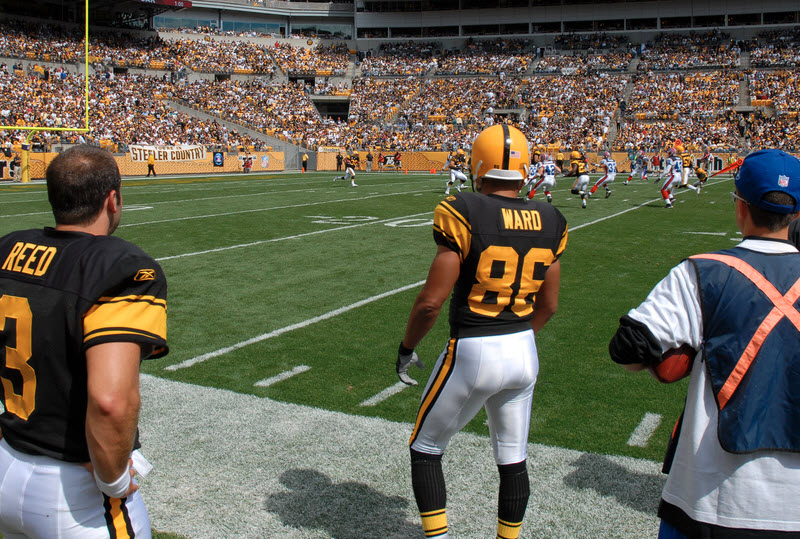 The AAF will also feature a few rule changes from the NFL designed to create a more viewer-friendly experience. These include a shorter play clock, the replacement of all extra points with two-point-conversion attempts, and the removal of onside kicks. Instead of kicking off, teams hoping to keep the ball after they score can attempt to convert a fourth-and-10 from their own 35-yard line.
The Players
In line with its aim of helping create future NFL stars, the AAF is largely targeting younger players a few years removed from college football careers. The league unveiled a list of its first 100 players in early August, and that total has more than tripled in the ensuing weeks. While there are no superstars, several of the league's early signees had notable college careers—a fact the league hopes to parlay into increased fan interest.
The AAF is organized as a single-entity structure, similar to Major League Soccer, in which the teams are collectively owned by the league rather than by outside individuals. For the players, that means they sign contracts with the AAF rather than agreeing to terms with a specific team, and the league then assigns them to a franchise. A significant factor in that assignment is where a player went to college: Former University of Alabama running back, Heisman Trophy finalist and No. 3 overall NFL draft pick Trent Richardson, for instance, is part of the AAF's Birmingham franchise. As a hometown star in a football-mad market, Richardson is representative of the league's hopes to capitalize on the existing connections fans have with former college standouts.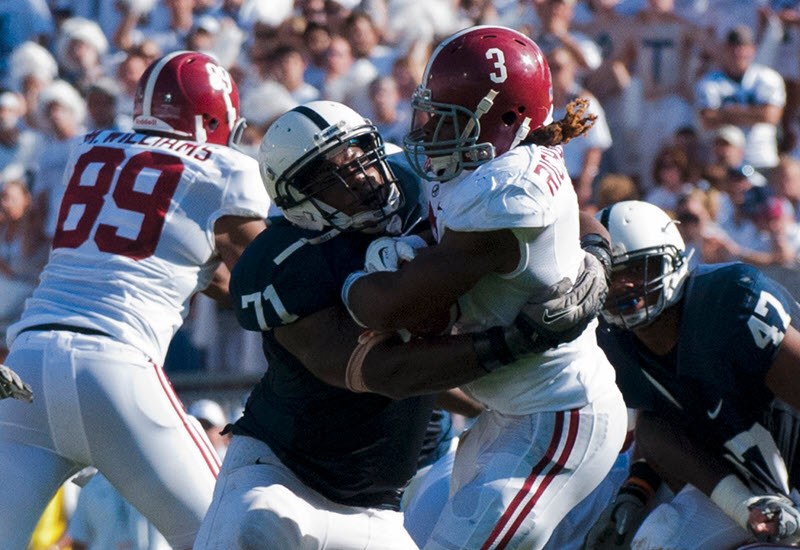 The league announced in June that players would sign three-year, non-guaranteed contracts worth a total of $250,000 that come with an out clause if players have a chance to move to the NFL. Those deals will come with other perks seemingly designed with the wellbeing of players in mind, including health insurance and an educational stipend. It's unclear exactly how extensive such benefits will be, but the aim is clearly to avoid the chew-'em-up-and-spit-'em-out stigma that's so often attached to the NFL.
The Teams
The AAF said from the start it would have eight franchises, but at first, it didn't say where those franchises would be. The locations have since been announced, with four teams on each side of the Mississippi River: Atlanta, Birmingham, Memphis and Orlando in the east and Phoenix, San Antonio, San Diego and Salt Lake City in the west.
While there are of course exceptions, those choices seem to indicate a clear profile. Seven of the eight cities are in the southern half of the US, with Salt Lake City the lone exception. Seven of the eight have existing major professional teams, but six of the eight are without a pro football team. And the majority of the league's teams are in cities known to have a passion for college football.
That latter point is also reflected in a list of the AAF's head coaches, a collection of former college legends and NFL flame-outs that might spark a flood of nostalgia for longtime football fans. Steve Spurrier, who spent more than 20 years as the head coach at the University of Florida and the University of South Carolina, will lead the Orlando franchise, Chicago Bears legend Mike Singletary will coach the Memphis team, and two-time national champion and coaching lifer Dennis Erickson will man the sidelines for Salt Lake City.
The teams will play in stadiums that can house between 24,333 (Georgia State Stadium, home of the Atlanta franchise) and 71,594 (Birmingham's Legion Field), with an average capacity of nearly 55,000.
The Fans
With both its players and its coaches, the AAF is making an appeal to nostalgia. Ditto when it comes to merchandising. The league has already unveiled a uniform and apparel partnership with Starter, the brand whose jackets and hats were for many an indelible part of sports fandom in the 1980s and '90s.
With the announcement of its gambling platform and partnership with the
MGM Resorts
, though, the AAF is embracing the future. The move would have been unthinkable several years ago. But in May, a Supreme Court ruling cleared the way for widespread legalization of sports gambling in the US. Companies that were previously on the fringes of the sports-betting industry, such as
DraftKings
, have already
made moves in response
, and the NBA announced a gambling partnership of its own with MGM earlier this summer. But no other professional sports league in America has embraced sports betting to the degree of the AAF.
All these efforts to win over fans may be required. Because as if the NFL weren't competition enough, yet another alternative pro football league plans to begin operations in the spring of 2020, giving the AAF just one season as the only trendy new post-Super Bowl option for pigskin. That rival is none other than the Vince McMahon-led XFL, which is attempting a revival nearly 20 years after its lone prior season, in 2001.