What is a unicorn company?
April 21, 2022
What is a unicorn company?
In venture capital, a unicorn company is a privately-held startup company that is valued at more than $1 billion. It's a term that's become common in the investing community, but where did it come from and why are these companies called unicorns?
What are the origins of the term "unicorn company"?
Coined in 2013 by venture capitalist
Aileen Lee
, the term highlighted the rarity of such companies at the time. Lee sorted through 60,000 software and internet companies that received funding between 2003 and 2013 and found that just
39 startups
were valued at over $1 billion— making them extremely elusive and opportune investments.
Today, Lee is a managing partner at
Cowboy Ventures
, a seed-stage VC firm in Palo Alto, California. Cowboy Ventures' first investment was
Dollar Shave Club
, which saw a $1 billion exit to
Unilever
in 2016. In March 2022, they provided seed funding to
Arcol
—a business productivity startup based in Middletown, DE.
Is a unicorn company still a rare occurrence?
Over the years, unicorn companies have become decidedly less rare. Although it's more common for a startup to reach unicorn status today than ever before, these $1 billion+ post-money valuations are still incredibly impressive. Unicorn companies are under a microscope—watched and reported on by those with an interest in the private markets' most prominent players.
How many unicorn companies are there?
When we first published this article in 2019, there were 354 active unicorn companies globally building on the previous year's high of 348. By the end of 2019, there were 439 active unicorn companies, including 139 new startups. In 2020, 162 new companies around the world achieved unicorn status, putting the total number of active unicorn companies at 538. 2021 saw a staggering 355 new unicorn companies and ended the year with an active total of 537 companies, almost the same as the year prior.
Coming out of Q1 2022, unicorn companies are starting the year strong . As of March 31, we have seen the debut of 75 unicorn companies, with standouts such as
Datavant
,
Fireblocks
,
Fanatics Trading Cards
and
Black Unicorn Factory
. Per PitchBook data, this puts the number of active unicorn companies up to 607.
That's a whole herd of unicorns.
Why are so many unicorn companies emerging?
One explanation for the explosion in unicorn companies is the ever-increasing convergence between the private and public markets. In the past, companies often relied on IPOs to generate the capital they needed to scale operations. Today however, companies are able to raise larger amounts of private funding early on, allowing them to reach billion-dollar valuations without having to go public.

US Unicorn Deal Activity
As of March 31, 2022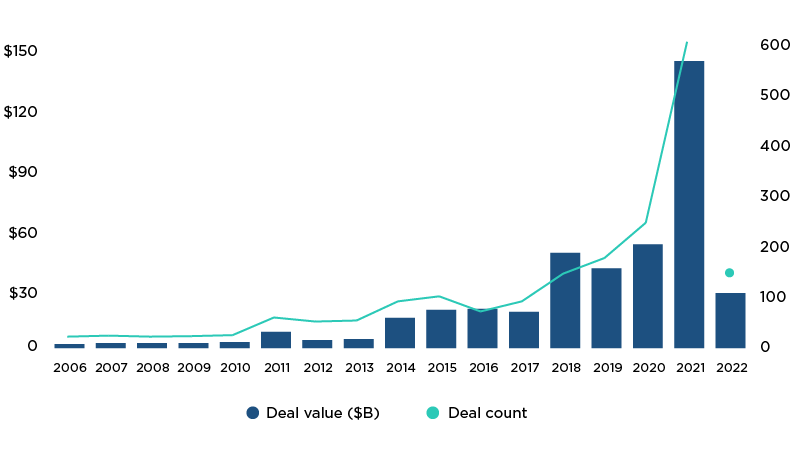 What does unicorn company deal activity look like over time?
In 2021, unicorn companies in the US secured 595 deals and raked in $142.3 billion dollars—more than double the funding amount of the year prior. To compare, when PitchBook began tracking this data point in 2006, just five unicorn deals were completed for $6 million in venture capital.
As of March 2022, unicorn companies have benefited from 134 deals, which amount to $27 billion. When measured against statistics from around the same time last year, the results are very comparable, which could point to similar outcomes between 2021 and 2022.
What industries produce the most unicorn companies?
Looking at the top-performing unicorns, we see some significant overlap and recurring industries. This takeaway not only points to active market trends but may also be of use in anticipating where future unicorn companies will emerge from. Out of the
top 10 new US unicorns
, 60% were fintech startups and five of those six were related to
blockchain or cryptocurrency
. Given the performance of these top fintech unicorns, it would appear that there is significant interest around the space and the possibility for more unicorn companies to emerge from it.
More on unicorn companies
Explore VC trends and takeaways
Download our Q1 2022 Venture Monitor report
See what it takes to go from startup to unicorn
Read our blog post on the obstacles that new businesses must overcome to achieve the status of breakout success of unicorn companies
Learn more about 2022's most successful unicorns
Check out our blog on the top new unicorns by post-money valuation
Check out how nontraditional VC investors impact unicorn activity
Read our blog post about how nontraditional and tourist investors helped fuel the ongoing globalization of the unicorn phenomenon
More on PitchBook's data coverage
See how our data can take your firm further
Explore PitchBook's robust private market data coverage, including actionable insights on companies—including unicorns, plus funds, investors, deals and more
Want to explore PitchBook's features for yourself?
Request a free trial or log in.