What is a unicorn?
August 27, 2019
What is a unicorn?
In venture capital, a unicorn is a privately held startup company that is valued at over $1 billion. It's a term that's become common, but where did it come from and why are these companies called unicorns?
Initially coined in 2013 by venture capitalist Aileen Lee, the term highlighted the rarity of such companies at the time. Lee sorted through 60,000 software and internet companies that received funding between 2003 to 2013 and found that just 39 startups at the time were valued at $1 billion or higher.
Over the years however, unicorns have become less rare. Globally, there are 354 active unicorns, building on last year's previous high of 302 (per the PitchBook Platform). Further, new unicorns are continuing to crop up quickly. In 2018 alone, 106 new companies around the world achieved unicorn status with 74 new startups joining the club so far in 2019 (as of August 12, 2019). Altogether, an outsized proportion of unicorns come from the US, representing 187 current active unicorns.
Why are so many unicorns emerging?
One explanation is the ever-increasing convergence between the private and public markets. In the past, companies often relied on IPOs to generate the capital they needed to scale operations. Today however, companies are able to raise larger amounts of private funding early on, allowing them to reach billion-dollar valuations without having to go public. So far in 2019, unicorns in the U.S. that are three or more years old have raked in $43.1 billion dollars in funding.
Global PE and VC deal value ($B)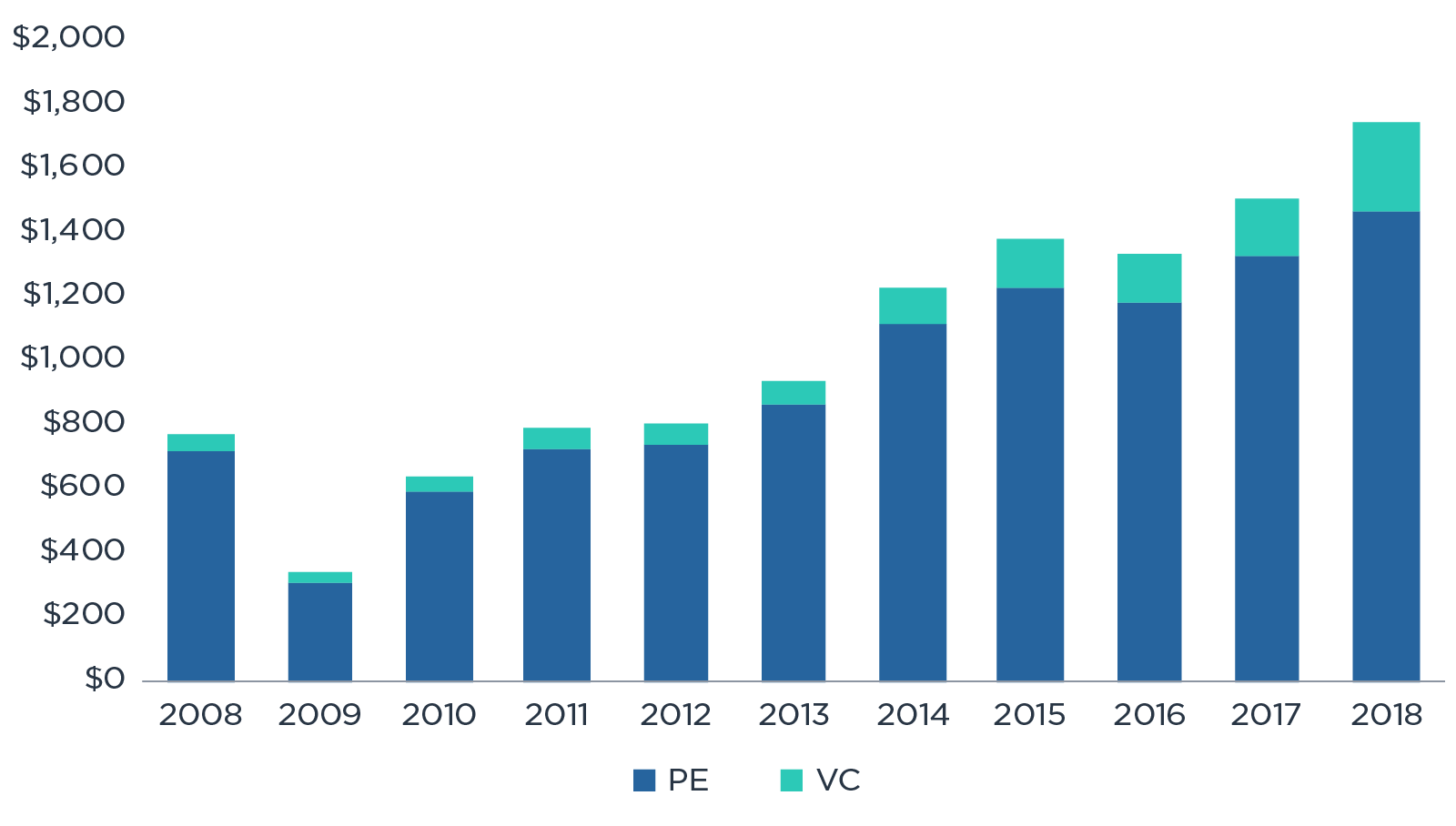 With more cash on hand than ever, investors are increasingly willing to bet big on the next promising startups. Take the automotive startup Nuro, for example. Despite being founded in 2016, the company has already raised $1.03 billion in funding—landing at a post-money valuation of $2.7 billion. A huge portion of that money—$940 million —came from tech giant SoftBank who has been splashing unprecedented amounts of capital as a nontraditional investor in the VC space. In fact, SoftBank is responsible for the largest private market fund of all time—with a fund size of roughly $100 billion dollars and a minimum investment of $100 million dollars. So far, they've invested in some of the most reputable unicorns including WeWork, Slack, Uber (and many, many more).
As investors continue to see potential for growth and profit, they are willing to allocate more money than before to the private markets. In fact, according to a recent survey we conducted 66% of limited partners say that they plan to increase their allocations to the private markets in the next five years. Which means we'll likely be seeing more of these high valued startups. Raising the question, are these really unicorns at all?

To learn more about unicorns and the VC landscape, download the 2019 Unicorn Report.