Unicorns
Becoming a unicorn is more expensive than ever
August 16, 2019
In the venture capital world, the existence of a unicorn is neither mythical nor legendary. Although hitting a valuation north of $1 billion is no mean feat, there are more than 187 unicorns in the US as of June 30, boasting an aggregate private valuation of over $600 billion. And even though a deluge of unicorns arrived on Wall Street this year, the herd just keeps growing—along with the VC funding they are raising to attain the coveted billion-dollar valuation.
The latest PitchBook
Unicorn Report
takes a deep dive into trends that are shaping unicorns, including liquidity mechanisms, exit activity and the current landscape of private and public markets. Here's a quick look at how it is becoming increasingly pricey for companies to reach unicorn status:
VC funding prior to $1B+ valuation
The average amount of venture capital secured by a company prior to attaining unicorn status—not including the round that pushes the company into unicorn territory—has shot from $102.3 million in 2013 to a staggering $160.4 million in the first half of 2019.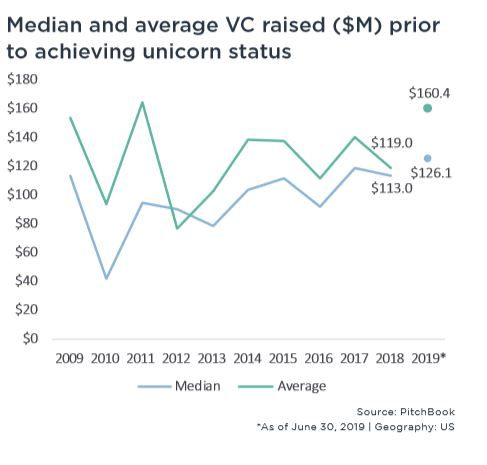 Impossible Foods
tops the list with the most money raised prior to achieving unicorn status within the past two years, as it brought in around $360 million total before catapulting to unicorn status in May with an additional $300 million round. Some of the biggest VC deals in 2019 have gone to mobility startups like electric scooter provider
Bird
and
Flexport
, the developer of a freight-forwarding platform, and some of those startups also raised a significant amount of VC funding prior to becoming unicorns. Flexport joined the unicorn club when it raised a whopping $1 billion in April at a reported $3.2 billion valuation; the Bay Area company had around $302 million in VC financing before that.
Other notable mobility startups each raised more than $300 million in total capital before their respective unicorn rounds include electric vehicle-centric businesses
Faraday Future
and
ChargePoint
.
Unicorn financing rounds are bigger
The median deal size for a unicorn has remained steady in the last decade, gradually shifting from $135 million in 2014 to $175 million in 2018. However, the average shot to an all-time high of $392.4 million in 2018, up from 2017's $242.6 million, thanks to outliers like
DoorDash
. The food delivery company raised a $535 million Series D in early 2018, propelling its valuation from $717 million to $1.4 billion.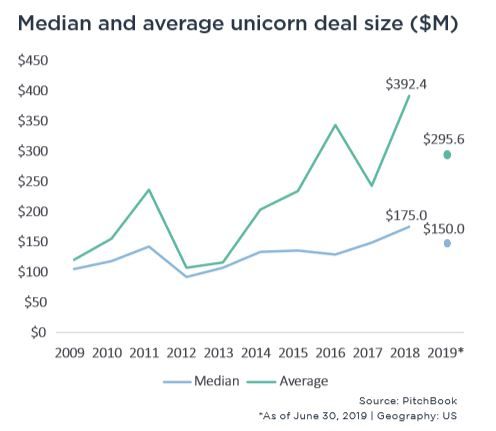 The ability of businesses such as Bird, DoorDash and
Robinhood
to raise rounds of $100 million or more in the private markets after attaining a unicorn valuation has contributed to a gradual increase in median unicorn financing in 2019, demonstrating a clear demand from VC investors looking to put their capital into stable and scalable private businesses.
Related read: Meet the unicorn class of 2019