Sports
As live college sports take a time out, esports score big on virtual campuses
September 8, 2020
For many undergraduates, the fall semester is virtual—devoid of the dorm-room parties, clubs, football games and other hallmarks of the US college experience. In the absence of these gatherings, esports have emerged as a new social medium.
Esports offerings at colleges such as MIT and Brown University have exploded this year. MIT has expanded its offerings from a tournament featuring the online battle game League of Legends to nearly a dozen gaming leagues focused on other popular games like Rocket League, Super Smash Brothers, and Mario Kart.
Brown recently added more than 300 students to its roster of esports players—about a 50% uptick since March—bringing the total to over 900 players, according to Griffin Beels, president of the university's esports club. Most of the additions have been from incoming freshmen, who have yet to make on-campus connections, Beels said.
This is a preview of an article featured in the upcoming edition of the Private Market PlayBook magazine, due out in October. Click here to get a free subscription.
The rise of esports at colleges was inevitable before the pandemic, said Austin Smith, founder of esports startup Mission Control. "Now it's just happening a lot faster."
Mission Control
operates a platform that lets recreational leagues, such as those found on university campuses, host esports tournaments. The St. Louis startup raised $1.75 million in seed funding in July to expand its tournament platform.
"Schools are looking at esports as a way to bring some sort of competition, as well as camaraderie between the students," said Sumit Gupta, CEO of startup Boom.tv, a streaming platform that focuses on events hosted by influencers and schools.
Boom.tv
, which raised a $10 million Series A in June, has seen user traffic grow more than 50% in the first half of 2020. It now reaches around 15 million monthly viewers—thanks in part to the
American Video Game League
, a college event organizer acquired by Boom.tv last year.
Investors have continued to hunt for promising new games that they hope will turn into the next League of Legends, since such standout games have given them some of their highest returns.
"[The gaming industry] really does well in downturns," said Jon Goldman, a partner at
Greycroft
and head of the GC VR Gaming Tracker Fund. "The last time it boomed to this extent was the financial meltdown of 2008 and the aftermath."
As of late August, esports companies had raised $2.4 billion of venture capital funding, marking the industry's second-largest haul on record, according to PitchBook data. "Fortnite" maker
Epic Games
snapped up the bulk of those dollars with a $1.8 billion round in August.
Global VC sports investment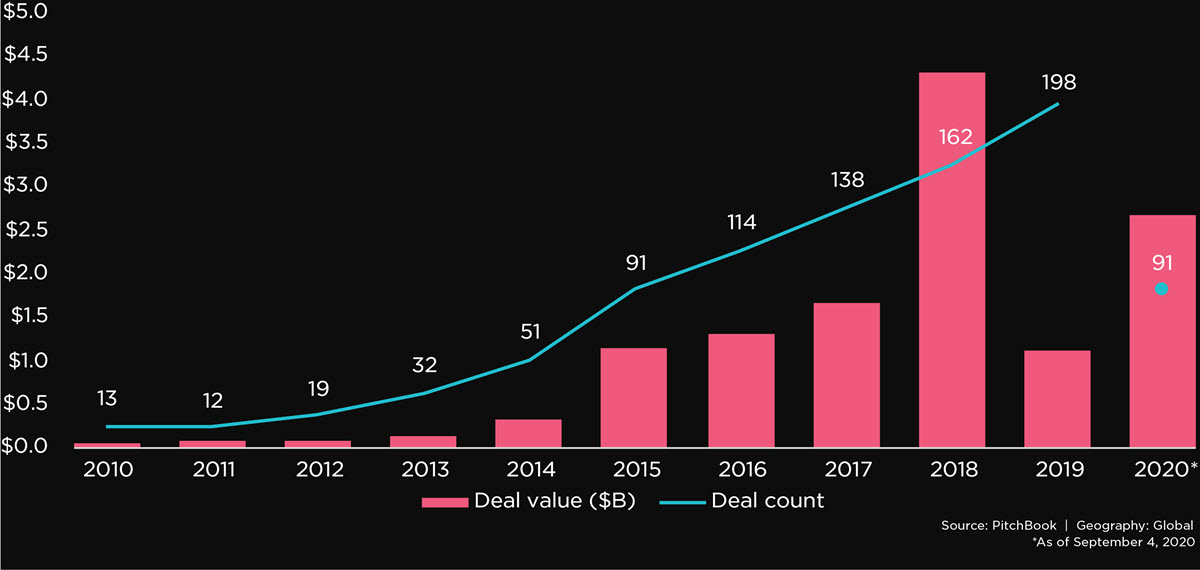 Beyond games, investors have been backing esports teams, gamer education startups, betting platforms, and other companies that target the esports community. Other notable VC deals this year include broadcasting platform providers
Caffeine
($113 million) and
Discord
($100 million), as well as
Faze Clan
($40 million), a professional esports organization with a roster of teams and influencers.
Professional esports competitions involve multimillion-dollar prize pots, an indication there's money to be made by colleges—especially if they're able to create a gaming equivalent of NCAA Division I football.
Prominent colleges appear to see the potential in this space. Ohio State, which brought in nearly $211 million in revenue from its sports programs last year, built an arena dedicated to esports competition and is developing a degree program for esports and games. Illinois State, the University of North Carolina, and the University of Washington also have esports arenas.
The National Association of Collegiate Esports has attracted more than 170 schools to its ranks as more intramural leagues continue to sprout up. The industry has even garnered the attention of
Twitch
, the
Amazon
-owned game streaming platform. The company is helping to form an esports league for historically black colleges and universities.
Despite these developments, the NCAA voted last year against governing esports.
College esports leagues also face institutional hurdles. Schools tend to favor their cash cow athletics departments—or at least programs that contribute to students' physical health—when it comes time to decide where to allocate resources. There's also a generational gap: Today's college esports competitions are unlikely to appeal to older alumni spectators, who have donated millions of dollars to college sports programs.
"[Live sports are] not just a social activity for kids for universities like Ohio State," Goldman said. "It's the sponsorship dollars, it's the alumni donation. It's all those things that are reinforcing mechanisms for football, basketball, the top sports. I don't think that esports yet can drive that kind of financial ecosystem for the colleges."
Instead, universities are investing in esports programs today as a way to connect and entertain students.
Over the summer, MIT hosted a Super Smash Bros. competition that was streamed with live color commentary on Discord's platform.
The winner was an incoming freshman, who traded typical first-year icebreakers for bragging rights among the school's gaming community.
"No one knew who this guy was," said Nick Jewell, an intramural administrator at MIT. "He came in, he won the whole thing. That was really fun to see."
It's the social and entertainment aspects of esports that make investors think there's plenty of opportunity for innovation.
"We just fundamentally believe from our fund investment thesis the fun, the engagement, the community, the participatory [element] is more important for us to focus on" than competitive gaming, said Kai Bond, a partner at
Courtside Ventures
who leads gaming investments.
Games are rapidly building experiences outside of competitive gameplay. In April, when the live music scene was effectively canceled, "Fortnite" hosted a virtual Travis Scott concert that drew more than 27 million players.
"Fortnite" has also been at the forefront of monetizing the social gaming experience. For a fee, players can upgrade their avatar—such as costumes and dance moves—that have little to do with gameplay.
"'Fortnite' stands out as something that people are playing just for the ability to look cooler in front of their friends online," Goldman said.
As the pandemic goes on, colleges will continue to grapple with how to build rapport among students isolated from campus life. Esports leagues may be one of the keys to help them do just that.
"A random League of Legends team doesn't stand for anything," said Jens Hilgers, a founding general partner at
Bitkraft
, which recently closed a $165 million esports and gaming-focused fund. "If you get a sense of loyalty to a school, it turns into something much stronger."
Feature illustration by Kelilah King/PitchBook
Join the more than 1.5 million industry professionals who get our daily newsletter!