Country Focus
Country focus: Israel's on course for further growth
September 28, 2018
The private market ecosystem in Israel has been maturing rapidly over the past few years, underscored by several big deals and the emergence of a technology cluster in the area around Tel Aviv known as Silicon Wadi.
Despite its relatively small size and a population of around 8.9 million, the nation has become one of the most technologically influential hubs in the world due, in part, to a young and well-educated workforce and a favourable entrepreneurial environment, which is supported by the country's government.
This has seen a number of highly skilled individuals morph into successful founders and investors. Here, Unit 8200—the Israeli military's NSA or GCHQ equivalent—has been key. For example, Ehud Schneorson, who joined
Blumberg Capital
's Tel Aviv office as a managing director this month, is a 30-year veteran of the Israeli intelligence community, while military veteran Zohar Rozenberg now advises various entities on cyber investments and security.
The country's strong ties to US-based investors have led to inward capital flows, as well as offered some of its startups the opportunity to scale operations internationally at an early stage. The
Intel Capital
-led $50 million investment in data and analytics startup
Moovit
in February is just one example of this trend.
Venture capital
Israeli startups
have received €1.7 billion
across more than 230 deals so far this year, according to the PitchBook Platform. One particular trend has been an increase in deal sizes, with the median round size reaching more than €5.1 million so far this year, more than double the median from 2017.
Software specialist
monday.com
, which received $50 million in Series C funding in July, and the $30 million in funding cybersecurity business
ThetaRay
secured the same month are indicative of an overall more mature ecosystem than just a few years ago.
This year is on track to match or slightly outpace 2017, both in terms of capital invested and deal count, with investment in the IT and healthcare sectors by far outweighing any other verticals. Data visualisation software developer
Sisense
's $80 million Series E, as well as medical technology company
Insightec
's whooping $150 million round, are just two examples of deals in those sectors.
Private equity
Private equity investment in Israel saw a sharp drop after the record breaking year of 2016, during which €6.41 billion was invested across 21 deals. That number stands at €2.2 billion so far this year, clocking up just 12 deals. During the same period, there has been a marked shift away from IT investments, with the vast majority of capital now going towards deals in the healthcare sector. Investments in that industry have increased from just €260 million in 2016 to almost €840 million so far this year.
Deal flow got off to a healthy start when
CVC Capital Partners
completed the $703 million acquisition of Teva Pharmaceutical Industries' global women's health business
Theramex
in February. In June, outside of healthcare,
SKion
—the investment vehicle owned by German billionaire investor Susanne Klatten—invested $300 million in
Landa Digital Printing
to support the Rehovot-based company's international expansion.
Exit activity was somewhat subdued during the first half of the year. Noteworthy deals include
Sol-Gel Technologies
, the PE-backed biotech which raised almost $75 million in its IPO on the NASDAQ in February. In the same month,
Mexichem
completed the acquisition of an 80% stake in drip irrigation company
Netafim
—which was backed by investors including
Apax Partners
,
Bain Capital
and CVC—in a deal valuing the company at around $1.9 billion.
Looking forward, freelance work marketplace
Fiverr
is reportedly exploring an IPO in New York, which could see the company fetch a valuation in the region of $1 billion. The startup has raised north of $110 million to date and employs some 280 workers, around 180 of them in Israel and the rest in the US.
Israel has developed into a real draw for foreign investors. Its expertise in IT and cybersecurity, combined with its focus of healthcare-related trends, has been an integral part of building and maturing its evolving ecosystem. While there are undoubtedly headwinds ahead—be they geopolitical or stemming from a slowdown of the global economy—it is no stretch to see its private markets overall growth trajectory continuing.
Check out our list of the top 13 VC investors in Israel.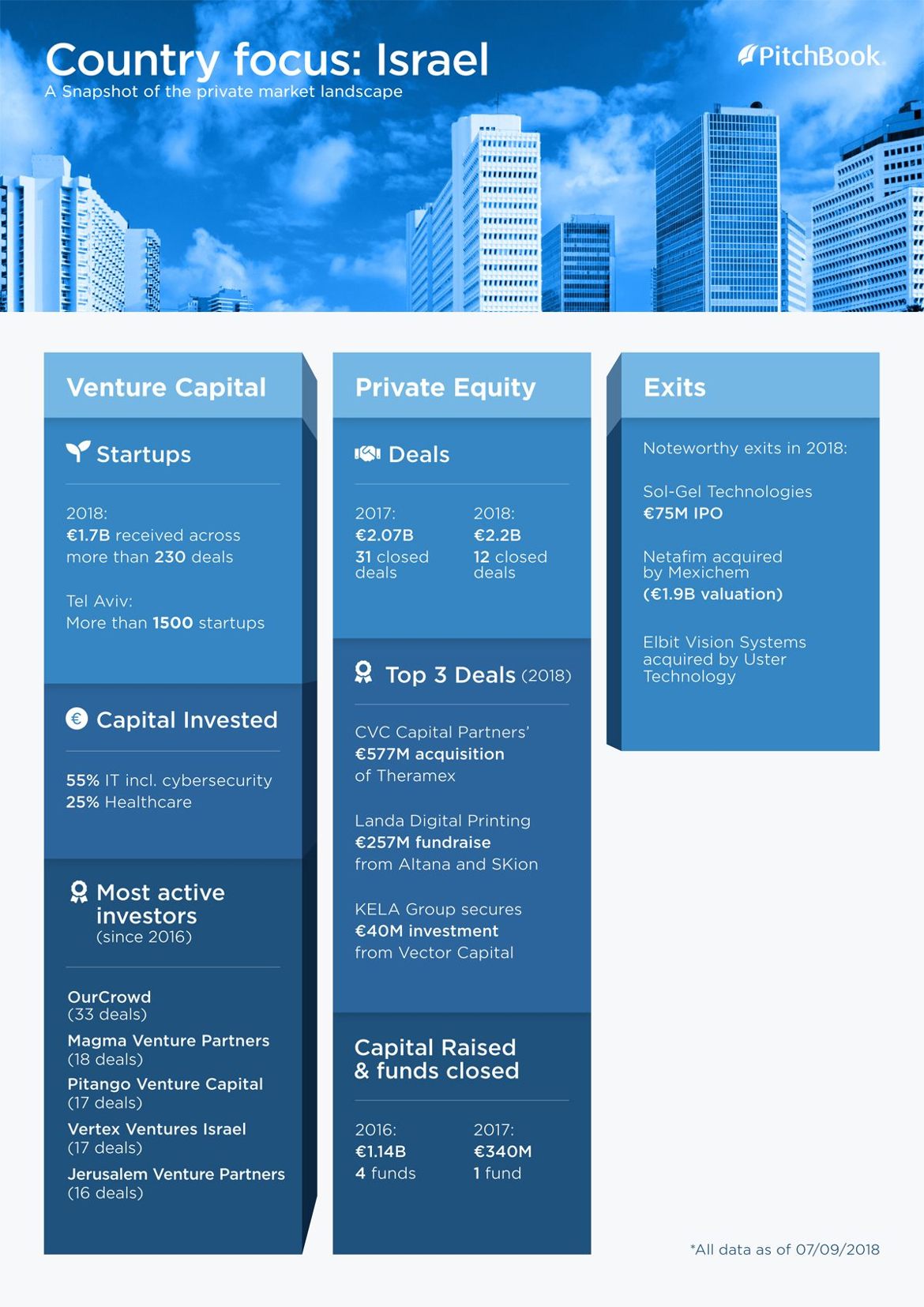 Join the more than 1.5 million industry professionals who get our daily newsletter!