M&A Report
How legacy payments companies lean on M&A to compete with startups
May 20, 2019
Every year, the global payments system helps facilitate tens of trillions of dollars in transactions. It's a space that's ripe for innovation and filled with cutting-edge startups. But many of the older companies that have long formed the system's infrastructure have held onto their market share with minimal external pressure to change.
Now, that seems to be coming to an end, and these large legacy businesses are turning to M&A as a strategy to compete.
In 2018 and 2019, M&A activity in payments ballooned to $48.2 billion and then $73.7 billion, according to PitchBook's
1Q 2019 M&A Report
. And that $73.7 billion is just for the first quarter of this year.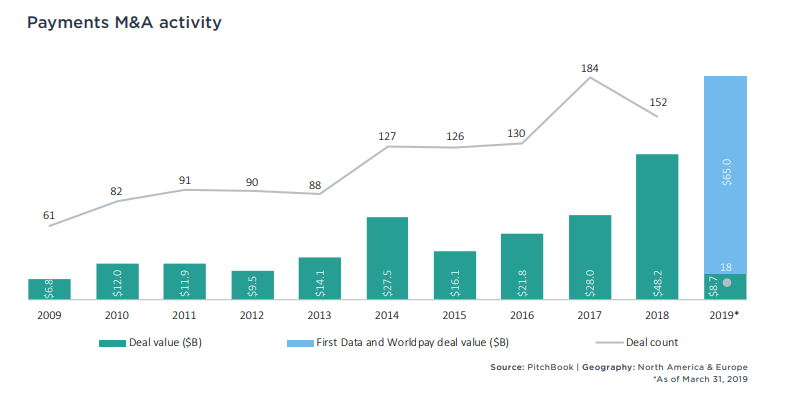 The majority of this activity comes from two massive transactions currently in the works that demonstrate how legacy companies are using consolidation in response to the growth of more agile startups. The first is
Fiserv
's acquisition of
First Data
, which it agreed to buy
in a $22 billion stock deal
in January. The second is
Fidelity National Information Services
' $43 billion agreement in March to buy
Worldpay
.
What makes these two targets worth so much money? Worldpay and First Data are the largest and second-largest global merchant payment processors in the world, respectively, helping connect customers making purchases with the networks that join
Visa
or
Mastercard
to banks. These are scaled, successful businesses that are likely to keep generating cash for years to come. But, as detailed in
a recent PitchBook analyst note
, they increasingly must compete with startups that are often service-driven rather than sales-driven and that can focus on the specific needs of a merchant or meeting a customer's expectations—startups such as
Square
,
Stripe
and
PayPal
.
As the digital economy has expanded, legacy companies like Fiserv are coming to realize they are behind in developing the infrastructure that their customers need or want, giving the innovating startups an advantage in comparison. And investors have noticed: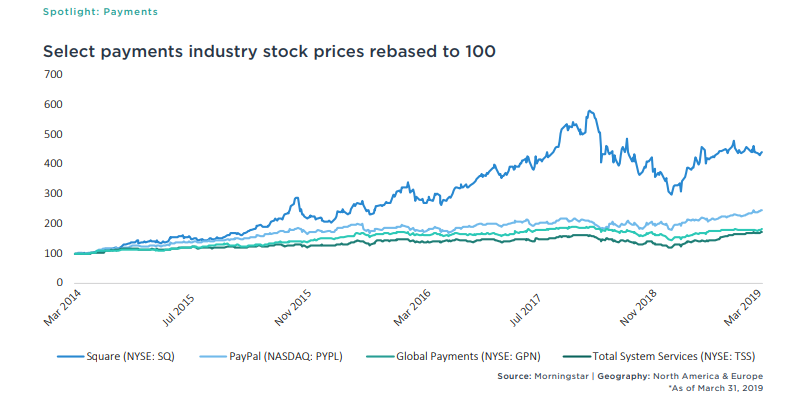 Over the past few years, Square and PayPal have trounced the stock performance of
Global Payments
and
Total System Services
(TSYS), two legacy companies that are also facing the same pressure induced by innovation. And share price isn't the only metric these newer competitors are growing by. They're demonstrating an incredible potential for revenue growth that is expected to heavily outpace that of their older and larger counterparts.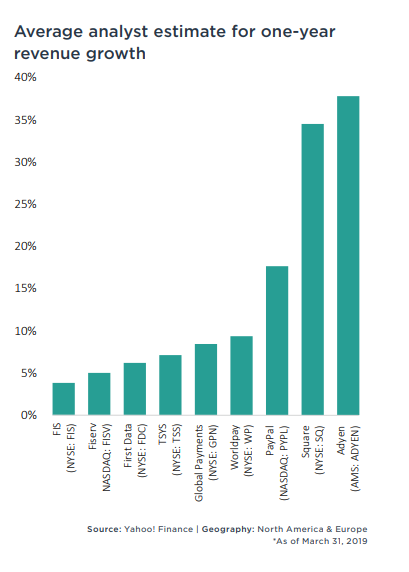 And that's where M&A comes in. Although some large legacy companies have tried to keep up with the changing landscape through acquiring small, high-growth businesses, these add-ons have not been enough for them to stave off startups trying to seize a meaningful share of the market. And although it's far from certain, future currency alternatives such as blockchain-based cryptocurrencies or China's WeChat Pay or
Alipay
could potentially disrupt even the most entrenched players in the payments network.
With few options left, large moves toward consolidation, such as those between FIS and Worldpay, and Fiserv and First Data, are a logical way to reduce costs and debt and to generate more cash. Businesses such as Global Payments, Total System Services and
Chase Paymentech
are expected to follow suit and look to M&A to fend off competitors. However, unless they begin directly addressing the innovations that startups are bringing to the table, legacy companies are likely to continue losing out on the market share they've held onto so far.
Featured image via RossHelen/iStock/Getty Images Plus