VC Valuations
Top valuation step-ups of 2020 dominated by fintech, lockdown-friendly names
November 24, 2020
Silicon Valley heavyweights like
Stripe
,
Chime
and
Instacart
rode a wave of investor enthusiasm for late-stage companies that were better able to weather the pandemic due to evolving consumer demands and business needs. That ultimately translated into bigger funding rounds and higher valuations. The companies that experienced the biggest valuation jumps thus far this year can also testify to this trend.
Some $78.2 billion was injected into 2,535 late-stage companies in the US as of Sept. 30, according to PitchBook data. And almost 69% of US deal value in 2020 has come from late-stage deals, which make up less than 22% of completed rounds.
Financings for fintech companies, including payment processor Stripe, online bank Chime and trading platform operator
Robinhood
, were among the deals that generated the largest post-money valuation gains. These companies have fared well as consumers continue to shop, bank and trade stock online, but the overall valuation gains of late-stage companies are due to factors other than pandemic-related success.
Valuation increases for these companies were largely related to their bigger size and maturity rather than their specific performance during the pandemic, according to PitchBook's
Q3 2020 US VC Valuations Report
.
Stripe's $850 million Series G catapulted its worth by an estimated $13.5 billion to top the list of valuation gains. With an estimated value of $36 billion, it is among the most valuable private companies in the US, according to PitchBook data.
Here's a look at the other VC rounds that led to the biggest US company valuation jumps so far in 2020: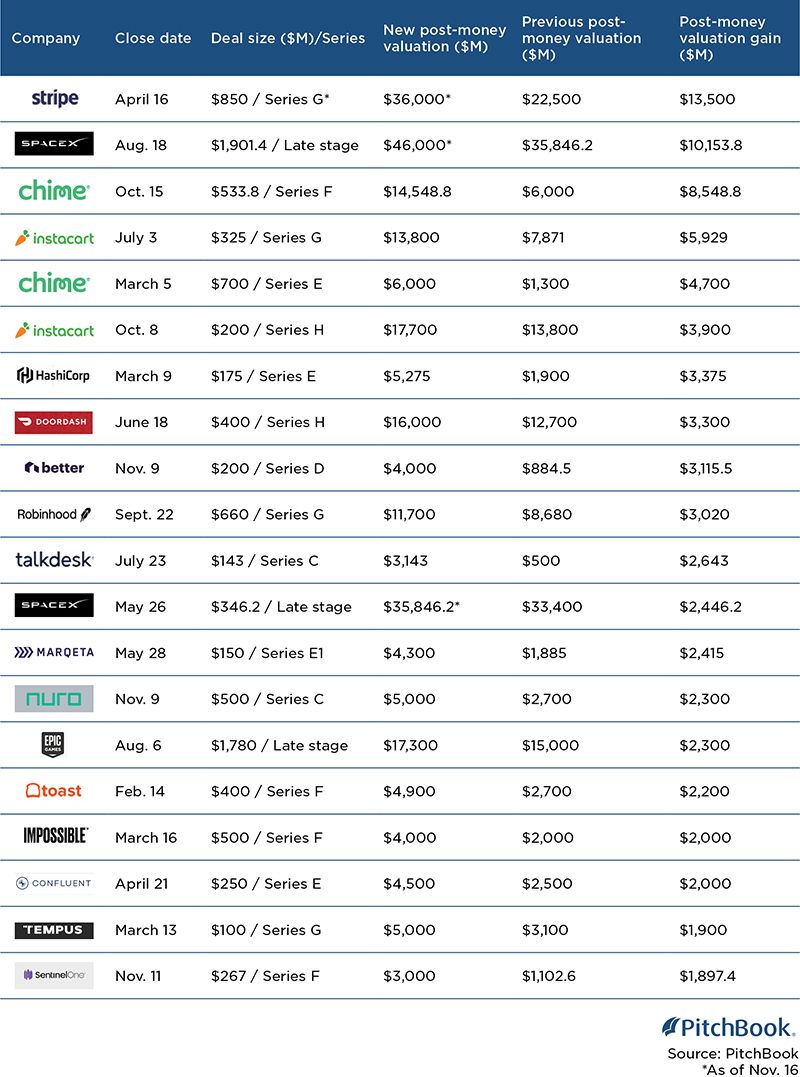 *Round/valuation is estimated
Chime secured more than $1.2 billion across two rounds during the year, with both deals making it onto the list. The financings propelled the company's valuation to $14.5 billion, helping it surpass Robinhood to become the
most valuable VC-backed consumer fintech company
in the US.
Digital mortgage lender
Better.com
, which saw its valuation jump more than 350% to $4 billion in November, is reportedly planning to file confidentially for an IPO as early as January.
Capitalizing on an exponential rise in demand for online grocery shopping,
Instacart emerged
as the most valuable VC-backed US food delivery provider in October. That month, the San Francisco-based company was valued at $17.7 billion with a $200 million investment from Valiant Peregrine Fund and
D1 Capital Partners
.
Robinhood, which made its way onto the list with a $660 million round and a valuation step-up of more than 1.3 times in September, has joined Instacart and a cohort of other companies believed to be seeking IPOs in 2021.
Many of these companies have also
grabbed the attention of nontraditional investors
, or those that don't fall within the venture capital ecosystem, like corporations, sovereign wealth funds, hedge funds and investment banks.
Around 96% of this year's mega-deals included a contribution from one of these entities. Through Sept. 30, these investors have either led or been the lone investor in 616 rounds, according to PitchBook's Q3 2020 US VC Valuations Report.
Public market investors like hedge funds and mutual funds have transitioned into private funding rounds to capture growth before an IPO as companies continue to stay private longer, the report said.
While many companies that raised mega-rounds have experienced growth and success during the pandemic, others haven't been so lucky.
Toast
, a Boston-based provider of restaurant management software, raised $400 million in February. But within two months, restaurant closures forced the company to either lay off or furlough about 50% of its workforce, reportedly accounting for over 1,000 jobs.
Featured image via oatawa/Getty Images