Third-generation venture capitalist Tim Draper and his family have invested in hundreds of companies over the years. To visualize the deals, we've put together an interactive graphic illustrating each family member's investments. Hover over the bubbles to learn more about each deal. To filter out deals by each family member, click on a person's name to remove his/her investments. All data is sourced from the PitchBook Platform.
Scroll below the graphic for more detailed information on the Draper family.
The Draper venture capital dynasty
"We want a new world order/we want to pay across the border. I just wanna be a Hodler on my bitcoin hustle," Tim
Draper rapped recently
at a tech conference in Amsterdam.
Today, the venture capital investor and billionaire is known not only for this mammoth portfolio of investments but also for his outlandish antics. Those include his extreme fondness for cryptocurrency—remember when he bought 30,000 bitcoins that had been seized by the US Marshals at the
Silk Road bitcoin auction
in 2014? Then there's his strange and interminable desire to split up California into multiple smaller states. And, of course, there's his undying support for the embattled, and now indicted,
Theranos
founder Elizabeth Holmes, whom he supported during a television appearance on CNBC's "Closing Bell" in May: "I feel we have taken down another great icon," he said, decked out in a purple tie speckled with the bitcoin emblem—the same tie he's wearing in the photo above, and the one he had on during his bitcoin rap. It's his favorite tie, one might suppose.
Despite his odd and sometimes controversial opinions
,
one thing is certain: Tim Draper is committed to his investments, and so are his family members. Since 1959, venture capital has been a Draper family tradition.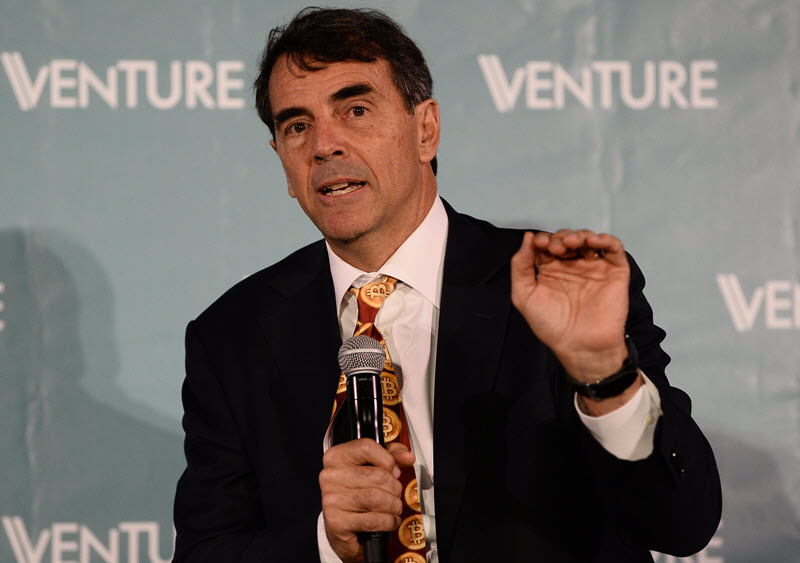 A Draper launches one of the original VC firms
William Henry Draper Jr., Tim Draper's grandfather, launched one of the first venture capital firms on the West Coast, Draper, Gaither & Anderson, in 1959. Tim's father, William (Bill) Henry Draper III, launched investment giant
Sutter Hill Ventures
in the early 1960s. He went on to found a few other investment firms later in his career, including
Draper Richards
and
Draper International
.
Just one year before William Henry Draper Jr. founded his firm, his grandson, Tim Draper, was born.
Tim Draper starts his VC career
Tim Draper has been doling out cash to startup entrepreneurs since the 1980s. After a brief stint at an investment bank, Draper kicked off his career in venture capital when he founded VC powerhouse
DFJ
in 1985. At that time, he was in his mid-twenties.
Since founding DFJ, Draper has lent his name to several other investment firms and tech-related projects. Among them are seed-stage VC firm
Draper Associates
and
Draper Dragon
, an early-stage fund focused on the US and China. He's also behind the Draper Venture Network, a global alliance of independent venture capital firms, and
Draper University
, which provides a startup boot camp and entrepreneurial training.
Through his investment outfits, Draper has backed
SpaceX
,
Tesla
,
Skype
,
Coinbase
and many other big-name tech companies. (See the graphic above for comprehensive deal info.)
Jesse, Billy and Adam Draper
Tim Draper's children, have, unsurprisingly, mounted their own successful venture capital careers. Adam and Jesse Draper are both founders of VC firms. Adam is the co-founder of crypto-focused accelerator
Boost VC,
while Jesse is the founding partner at
Halogen Ventures
, which invests in female-founded consumer tech companies. Billy Draper, for his part, is a partner at Draper Associates.
Related read: 'The year of crypto': Boost VC's Adam Draper on the future of digital currency