Uber vs. Waymo in $2.8T battle for 'robotaxis'
May 18, 2018
The future of transportation is now. And like most of human history, it's messy and features a big rivalry at the center.
Alphabet
's
Waymo
service is ferrying families around Phoenix in driverless minivans.
Uber
is still struggling to understand why one of its self-driving cars killed a pedestrian without slowing or stopping, the first recorded case of someone being killed by a fully autonomous vehicle.
Tesla
's camera-based, semi-autonomous Autopilot system seems to be in the habit of slamming into
parked firetrucks at freeway speeds
.
But this future will be extremely lucrative.
UBS
analysts, in a recent note to clients, outlined the case for why the market for autonomous vehicles (AV) overall could be worth upwards of $2.8 trillion per year by 2030. That's in addition to global car sales, which today are worth about $2 trillion annually. The bulk of the revenues to be captured in this new ecosystem will be in "robotaxis," pitting Waymo against current ridehailing leader and VC-industry titan Uber.
These findings were the result of an interview with a panel hosted by UBS that included 22 senior experts and executives from the AV ecosystem. Their major takeaway was that the largest potential revenue pool is likely "the sale of the mile in an AV," while the strategic center will be whoever creates the most widely used AV operating system. This is the system that would be responsible for the vehicle's perception, behavior prediction for the things around it and movement planning.
Global VC activity in autonomous cars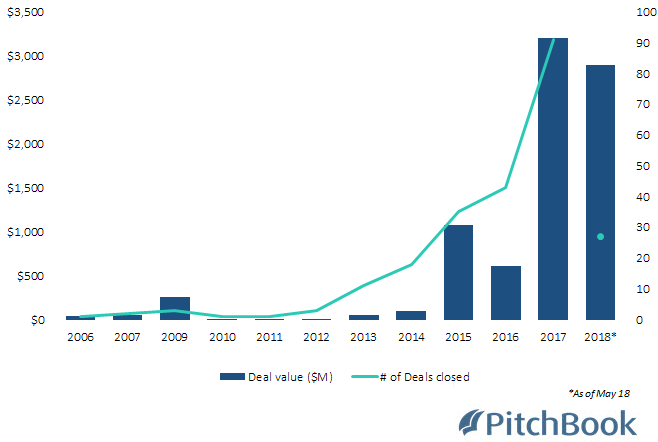 Waymo looks best positioned to capitalize on both of these, enjoying a head start in bringing robotaxis to market, thanks to the leveraging of its strength in software development as well as the "hardware stack" of sensors needed to enable the machine vision necessary for computers to take the wheel.
The company focused on full autonomy from the beginning (as opposed to OEM competitors like Tesla and
Ford
that bogged down in less advanced semi-autonomous capabilities) and is widely seen as the most advanced player by the experts UBS interviewed. By one metric, the number of autonomous vehicle miles driven in California, Waymo is way ahead of everyone, with 5 million miles driven through February 2018. The company also has nearly twice the share of US autonomous driving patents relative to its next closest competitor.
Total miles traveled in autonomous mode on California public roads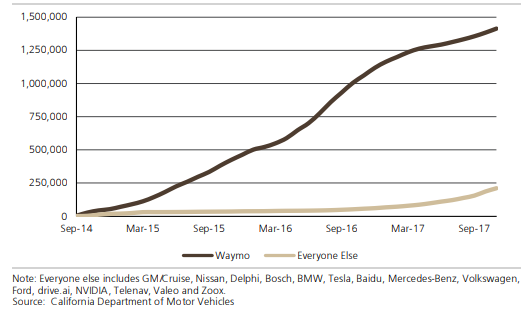 And, unfortunately, things aren't looking so good for Uber despite forming a network of partnerships with companies like
Daimler
,
Toyota
,
Volvo
and
Nvidia
.
That's because leadership in the ride-on-demand business doesn't directly translate into a competitive advantage when you remove the driver and replace it with a computer. The more likely outcome would be for Uber to focus on fleet management, especially with some panel members noting Uber is so far behind on its AV technology—even without the fatal accident in Arizona—it might have to stop its activities and look for a partner instead. AV fleet management, as a separate business model, could be worth upwards of $200 billion a year in revenues by 2030, in their view.
Overall, UBS expects 12% of all passenger cars sold in 2030 to be robotaxis, or full
"Level 5" self-driving cars
, for a total of 26 million on the road at that time. Another 5 million privately owned cars are predicted to have "Level 4" autonomy (capable of eyes-free, hands-free and mind-free self-driving) in certain areas.
When asked who was best positioned for this future, UBS panel members gave Waymo 27 points. Uber garnered just three.
Related read: Is Tesla all wrong on Autopilot?