TechCrunch Disrupt
Uber's CEO on his first year: 'I had no frickin' clue what I was getting into'
September 6, 2018
View comment

(1)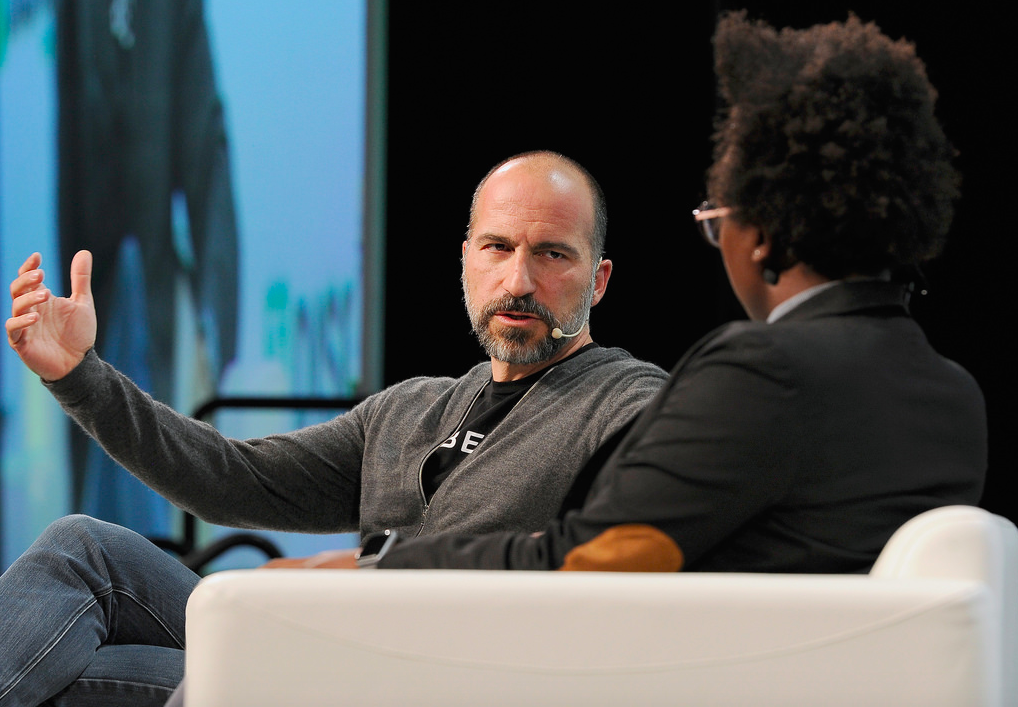 This post is part of our ongoing coverage of TechCrunch Disrupt
SAN FRANCISCO—Before Dara Khosrowshahi became CEO of
Uber
a year ago, the ridehailing company was in the process of cleaning up its image after a rough year—and bringing on the former
Expedia
chief as its leader was a big part of its strategy.
Now, almost exactly a year has passed since Khosrowshahi was installed in the CEO seat—enough time that he's no longer referred to as Uber's "new CEO" or "Travis Kalanick's replacement." Khosrowshahi took the stage at TechCrunch Disrupt 2018 to discuss how Uber has evolved since he took on the big job last September, from major personnel changes to a move into scooters to a renewed focus on diversity.
"I had no frickin' clue what I was getting into," Khosrowshahi said of his decision to take on the top job, adding that overall he feels positive about the progress the company has made. "It's been a year. So far, so good."
Bikes, scooters will be key to upcoming IPO
Urban mobility has been a major topic of discussion in the tech world over the last few months, particularly with the onslaught of bikesharing and electric scooters. Uber, as the leader in market share for the US ridehailing space, is well-positioned to take advantage of its existing platform and users to move into all types of transportation.
"In San Francisco, if you're going two and a half miles alone, you shouldn't take a car. That's bad for the city. … We want to get you on a Jump bike. It's faster, and better for the environment,"Khosrowshahi said, adding later that he believes a decade from now, ridehailing will make up less than half of Uber's business. "Our core business will be getting you from Point A to Point B. We want to be the Amazon of transportation."
Uber acquired bikesharing business
Jump Bikes
earlier this year and it also has a partnership with
Lime
. The company is also developing an electric scooter arm, with plans to deploy in Santa Monica, where it's received a permit to operate. At the same time, Uber is working on autonomous vehicle technology to add self-driving cars to its repertoire. When all is said and done, the company will have a full suite of transportation options for people to move around the city.
And it's that breadth of services that Khosrowshahi says will make the company attractive to investors when it goes public next year. "The transportation industry is worth $6 trillion. The size of the market ahead of us and the growth ahead of us is extraordinary. … And the public markets are willing to pay for growth," Khosrowshahi said. "Within Uber we've got the base ridesharing business, and that continues to grow. … We've got the Eats business. And now we've got businesses like bikes and scooters and freight. … I think we're going to find plenty of investors in the public market."
Diversity as a "core part" of the company
Near the end of Khosrowshahi's time on the TechCrunch stage, he discussed the company's efforts to improve diversity among its staffers and addressed some recent controversy surrounding current and former executives.
Back in July, Liane Hornsey resigned from her role as head of Uber's human resources department amid questions about how she handled race-based discrimination claims. That same week, The New York Times
released a report
about Barney Harford, whom Khosrowshahi personally brought on as COO. According to the article, Harford had made some racially insensitive comments on a conference call with colleagues. Just a few days later, reports emerged that the US Equal Employment Opportunity Commission had launched an investigation into Uber based on a complaint about gender inequality.
In response to questions about the controversy surrounding Harford, Khosrowshahi emphasized that the company's culture is a work in progress. "Was the New York Times article fun? No. That was a shitty day. … But we've taken this as a learning moment, and we're improving," he said.
In terms of what the company is doing to work on issues surrounding diversity, Khosrowshahi said the most important thing to him is awareness, measurement and results. One of the first things he's doing is introducing training as it relates to bias. "Diversity and inclusion have to be a core part of everything the company does, has to be a core part of our strategy," he said.
The most valuable VC-backed company in the US
Since Khosrowshahi took the helm at Uber, the company's valuation has jumped around a bit—but it's never fallen from its ranking as the most valuable VC-backed company in the US. Uber was worth some $70 billion when Khosrowshahi first joined the company, although its reputation had taken its fair share of hits—including founder Travis Kalanick's fall from grace, a high-profile trade-secret legal battle with Waymo, and the blog post from Susan Fowler that accused the company of rampant sexual discrimination—causing some in the industry to question whether the company could hold onto its sky-high valuation.
At the beginning of this year, a group led by
SoftBank
acquired a stake in Uber through a secondary share purchase from early Uber employees and investors at a valuation of $48 billion. But at the same time, SoftBank and its co-investors bought $1.25 billion in Uber equity at a $69 billion valuation. In May, an investment in Uber valued the ridehailing giant at an estimated $62 billion. Then, at the end of August, reports emerged that
Toyota is investing $500 million into Uber
at a valuation of roughly $72 billion.
Related read: Mapping where Uber, Bird and other startups fit into personal mobility