VCs are bullish on bitcoin—still
June 21, 2018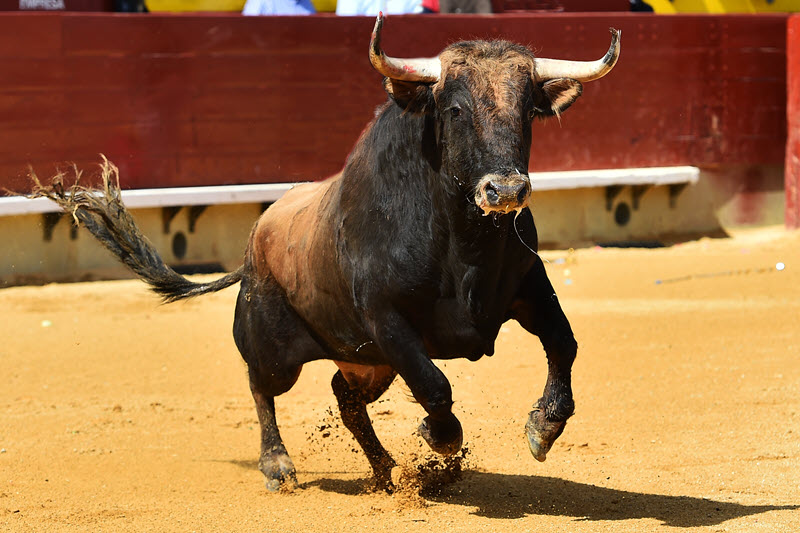 Tim Draper, wearing a purple tie emblazoned with the bitcoin emblem,
performed a rap
about the glory of digital currencies in front of both a large audience and cameras at a conference last month.
He, like many other venture capital investors, has maintained an undying support for bitcoin, even as its value has dwindled in 2018.
Dubbed
"the year of crypto,"
2017 was a banner year for bitcoin evangelists. The first-ever cryptocurrency unicorn was born when digital currency trading platform
Coinbase
more than doubled its valuation to $1.6 billion with a $108 million round. Venture capital investors
poured a record $1.02 billion
into crypto startups, per the PitchBook Platform, thanks to a combination of faith in the blockchain and intense FOMO. And several startups cropped up to disrupt the payments industry, data management and more, landing backing from some of the biggest names in venture.
But a lot has happened in the past six months to fuel skeptics. The price of bitcoin has continued to fall week after week; it's currently hovering below $7,000 after hitting nearly $20,000 at the tail-end of 2017. Regulatory hurdles and hack after hack at digital currency exchanges, the most recent being Bithumb's $31 million loss, have heightened fears in bitcoin buyers and sellers. Fraudulent or failed initial coin offerings have delegitimized the fundraising method that some had thought could disrupt the venture capital industry. And several trusted institutions have quit playing along, with the Bank for International Settlements
calling bitcoin "worthless"
in a recent report.
Bitcoin (USD) price continues to fumble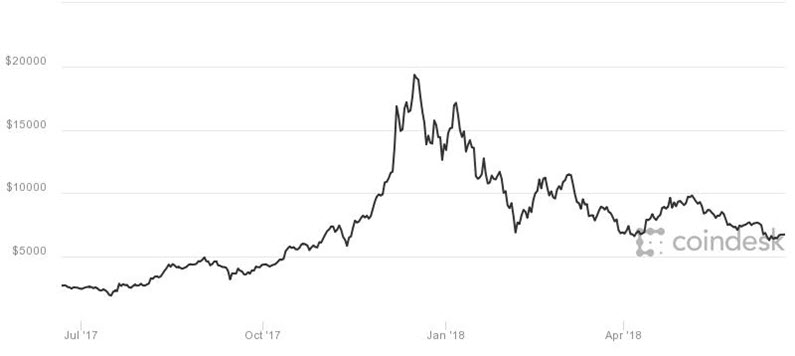 One might expect VCs to take a step back, or that they might cool it on investments in cryptocurrency trading platforms, stable coins or other bitcoin-related startups. Well, the opposite seems to be true. If anything, VCs have taken a
big
leap forward, with
VC investment in crypto startups up 75% this
year
. And there are six months still remaining in 2018.
Venture capital investors have participated in about 200 deals, shelling out a total of $1.8 billion in the last six months. At this rate, startups in the sector can expect to raise more than 3x last year's total.
What's going on?
Investors are keenly aware of the rollercoaster that is bitcoin. What attracts them to the sector is the potential of the blockchain, the distributed ledger technology behind bitcoin. In a
blog post
written in November, Pillar VC partner Russ Wilcox summed it up: "Today's blockchain is like the Model T: an early, crude product that marks a profound change to come."
Last year,
PitchBook spoke to lVP principal Tom Loverro
about the firm's latest fund, part of which was to be allocated to crypto investments. He said, similarly, that blockchain tech was the space to watch, though he recognized there was some "irrational exuberance."
"The internet had a bubble, but fundamentally people were right that it was going to change the world," Loverro told PitchBook. "The blockchain world has all the promise."
Paxos
, a company that provides blockchain-based solutions to financial institutions, is among dozens of blockchain startups to bring in capital this year. Last month, it raised $65 million from VCs including
RRE Ventures
and
Liberty City Ventures
. And
Harbor
, which has created a blockchain platform for tokenizing private securities like real estate, investment funds and fine art, raised $28 million in April, just two months after pulling in a $10 million round from
Vy Capital
,
Fifth Wall Ventures
and
Valor Equity Partners
.
Stable coins, a form of digital currency that can be redeemed in US dollars and are theoretically less volatile than other cryptocurrencies, have been a hot topic for VCs in 2018. Just this week, TrustToken, a stable coin, pulled in $20 million in venture funding from
Andreessen Horowitz
, Danhua Capital
, BlockTower Capital and others. Not long before that, Carbon, another price-stable cryptocurrency, pulled in a $2 million seed round from
General Catalyst
,
Digital Currency Group
,
FirstMark Capital
and others.
And as for Tim Draper, well, his public sermons on bitcoin aren't quite mirroring his 2018 dealmaking activity—yet.
Draper Associates
, one of the various investment firms with Draper at the helm, has only backed one cryptocurrency company,
Ledger
, this year, per PitchBook data. The round for Ledger also included participation from
Draper Dragon
and Draper Venture Network, two more of Draper's firms. In addition to Ledger, Draper Dragon has closed just two other crypto deals this year, and the Draper Venture Network has participated in only one other deal.
Meanwhile, 2018 has been fairly busy for other investors in the space.
Digital Currency Group
(which, like the name suggests, is focused solely on the crypto space) has completed 16 deals since the start of the year, per PitchBook data, adding
CryptoKitties
, CoinList,
Everledger
and more to its portfolio.
Pantera Capital
has backed seven companies, Danhua Capital,
Blockchain Capital
and Andreessen Horowitz have each inked six deals since the beginning of 2018.
Subscribers can view the full data on the top investors in cryptocurrency and VC deal activity in the space.

Related read: Was bitcoin's rise built on a lie?