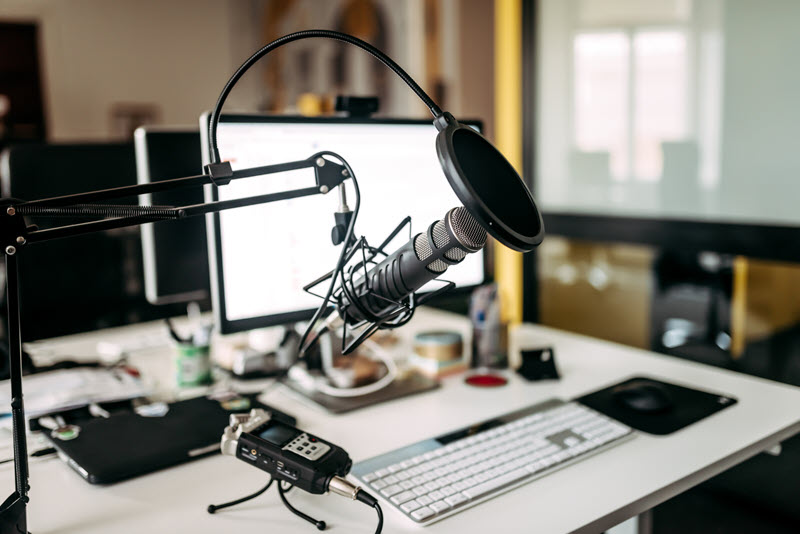 From
true crime
to
recaps of "The Bachelor"
to
personal finance
, these days, there's a podcast for every interest.
As of last month, there are more than 550,000 active podcasts around the world, per Edison Research. Meanwhile, the US podcasting industry brought in $314 million in revenue last year, an 86% increase from 2016, according to the Interactive Advertising Bureau. Unsurprisingly, VCs are capitalizing on the surge in interest in the medium, both by hosting shows and funding podcast startups.
One of the latest venture capitalists to jump aboard the podcast train is
Foundation Capital
general partner Ashu Garg. He recently launched
"How to B2B a CEO,"
a podcast that gives listeners advice on scaling enterprise startups and includes an interview with a different founder-turned-CEO. The show focuses on entrepreneurs who have a "rich tapestry of lessons learned," Garg said in an interview with PitchBook.
The debut episode features Jyoti Bansal, the founder of
AppDynamics
, which was acquired by Cisco last year for $3.7 billion. Bansal is also the founder of Harness, a VC-backed software startup, and he's behind the seed-stage VC firm
Unusual Ventures
. On the episode, Bansal discusses his initial struggles to secure meetings with venture capitalists and raise funding.
Garg said he knows there are already
a lot
of podcasts available, but the ones he'd heard weren't highlighting relatable entrepreneurs. Instead, they were celebrating big winners who hadn't necessarily faced the sort of challenges characteristic of the founders' journey.
"Founders repeatedly told me they really struggled to get good advice on transitioning from founder to CEO," Garg said. "That was a surprise to me; I always assumed that would be there in spades. To me, there was a huge gap in giving founders a helping hand in making that transition, particularly for technical founders."
Garg said he was surprised by the initial outpouring of support for his new show. Luckily for him, it hasn't gotten lost in the sea of original content pouring out of the tech community.
help all my friends have podcasts

— back in SF alex (@alex) July 12, 2018
A tweet from Crunchbase editor-in-chief Alex Wilhelm, who happens to be one of the hosts of TechCrunch's "Equity" podcast.
In VC land alone, there's the
Andreessen Horowitz podcast
, which provides interviews from industry experts and thought leaders. Its most recent episode features insights from one of the firm's newest general partners, Katie Haun, on the regulatory landscape for crypto. Then there's
Greylock's "Greymatter,"
where founders "share personal and insightful lessons while shedding light on common, relatable challenges in the entrepreneurial journey."
Notion.VC
has a B2B SaaS-themed pod and
Y Combinator
has a show in which its partners interviews various tech icons, like Anne Wojcicki of
23andMe
, who was a guest in April.
On top of that,
Venrock
hosts
"Running Through Walls."
LinkedIn co-founder and Greylock partner Reid Hoffman hosts
"Masters of Scale."
Well-known angel investor Jason Calacanis is behind the
"Angel Podcast"
and
"This Week in Startups."
Ben Gilbert of
Pioneer Square Labs
and David Rosenthal of
Wave Capital
discuss mergers and acquisitions on
"Acquired."
Backstage Capital
founder Arlan Hamilton offers a behind-the-scenes look at building a VC fund on her show
"The Bootstrapped VC."
Hamilton herself was also the star of a recent string of episodes on
Gimlet Media's "Startup,"
a documentary podcast that follows different entrepreneurs each season. Then there's Harry Stebbing's
"The Twenty Minute VC,"
a podcast that took off in 2014 when Stebbings was still a teenager. The show has featured some 200 VCs from firms like
Accel
,
Kleiner Perkins Caufield & Byers
and
Benchmark
.
The list goes on and on. And on.
Meanwhile, some venture capital investors have extended their adoration of the podcast medium to their wallets. Last year,
VCs invested just over $200 million
in various podcast platforms and related businesses, per the PitchBook Platform. That includes a $50 million funding for the online radio app
TuneIn
, about $20 million for
Gimlet Media
and another $20 million for
HowStuffWorks
, the company behind the popular show "Stuff You Should Know" as well as other original podcast content.
So far this year, VCs have shelled out $64 million on companies in the space, including a $40 million
NEA
-led round for Luminary Media, the operator of a subscription-based podcast platform, and a $13.5 million Series B for podcast startup
Castbox
.
PitchBook subscribers can see the full data on VC funding for podcasts and related businesses.
Join the more than 1.5 million industry professionals who get our daily newsletter!