Venture Monitor
15 charts that show US VC could break multiple records in 2019
April 25, 2019
After last year set a colossal record of $132.1 billion of venture capital invested in the US, VC activity in 2019 was expected to start slow. But that's not what happened. Instead, valuations climbed to unprecedented levels, $100 million rounds became the new normal, and the beginning of what's expected to be a deluge of VC-backed IPOs kicked off in the first quarter, setting the pace toward a record exit value.
The 1Q 2019 PitchBook-NVCA Venture Monitor, created in partnership with Silicon Valley Bank, Perkins Coie and Solium, takes a detailed look at the current venture landscape in the US. It includes a spotlight on mobility tech, an assessment of changing liquidity trends, brand-new datasets on venture funding broken down by founder gender, and breakdowns of data on exits, fundraising and CVC investment, among other elements.
The full report, which includes more than 35 pages of in-depth analysis, is available to
download for free
, but for a quick look at some of the key points, check out these 15 charts.
2019 is off to a solid start, despite tepid deal volume
2018 saw a remarkable amount for VC investment in the US: $132.1 billion. In the first quarter, capital investment was just shy of 25% of the record-breaking amount, putting 2019 roughly pace to match last year. Deal count is trending downward, but larger deals are continuing to elevate overall value.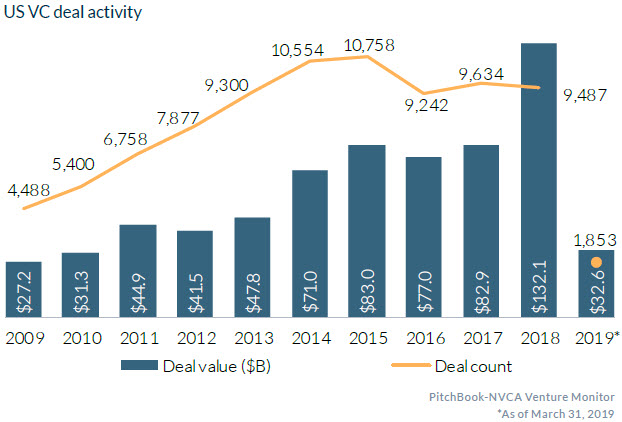 1Q capital investment is the second-highest quarterly total in 10 years
4Q 2018 currently holds the record of attracting the highest amount of capital investment in the last decade, by a significant margin. But even as deal count shrank last quarter, consistent late-stage VC activity, mega-deals and companies staying private for longer helped push 1Q 2019 into the No. 2 slot.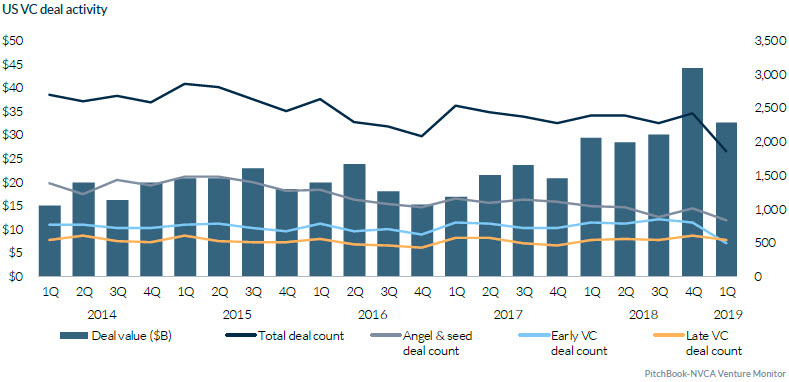 Rounds are getting bigger
Ten years ago, VC deals that ranged between $10 million and $25 million dominated the US VC ecosystem, and deals under $25 million comprised about 60% of the overall value. As you can see below, there is a growing trend of $50 million+ deals getting a steadily greater share of total capital investment.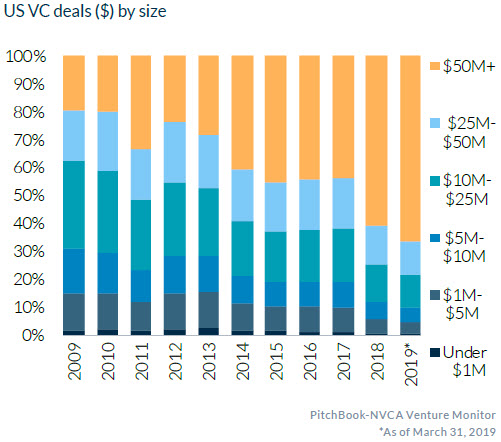 Angel and seed-stage financing continues to decline
Angel and seed-stage financings are almost half from a peak of 1,483 deals in 1Q 2015 to 828 in 1Q 2019. One of the reasons for the decline could be that investors have high expectations from startups for maturity and instead of pursuing an angel or seed round, startups are tapping alternative sources of capital such as crowdfunding.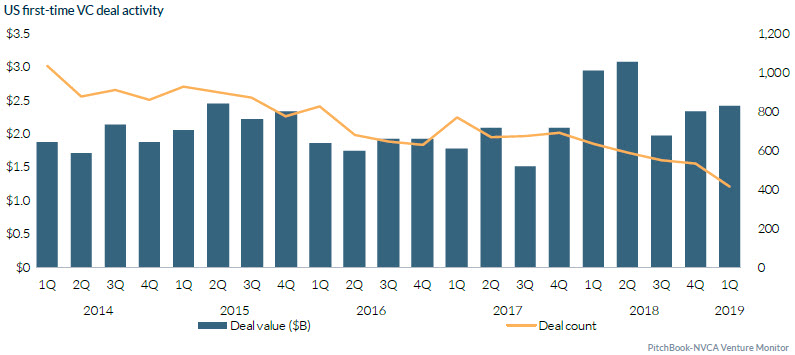 Mega-deals rule 1Q, but that's not stopping smaller late-stage activity
Last quarter saw 36 late-stage mega-deals, making up more than half of the total mega-deal count. And more than four mega-deals closed for every VC-backed IPO, indicating that it is becoming easier for established unicorns to raise capital comparable to the public markets—a fact that lends mega-deals their nickname of "private IPOs."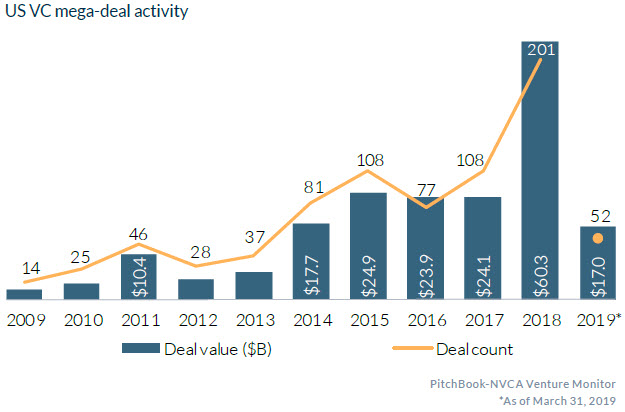 However, though the growth in mega-deals has raised a discussion regarding the shift of value creation from public to private markets, smaller and more traditional late-stage activity is still very much alive. Deals below $50 million still making up the vast majority of late-stage deal count.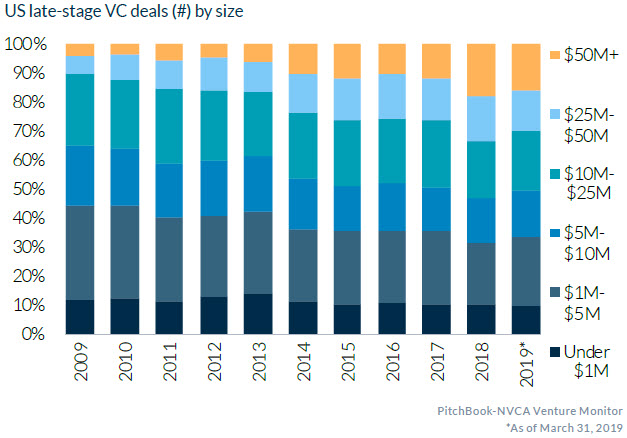 Series D+ pre-money valuation tops $1B for the first time
Investors are pouring increasing amounts of capital into unicorns. As you can see below, the top quartile Series D+ has crossed $1 billion for the first time, compared to a high of roughly $756 million last year.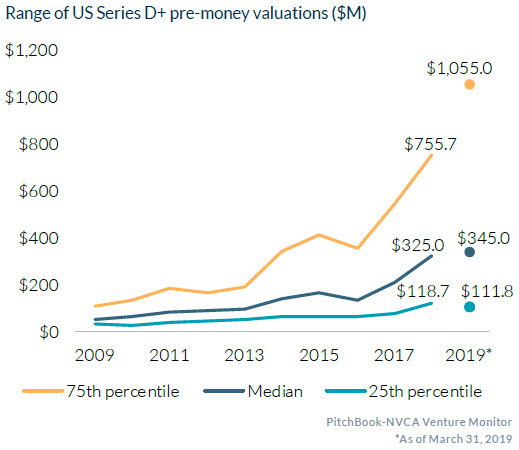 West Coast remains on top, with Mid-Atlantic catching up
The West Coast retained its perennial status as the top region, with nearly 47% of VC dollars last quarter. However, other regions are cutting into the West's lead. The Mid-Atlantic, for example, has almost doubled its share of the dollars. In 2018, it brought in less than 15%, per the
4Q 2018 PitchBook-NVCA Venture Monitor
, but surged to more than 30% in 1Q.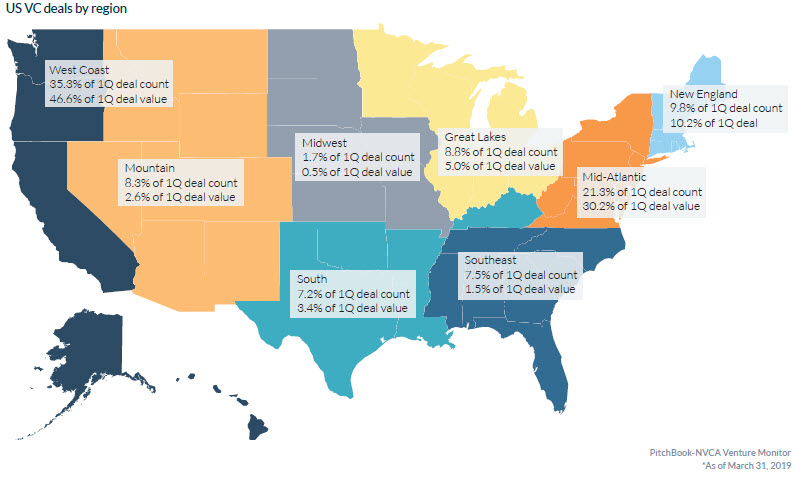 The rich metros get richer, as the top three attract more capital
In 1Q, the Bay Area, New York and Boston took more than 70% of the total capital invested—no surprise, as that's been a steady trend over the past few years. Despite accounting for less than half of the deal count, those three metro areas have been increasing their share of deal value over time.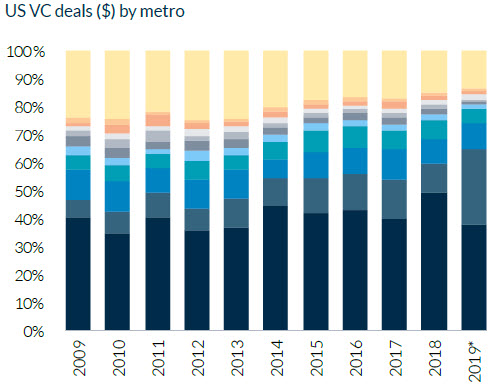 Software deal volume cools in 1Q
Last year, capital investment into software businesses broke all records, as VCs poured a total of $45.9 billion and the sector claimed more than a third of the total value. The trend has decelerated in 2019, with roughly 30% of total US VC deals going to software businesses. In addition, capital invested is on pace to fall far short of last year's record .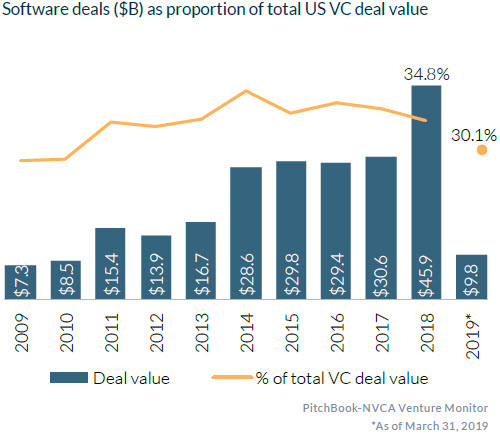 A healthy quarter for female-founded businesses
Two businesses founded solely by women,
Glossier
and
Rent the Runway
, became the latest unicorns on the block. Their rounds were two of the most significant in the roughly 100 VC deals for female-led companies during the first quarter, as deal count slowed but capital invested remained steady.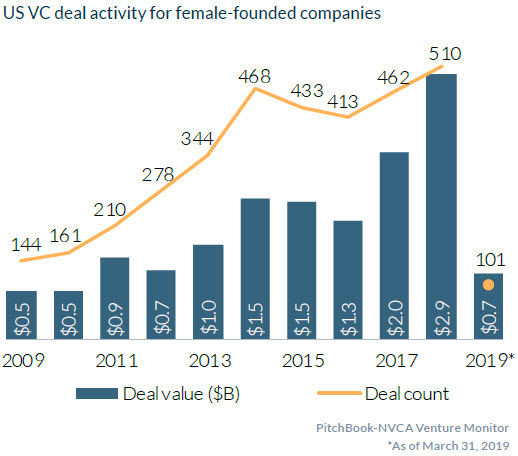 Recent explosion in CVC activity continues
CVC investors increasingly taking part in large rounds at later stages and contributing to the trend of VC-backed companies staying private for longer. Corporate investors including
SoftBank
,
Amazon
and
Alphabet
have driven growth in deal sizes. CVC investors have contributed a growing share of VC invested over the years, contributing more than half of the total capital invested in 2018 and continuing that trend in 1Q 2019.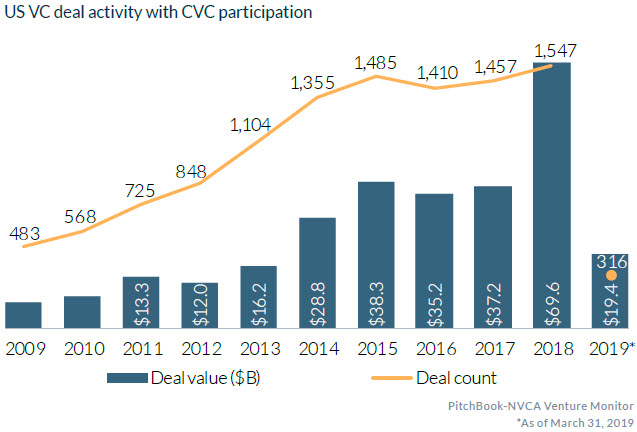 2019 on pace for record exit value
This year is poised to be a big year for IPOs. The most-valuable VC-backed company in the US,
Uber
, is prepping to join a string of tech unicorns lined up to go public in the near future. 1Q is typically the quietest quarter of the year for IPOs, but high-profile public offerings of
Lyft
and
Alector
have already kicked off 2019 toward what's expected to be a record for exit value.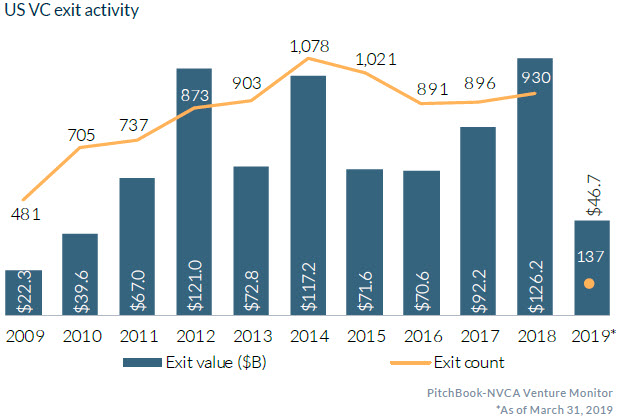 Sluggish quarter for fundraising
Fundraising cooled in 1Q, but it is predicted to accelerate throughout the year. Several prominent firms, including
Khosla Ventures
,
Andreessen Horowitz
,
NEA
and
Vivo Capital
, are on the road with new vehicles seeking at least $1 billion.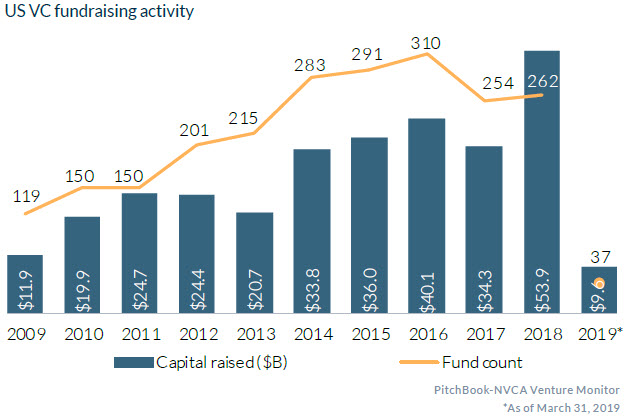 First-time fundraising began the year on a slow note, after hitting a decade high in 2018. Both of the first-time funds raised in 1Q were over $30 million, well below the 2018 median of $80 million.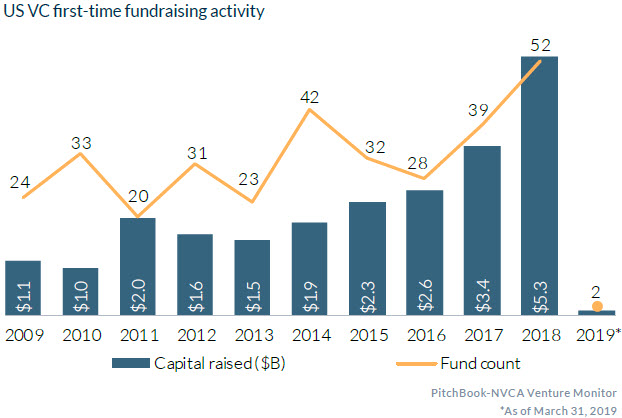 Here's the full 1Q 2019 PitchBook-NVCA Venture Monitor.