The chief executives of
Uber
and
Airbnb
have both indicated their companies may go public in 2019. Although the news isn't necessarily surprising, considering they're the two
most valuable VC-backed companies
in the US and they'll both be at least a decade old by then, it does add some fuel to the IPO speculation fire.
Onstage at Recode's 2018 Code Conference on Wednesday, Uber CEO Dara Khosrowshahi said the ridehailing giant is aiming to go public during the second half of 2019. "We're on track," he said. "I need a CFO, though."
Airbnb chief Brian Chesky said at the same conference that his vacation rental company is ready for a 2019 IPO, though he didn't make any guarantees. "We have investors who are really patient, and I want to make sure that it's a major benefit to the company when we do it," Chesky said.
Massive IPOs by any measure
These companies would be two of the
biggest public offerings in the post-recession era
. Uber is worth an estimated $62 billion as of a few weeks ago, when reports emerged that the company is selling shares worth up to $600 million in a
secondary funding round
. That's down from the nearly $70 billion valuation it hit back in 2016, but Uber is still far and away the most valuable private company in the country—and it's also at the top of the
global rankings
. Airbnb, for its part, reached a $31 billion valuation in March 2017, putting it on solid footing as the second-most valuable VC-backed company in the US and third in the world.
.
If the companies go public at flat or increased valuations, they would produce the second- and third largest VC-backed IPOs of at least the last decade.
Facebook
, which went public at an initial market cap of $81.3 billion in 2012, holds the No. 1 spot. After that, there's a significant drop in value for VC-backed companies that have gone public, leaving a big gap for Uber and Airbnb to slide into. The second spot is currently held by
Spotify
, which had an initial market cap of $29.5 billion at the time of its direct listing in April. Spotify is followed by
JD.com
($26 billion market cap with a 2014 IPO) and
Snap
($19.7 billion market cap with a 2017 IPO).
Their massive valuations would certainly make Uber and Airbnb outliers in the IPO game. During the first quarter of 2018, the median IPO size for US VC-backed companies was $110 million—and that's actually a high number in the context of the last decade, according to the latest
PitchBook-NVCA Venture Monitor
.
Here's a closer look at VC-backed exits by size over the last 10 years: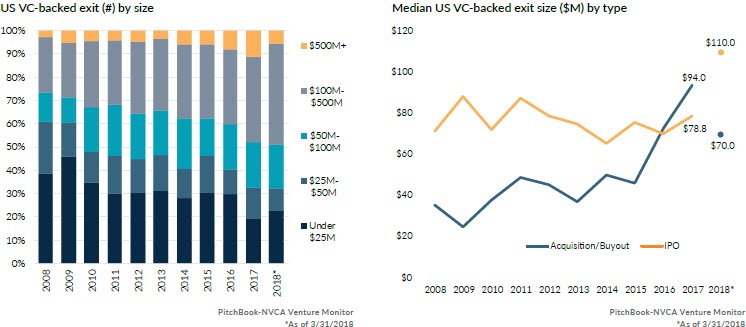 In terms of timing, both companies are overdue for a public debut. The median time to IPO for North American and European companies is on an upswing, increasing from about five years in 2006 to its current timeline of about 8.2 years, per PitchBook data, a change that could be attributed in part to massive late-stage financing rounds. But by the time 2019 hits, both companies will have long since passed the 8.2-year mark: Airbnb will be 11 years old and Uber will be 10 years old.
If they debut next year, that would put their hold time on par with
Dropbox
, which IPO'ed earlier this year after 11 years as a private company, and Spotify, which was founded 12 years before it went public.
Check out our Dropbox and Spotify datagraphics, which highlight key numbers from their public debuts. And here's more on IPOs.