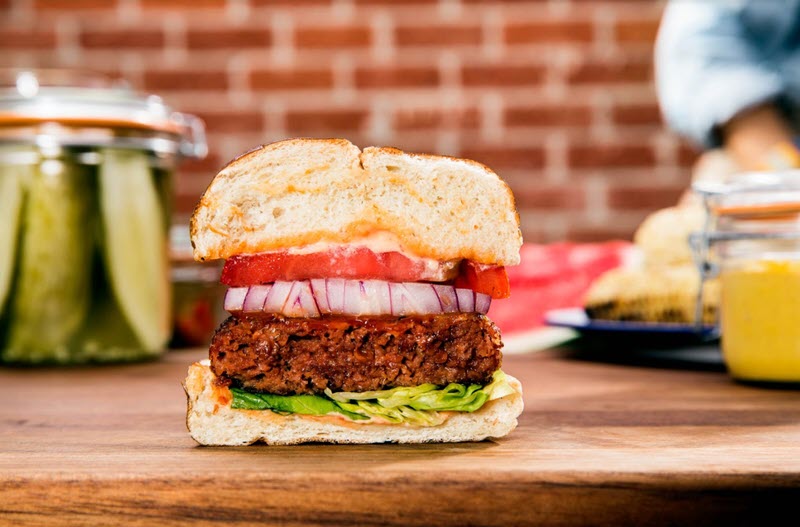 Vegans would probably argue that "meat-eating animal lover" is an oxymoron. What about animal-free meat?
In Silicon Valley, it's by now well established that scientists have formulated synthetic meat that can mimic the taste and texture of animal protein. The global market for meat substitutes is predicted to grow from an estimated $4.6 billion in 2018 to $6.4 billion by 2023, according to research firm MarketsandMarkets.
And one of the first companies that capitalized on the trend is eyeing its next step.
Beyond Meat
, which offers animal-free meat products such as plant-based burgers, sausages and crumbles, has filed with the SEC to conduct a public offering on the NASDAQ under the symbol BYND. Founded in 2009, the company is backed by VCs such as
Kleiner Perkins
(16.1% pre-IPO stake) and
Obvious Ventures
(10.4%), as well as food industry giant
Tyson Foods
and celebrity investors including Leonardo DiCaprio, Bill Gates and
Twitter
co-founder Biz Stone.
The California-based business has brought in more than $140 million in total venture funding, most recently raising a $55 million round at a valuation of $550 million almost exactly a year ago.
VC investors seem to agree with the company's mission of finding a better way to feed the planet
—
in addition to Beyond Meat, several other companies specializing in plant-based protein, organic and dairy-free offerings have raised venture capital funding in the past year-plus.
Impossible Foods
, which offers the popular plant-based Impossible Burger produced without hormones, antibiotics or artificial flavors, raised $114 million in convertible note financing led by Temasek and
Sailing Capital
in April. In January, Euclidean Capital led a $65 million round at a $350 million post-valuation for
Ripple Foods
, a beverage company that produces plant-based milk from its proprietary pea protein.
Mooala
, the maker of a non-dairy brand of banana milk, secured a $5 million investment in February.
And then there's the rest of DiCaprio's food-based portfolio. The Academy Award-winning actor is also an investor in two other companies in the space, namely
Hippeas
and
Califia Farms
. Hippeas, a producer of chickpea-based organic snacks, reportedly raised $10 million from
CAVU Venture Partners
last October. And Califia Farms, which provides plant-based beverages, raised more than $50 million in July, with other celebrity backers including Jared Leto and Karlie Kloss.
The debate on whether the vegan wave benefits the environment is still hot; but with growing VC funding in the meat-substitute industry, it surely pays well.
Related read: For VCs, food tech is on the menu [interactive graphic]
Join the more than 1.5 million industry professionals who get our daily newsletter!