Private Equity
Carlyle family dealmakers stake out new ground with food portfolio
April 7, 2021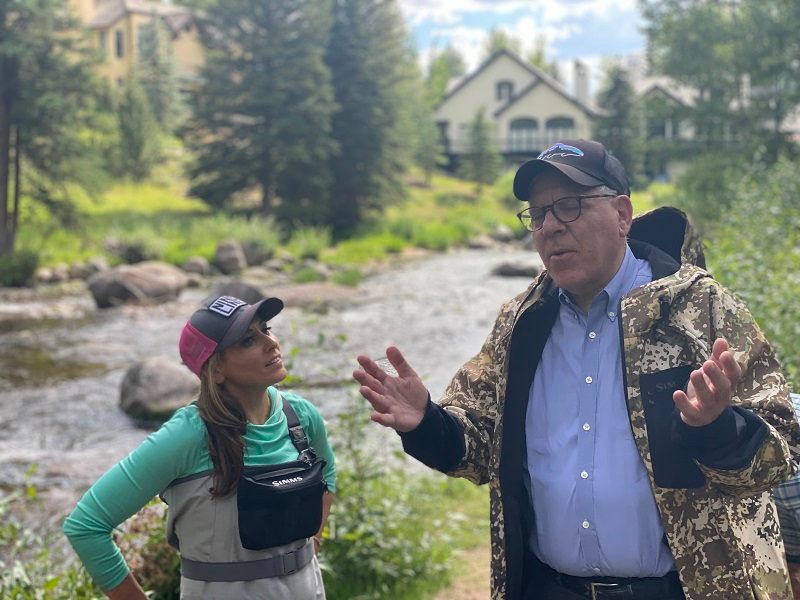 If he had only listened to his daughter Ellie,
The Carlyle Group
co-founder
David Rubenstein
could have been in on the ground floor of one of the most explosive IPOs in recent memory.
The company was
Beyond Meat
, and David Rubenstein vetted his daughter's investment recommendation with one of the company's early backers,
Bill Gates
. But on the advice of his fellow billionaire, who thought it might be overvalued, Rubenstein passed.
That was, of course, a colossal mistake. At the time, Beyond Meat was worth just a tenth of its now more than $8 billion market cap.
Ellie Rubenstein is now CEO of her own private equity firm,
Manna Tree
, which is betting that healthy and responsible food companies can deliver similarly large returns. The majority-female firm is also a reflection of how different the future of private equity looks from its past.
Manna Tree closed its first fund just last year with $141.5 million, but the firm has already scored an exit with the IPO of pasture-raised egg maker
Vital Farms
, which went public at $657 million pre-money valuation last July. It has also backed indoor farming startup
Gotham Greens
, grass-fed beef producer
Verde Farms
and
Evolve BioSystems
, the maker of a probiotic supplement for infants.
PitchBook caught up with Ellie and David Rubenstein to hear what lessons Manna Tree has drawn from Carlyle, and what the old guard can learn from the new.
The following interview has been edited and condensed for clarity.
PitchBook:
Is it fair to say investing runs in the family?
Ellie Rubenstein:
I didn't ever plan to be an investor. I grew up in Vail, Colo., and kind of left my family to be a ski racer. And I came to this from a nutrition angle at first. After I graduated college, I actually moved to Alaska and that's where I saw the value of impact investing, looking at things such as sustainable fisheries and focused on understanding the supply chain of food.
The day I graduated [my master's program], I think my dad said, "So where's your job?" And I'm like, "I'm going to build my own firm." I never thought I would work at Carlyle. It was just never an option: They don't hire family members.
David Rubenstein:
I have three children. They're all different. No struggling artist, no poets, no actors. They all have MBAs and they're all interested in private equity. So I either did a good job or bad job, depending on your point of view.
I know that starting your own firm today is harder than starting your own firm 30 years ago. I was starting a firm in 1987 when the phrase private equity had not yet been invented. They called them buyout firms or things like that.
As the industry matured, you can have specialized firms, raise a fair amount of money and still be very good at it. Because there's so much opportunity in given areas and niches.
PB:
Why does Manna Tree focus on food and health?
Ellie:
You need to eat things that make your body better or fuel you. I think that we're at the stage right now where there is an education and an awareness. One of the great things about private equity and being growth investors is we can fund companies that are at scale and that are actually improving the innovation of the healthfulness of the product.
One of the great things about private equity and being growth investors is we can fund companies that are at scale and that are actually improving the innovation of the healthfulness of the product.
—Ellie Rubenstein
If you look at our portfolio, we're kind of agnostic in that we're looking at what the best is for market share within food. You see plant-based, you see animal protein, you see an indoor farming deal.
David:
You've got to eat to stay alive. So why not eat healthy? More and more people are focused on that.
I can't say that I was the healthiest eater of all time, though I am a vegetarian. My theory is that if I invest in healthy food, I'll live longer. Not if I eat healthy food—just by investing in it. I think by osmosis it's going to rub off on my genes and I'll live longer. I hope so. We'll see.
PB:
David, what have you learned about investing from Ellie?
David:
Ellie kept calling me and telling me I should invest personally in something called Beyond Meat. I knew that Bill Gates was an investor in it. So I saw him at an event in New York, and I said, "Bill, what about this? I'm told you're an investor in Beyond Meat."
He said, "Yes, but I invested in it because I want to change the world. I think it's a good social policy. The rate of return won't be very good because it's already too high a valuation." I had an opportunity go in when I think it was valued at about $800 million or something like that. And he said that was probably too high.
So I said, "Ellie, look, Bill Gates said it's probably not a great investment." So I didn't do it. Then it turned out it went public at a valuation of $4 billion or something. So I should have listened to Ellie and not Bill Gates.
Ellie:
It's great to have firms like Beyond Meat or Vital Farms in the public marketplace. There are other ones like
AppHarvest
. We celebrate that because we need more awareness of how food can actually be an asset class. But when you're trying to convince your father, I'd say names like Bill Gates go a long way.
(W)e need more awareness of how food can actually be an asset class. But when you're trying to convince your father, I'd say names like Bill Gates go a long way.
—Ellie Rubenstein
David:
I had a chance to be a big owner with my partners in a company out in Seattle called
Amazon
. And we actually got some stock from
Jeff Bezos
and we sold it at the IPO because we didn't think this company was going to go very well.
Anyway, I've made my share of mistakes.
Ellie:
One of the advantages of hearing Dad tell stories like this is it forces us all to make better long-term decisions. That's why I wanted to build a firm, knowing some of these changes that are in food today will take decades.
PB:
Do you think people are beginning to expect that there will be an alignment of returns with things that are good for society like health?
David:
When I first started Carlyle with some partners in 1987, there was no ESG concept that I was aware of. Basically, what private equity people did—and it often gave them a bad reputation—was to get the highest rate of return you could legally get and do whatever you could.
The concept today is that impact investing shouldn't be mostly set aside as a separate category. Increasingly the best employees, the most desirable customers and the people that you really want to impress, i.e. your stock buyers, they're going to be more impressed if you're doing something good.
The idea today is that you'll actually get a higher rate of return. Now, the proof is in the pudding and hasn't yet been completely definitively shown, but people expect that that will be the case when data comes in increasingly over the next couple of years.
Ellie:
We always take the approach of "do no harm." I think Vital Farms is a great validation that many other people feel the same way.
PB:
Why was private equity the right vehicle for Manna Tree? Did you ever consider starting a venture capital firm instead?
Ellie:
We're growth equity investors, and we tend to like to be a significant shareholder on the board, helpful with operating experience, building up management teams. We didn't see the need for buyouts. We saw the need to be aligned partners for founders.
I believe that growth equity is the best place to invest and where the food marketplace is today. There's a ton of food startups, but they need to be able to get to scale. And that's why growth equity is a useful tool. The goal is to improve human health via nutrition. And in order to do that at scale, you need to be able to write a larger check.
David:
Venture capital is a tough, tough business. You know 90 percent of the deals probably won't work, maybe 10 percent if you're lucky will. With growth capital, with buyouts, I would say maybe 90 percent will work. And 10 percent will not. I would say it's a higher percentage of success in growth capital because you have revenues typically and maybe some earnings. And you can probably add more value to the company at that point.
PB:
David, did you make many food investments at Carlyle?
David:
There was a company that opened near our house in Bethesda, Md., called Freshfields. Everybody was going there, and I noticed they were selling healthy, organic foods. I got Carlyle to buy a stake in the company, and we ultimately sold it to
Whole Foods
.
The point is that for a number of years now, I've seen that the phenomenon of healthy eating is increasing. Obviously, the success of Whole Foods reflects the fact that people, when they have some money, really want to focus on eating better. And they're willing to pay for it.
Obviously, the success of Whole Foods reflects the fact that people, when they have some money, really want to focus on eating better. And they're willing to pay for it.
—David Rubenstein
Ellie:
One of the advantages of being a 4-year-old when your dad buys your favorite grocery store is you get to go the day before the opening. And I remember that in the grocery store they had—it was novel back then—but they had to-go sushi. And I remember how excited my dad was that we could go and buy to-go sushi.
That was what was always fun about growing up, is we sit around the dinner table and if Dad had just done a new investment, he'd bring home the product.
David:
One time, Carlyle bought a company—I won't say it was in the healthy food area—it was called
Dunkin' Donuts
. And my mother was really happy because she used to go to Dunkin' Donuts all the time. And so I gave her some free passes where she could get coffee for free.
So she would go into a Dunkin' Donuts and say, "Hey, I got this free pass. My son is the owner of Dunkin' Donuts." And of course, the person behind the counter would roll her eyes thinking that this was a deranged woman. It actually turned out to be a pretty good investment. But I'm not sure how healthy it was.
PB:
Ellie, you were a competitive skier until you suffered a devastating accident in college. What did you learn both from your career as a skier and from your recovery?
Ellie:
I think the first lesson was I was never going to be an Olympic athlete, so I should start to use my brain to make some money, not my body. But in all seriousness, I think that the ability to focus on something. I focused on skiing for over a decade. And I think that's a work ethic I learned from my father.
Regarding my injuries, that's when I learned food is medicine. The traditional pharma path never really worked for me. And I think that's where I really started to see the value of sourcing my own food, being outdoors and controlling my environment a little bit better, including what went into my body. I think that's something that's relatable for many people with health issues.
PB:
Do you feel fortunate that you had raised the capital you needed for Manna Tree before pandemic?
Ellie:
It's really allowed us to focus on firm growth and culture and the health of our own employees. We do team workouts together—I've tried to bring a lot of that skier mentality into our firm.
Travel is hard on your body. I'm not sure I'm going to go back to that. I'm really enjoying sitting still and being more active and getting more done.
David:
I don't think anybody is going to travel at the pace they did before. When I was at the height of things I was doing for Carlyle, maybe 240 days a year on the road. I don't think people will do that anymore because I don't think you need to with the technology we're using.
Travel will be useful to do dinners and lunches with people because people tend to bond when they're eating.
PB:
How else has the pandemic changed things for you?
David:
My biggest problem with food is that I've been in my house for about a year now and I think I'm gaining weight even though I'm eating healthy. So I need to exercise more. Right now, I exercise by osmosis, walking past the gym equipment.
Ellie:
In the early days of COVID, he called me up and said, "Ellie, somebody broke into the house." I said, "What? Is everything OK?" He said, "Well, they broke into the house and they went into my bathroom and they changed the scale on me."
David:
Somebody keeps breaking in and saying that scale is 15 pounds bigger than it's supposed to be. And I know that scale is supposed to be lower, but somebody each night comes in and raises the scale. That's my theory.
Join the more than 1.5 million industry professionals who get our daily newsletter!