Among the bevy of handy charts and graphs included in our latest Benchmarking and Fund Performance Report is a breakdown of top-performing funds, sliced and diced by type, size and vintage.
With PE funds generally outperforming other asset classes through 1H 2015, particularly at 5- to 10-year horizons, we decided to examine 2005 to 2009 vintage buyout vehicles (larger than $500 million) to see what we could learn about building a successful fund. You've probably heard the phrase "there's more than one way to skin a cat." Well, as it turns out, there's also more than one way for a fund to provide its backers with hefty returns.
Posted below are the top funds of the aforementioned benchmark in terms of IRR, according to the PitchBook Platform. You might notice four of the top six are of a 2009 vintage, and as the median PE-backed holding that came to market in 2015 did so just five years after initial investment, impressive metrics for 2009 vintage funds are no coincidence.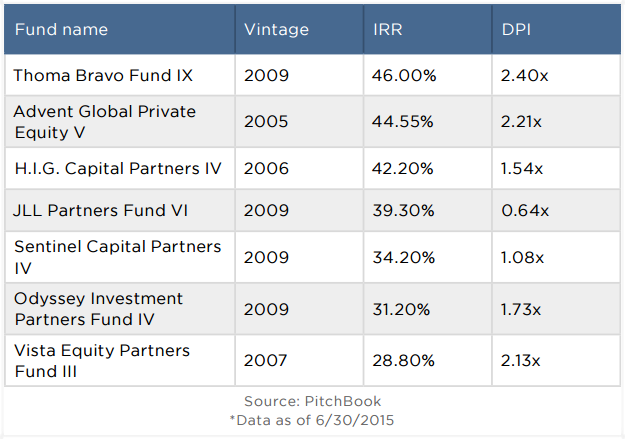 Thoma Bravo Fund IX

The best of the bunch is the $822.5 million Thoma Bravo Fund IX. In all, the fund made 17 investments: 10 add-ons, six buyouts and one growth round. All those deals except one involved software companies, with a particular focus on educational software businesses through the Edmentum platform (formerly PLATO Learning). A notable deal for the fund was the $200 million buyout of video security company Flexera Software, which netted Thoma Bravo a 4.6x return and a 65% IRR through a 2011 exit. Additionally, the firm last year sold cybersecurity company Tripwire to Belden (NYSE: BDC) for $710 million in cash after growing the company's revenues by 70% and improving profitability by 400% over a four-year hold. Other notable exits included Entrust and Roadnet Technologies.
Advent Global Private Equity V

The runner-up in this particular benchmark, Advent Global Private Equity V achieved quite similar results but in a very different way. To begin, the Advent vehicle raised a whopping €2.5 billion (or about $3.2 billion back then), making it nearly 4x larger than Thoma Bravo Fund IX. All that capital went to 21 investments, which were subsequently much larger and across a more diverse group. One of the biggest investments was the £524 million buyout of U.K. insurance provider Domestic & General, which was later sold to CVC Capital Partners after growing international sales by 325%. Other notable exits included drilling equipment provider Boart Longyear and elderly care company Casa Reha.
H.I.G. Capital Partners IV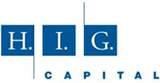 The third fund on the list, H.I.G. Capital Partners IV, has achieved a stalwart IRR by following still a different strategy. The fund used its $750 million to complete 38 investments, nearly twice as many as the much larger Advent vehicle. H.I.G. made a few nine-digit acquisitions but also smaller deals across a wide spectrum of industries—e.g. mattress company Spring Air, laser hair-removal provider Ideal Image (sold for $175 million) and jewelry maker Blue Moon Beads. Some notable exits include pharmaceutical distributor The Harvard Drug Group (more than doubled EBITDA to over $50 million during the holding period) and hardwood lumber supplier American Hardwood Industries (more than doubled revenues).
* * *
You can learn a whole lot more about recent funds and their returns, across both PE and VC, in PitchBook's newest Benchmarking and Fund Performance Report. The moral of the story from this brief case study: There's no one-size-fits-all solution to building a successful fund.