Media
Meet the adtech startup helping digital publishers drive revenue
September 13, 2018
The glory days look to be over for VC-backed media companies reliant on digital advertising as their main source of revenue. After reaching valuations that surged into the billions, the seemingly limitless growth has slowed to the current dismal state of things.
Buzzfeed
, the millennial-focused website that gained fame for listicles, announced two rounds of layoffs after reportedly falling between 15% and 20% short of a $350 million revenue target in 2017. The company has rallied somewhat in 2018, but it's still unclear if it's profitable. In February,
Vox Media
, which operates a range of blogs focused on sports, food and tech, laid off around 50 employees. And the list of struggling digital media operations goes on.
Digital publishers have been looking to diversify revenue streams for a while now, and there are plenty of businesses looking to capitalize. Enter New York City-based
Narrativ
, which provides a "SmartLink" platform that helps digital media companies funnel readers to third-party retail sites.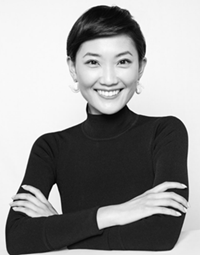 "What's unique to Narrativ in this equation is that we realized that, yes, commerce content is a fundamental reason consumers land on the publisher pages," said Narrativ founder and CEO Shirley Chen (pictured). "But the technology that was being used wasn't doing publishers justice."
Using dynamic links, Narrativ's platform aims to ensure that readers get the lowest price for the promoted product, regardless of the seller, Chen said. In contrast, traditional affiliate advertising limits the options to a single retailer—linking only to products on Amazon, for example. Through a revenue sharing agreement, the publisher gets a cut of any product sales, while retailers offer money for their affiliate links to appear in the article. In addition, the AI-based platform automatically fixes dead links that, over time, can cause publishers and retailers alike to lose revenue.
Since coming out of stealth in August 2017, Narrativ has produced 8x revenue growth and partnered with a "who's who" of digital media outlets such as Condé Nast, the parent company of a long list of legacy publications, as well as New York Magazine and Wirecutter. Overall, Narrativ has brought in some $3.5 million from VC firms including
NEA
and
Talis Capital
.
The concept of content commerce isn't especially new. Affiliate advertising has been around for two decades and grown into a $7 billion space but search advertising is a $95 billion space publishers haven't been connected to, according to Chen, who previously worked as the head of marketing at ecommerce business
Moda Operandi
and before that as a business analyst at McKinsey. But the strategy has become more important of late as publishers and consumers push back against invasive display advertising that has yielded mixed results at best.
"While the display-ads model had some fundamental flaws, the massive consumer demand for commerce content alongside a commitment to pursuing paid subscriptions represents a new, sustainable business model for publishers," Chen said.
Publishers have typically used hard-coded affiliate links that often don't provide the reader with the best deal. Chen saw an opportunity to change that. And it appears to be working so far. The company's link tech is on pace to drive $600 million in revenue for retailers this year, she said, with a list of clients that includes
Nordstrom
,
Macy's
and
Ulta
, among others. And the business has no plans to slow down. Chen hopes to more than double its employee count to between 75 and 100 over the next year to focus on scaling the company's platform, with an eye to the growth potential in this type of advertising.
"It's a real flip from some of the traditional revenue streams," she said.
Related read: VC media activity plummets, but round size is on the rise