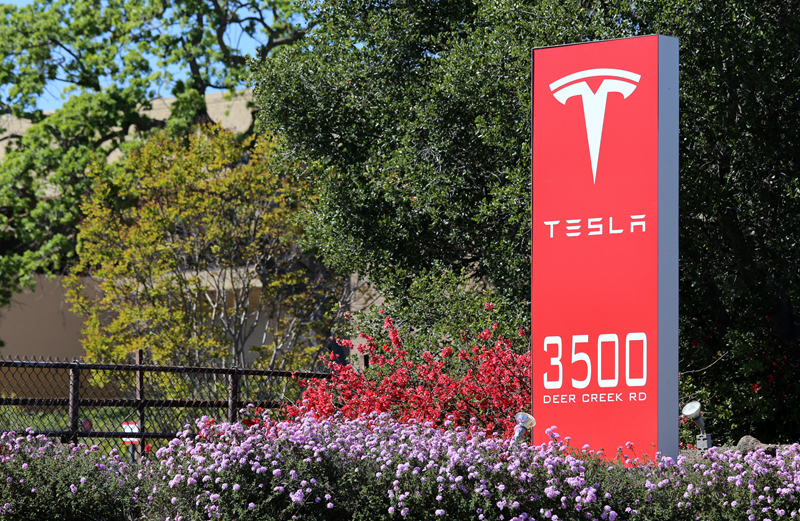 The saga surrounding
Tesla
entered an exciting new chapter on Tuesday when CEO Elon Musk took to Twitter to announce he was considering taking the company private at $420 with "Funding secured." Bringing nearer to fruition a desire Musk declared in a Rolling Stone profile in November, saying, "I wish we could be private with Tesla. It actually makes us less efficient to be a public company."
The tweet came shortly after the Financial Times reported that Saudi Arabia's $250 billion Public Investment Fund had built a $2 billion stake in Tesla by accumulating shares in the open market throughout the year—for a position just under the 5% reporting threshold—with the help of
JPMorgan
(who, back in April, recommended "crash puts" against the company as an options play amid rising risks).
The move came after the PIF approached Musk about buying newly issued shares—ostensibly, to help Tesla with fresh cash to fund its ongoing capital expenditures and race to profitability. Musk, despite widespread skepticism and a history of predicting one thing only for reality to become another, has maintained that the company doesn't need additional capital and will be profitable later this year.
Shares of Tesla (NASDAQ: TSLA) were up 7.4% in midday trading before being halted for pending news. Shares fell as low as $244.59 in April as the company struggled with Model 3 production difficulties, increasingly bizarre behavior from Musk (including
a terrible April Fool's joke
about going bankrupt), and a large short position as speculators place aggressive bets that the share price will fall.
The Twittersphere is wondering aloud whether this is just another effort by Musk to troll his short sellers. Back in June, he warned that his critics had "about three weeks before their short position explodes" and retweeted a parody video depicting Adolf Hitler angry about the post-earnings short squeeze.
Dang, turns out even Hitler was shorting Tesla stock … https://t.co/RLM1VQ5O3K

— Elon Musk (@elonmusk) August 5, 2018
If so, and without proof that buyout funding is really ready to go, Musk could well run afoul of the SEC's
"pump-and-dump" regulations
—a point Musk's critics are likely to press. These include names such as "Big Short" Steve Eisman, who is skeptical of Tesla's progress on autonomy
amid growing competitive threats
, as well as Kynikos Associates' Jim Chanos, who told CNBC late last year that he thinks the company is worthless, before adding that "Tesla and Mr. Musk have a broad interpretation of the truth."
Tesla's shares jumped 16.2% on August 2 after investors looked past a larger-than-expected loss of $3.06 per share (24 cents below estimates) to focus on a 43.5% rise in revenues, strong forward guidance and an apology from Musk for the
abrasive post-earnings call
with analysts the previous quarter.
Trading resumed trading late Tuesday afternoon, pushing shares as high as $387.46, after Musk expanded on the news in a blog post on Tesla's website. His rationale for taking Tesla private includes a desire to move away from a short-term focus on quarterly results and a concern that short-sellers are incentivized to "attack the company."
Obviously, many questions remain:
Who would the investors be in a take-private deal?
Morningstar analyst David Whiston speculates that funding could come mostly from tech investors such as SoftBank or Tencent, which bought 5% of Tesla in 2017. Other possibilities include sovereign wealth funds, such as Saudi Arabia's PIF, and wealthy Silicon Valley investors. (PitchBook is a Morningstar company.)
Whiston told PitchBook that, to that last point, many in the tech industry want to see Musk succeed and thus expected a take-private deal to happen if the company got into distress. Yet the timing seems odd now, with Tesla touting that it's on the verge of turning cashflow positive.
Whiston added that Musk even talked up the possibility of retiring a convertible bond due next March early on in the recent post-earnings call. In that event, the company's cashflow generation would flip from just under $1 billion a quarter burn to more than $1 billion or maybe $2 billion in flow. All within three to six months.
Something that seemed outside the limits of possibility, in Whiston's view.
How much would a deal cost?
At a buyout price of $420 a share, total financing of $71.6 billion would be needed, based on the July 27 outstanding share count of 170.6 million. It's unclear if Musk's 22% ownership stake would be part of the deal or just converted into equity in the new private company. It's also unclear how many other shareholders would prefer to keep their shares instead of selling, a choice that Musk said in his blog post would remain open.
The more that go along for the ride, the smaller the deal value would be. Whiston notes that all of the company's convertible debt—approximately $3.3 billion worth—would need to be included in the deal because of change of control provisions.
How would the deal be structured?
Musk talked up the idea of forming a special purpose vehicle to allow current shareholders to stay invested in the company, similar to Fidelity's investment in SpaceX. Private shareholders would see liquidity events every six months or so. Musk held out the possibility of Tesla then returning to the public markets when its growth rate stabilizes and becomes more predictable, not unlike the way Dell, after years as a public company that went private, is looking to
return to public trading
.
Is staying public even an option?
Heading into the earnings release earlier this month, things were looking bleak.
The company barely missed its goal of making 5,000 Model 3s a week before the end of the second quarter,
laid off 9% of its workforce
, closed solar facilities and asked suppliers for cash. All signs of financial challenges, according to UBS analysts. The bond market was pricing in rising default risk, sustainable profitability wasn't in sight and quality concerns lingered with some cars literally
being built in a giant tent
. And there's been a long list of executive departures as well, including that of senior vice president of engineering Doug Field in May.
Will the company need a capital raise?
UBS analysts estimate that the need for more service centers and SuperChargers to support the Model 3 rollout, as well as expenditures needed to develop the Model Y, the Tesla Semi and the Roadster, will necessitate more cash from outside sources. To say nothing of initiatives such as Tesla's new $2 billion factory in Shanghai.
They expect Tesla, if it stays public, to follow the pattern seen ahead of prior capital raises: A cobbled-together quarter of profitability, driven by higher initial selling prices on fully kitted Model 3s (with the low-cost battery option not yet available) before margins compress in 2019.
Related reads: Sabotage, tent factories and short squeezes: Tesla's drama deepens