Bankruptcy
Private equity-backed bankruptcies surged in May, but future might not be so bleak
June 5, 2020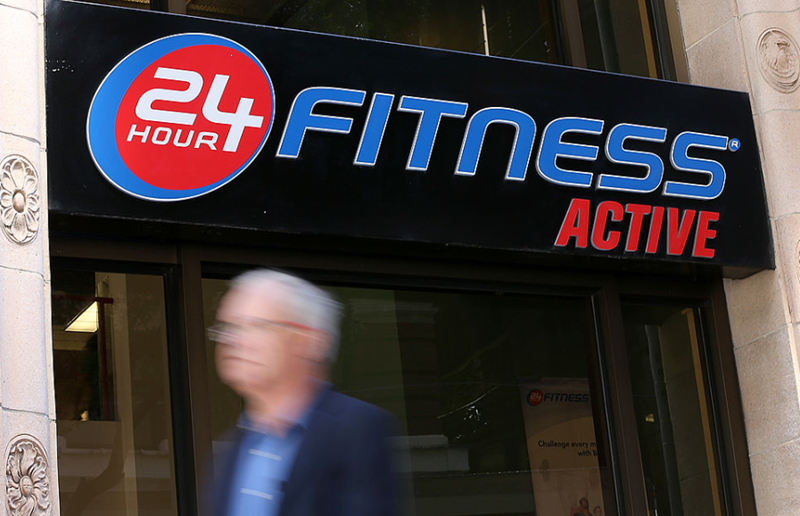 Over the past couple of years, companies owned by private equity firms have undergone a series of high-profile bankruptcies that resulted in thousands losing their jobs, with Toys R Us serving as perhaps
the most conspicuous example
.
And in the past couple of months, the coronavirus pandemic has hammered a new batch of private equity-owned companies ill-equipped to handle an economic downturn because of heavy debt obligations. Travel and retail businesses have been especially vulnerable—including iconic US companies such as
J. Crew
and
Hertz
, both of which filed for bankruptcy protection last month.
The struggles are a sign of the particular strain that economic upheaval can put on many buyout investments.
"Private equity is a levered bet on future economic growth," said Dylan Cox, a PitchBook analyst who focuses on the industry. "It performs exceptionally well during expansions, but its portfolio companies are especially vulnerable to economic contractions due to the highly levered nature of the industry."
The problems are also more severe in some sectors than in others. While financial woes may continue to mount in some industries, private equity-backed companies outside of retail and hospitality may be better positioned to stay afloat and avoid the last resort of a bankruptcy filing.
"I think most PE-backed companies not in hospitality or retail will be fine," said Wylie Fernyhough, a PitchBook private equity analyst. "Most of them are financed by private credit funds that don't want to force a bankruptcy, so they'll work it out one way or another."
Private equity-backed businesses were hit especially hard in May, when 16 companies owned by PE filed for bankruptcy. That's the highest monthly total since May 2016, according to PitchBook data. Nearly halfway through 2020, the total number of private equity-backed bankruptcies is on pace to easily eclipse last year's count: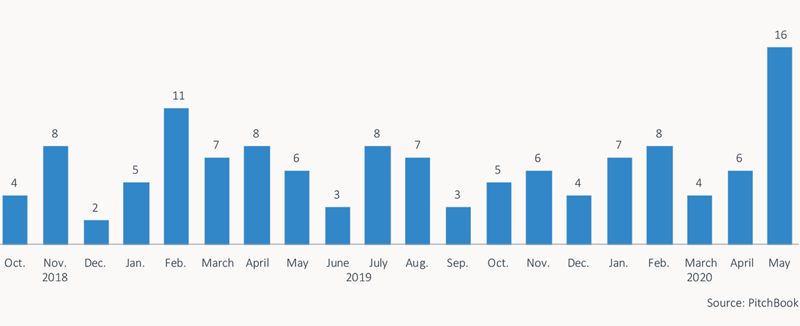 Even when a private equity firm hasn't owned a company in several years, debt that was piled on during a buyout can still be detrimental.
Take Hertz, the car rental giant that filed for Chapter 11 bankruptcy protection last month. In its filing, Hertz listed $1 billion in cash on hand and a staggering $18.8 billion in debt. Plummeting sales due to the pandemic made things much worse. But much of that debt stems from a 2005 buyout, when
Clayton, Dubilier & Rice
led a group that purchased the company from Ford for $14.8 billion while deploying just $2.8 billion in equity. The group then paid itself a $1 billion through dividend recapitalization six months later, effectively reducing its own risk by adding more debt to Hertz's balance sheet.
Even before the coronavirus arrived, the retail industry had experienced more than its share of bankruptcies, with many chains struggling to adapt to a new landscape dominated by Amazon, Walmart and other ecommerce giants. But the near-total elimination of foot traffic during the past few months has been especially traumatic, including for companies with no connection to private equity.
J.C. Penney
filed for bankruptcy in May, and Nordstrom recently closed 19 locations and posted a $521 million loss in the first quarter of the year.
It's a sign that buyout debt is far from the sector's only concern.
"It's not just PE-backed retail but all retail," Fernyhough said. "
Macy's
, J.C. Penney—there's a lot of public retail companies are in just as much trouble."
Still, it's companies with heavy debt burdens that appear most vulnerable.
24 Hour Fitness
has begun talking to advisers about filing for Chapter 11 after it was forced to shut it locations due to COVID-19, citing a $1.3 billion debt load from a 2014 leveraged buyout conducted by
AEA Investors
and
Ontario Teachers' Pension Plan
.
The biggest recent victims have been retailers
Neiman Marcus
and J. Crew, both of which filed for Chapter 11 protection last month. The New York Times compiled
a full account
of how private equity contributed to their troubles, with buyouts helping build a $5 billion debt load for Neiman Marcus at the time of its filing and a $1.7 billion burden for J. Crew.
Both companies have long histories with private equity.
TPG Capital
and
Warburg Pincus
owned Neiman Marcus for eight years before selling it to
Ares Management
and
Canada Pension Plan Investment Board
for around $6 billion in 2013. TPG and
Leonard Green & Partners
have owned J. Crew since a $3 billion acquisition in 2011, and the two have reaped $760 million in dividends over that span, according to consumer advocacy group Americans for Financial Reform.
Their bankruptcies display how the financial mechanics of a buyout are better suited to some companies and industries than others.
"I think certain sectors are more amenable to buyouts, and retail is proving it may not be one of them," Fernyhough said. "The margins are already thin, and with clothing, it's difficult to build an enduring brand and earn high margins unless you're a fashion house like Louis Vuitton or Hermes. The high debt loads leave relatively little margin for error and do not set up these companies to succeed in an era where so many other competitors are coming to market with high-quality, direct-to-consumer products."
Join the more than 1.5 million industry professionals who get our daily newsletter!