Food & Beverage
Roark Capital looks to add Dunkin' to fast-food empire in $8.8B deal
October 27, 2020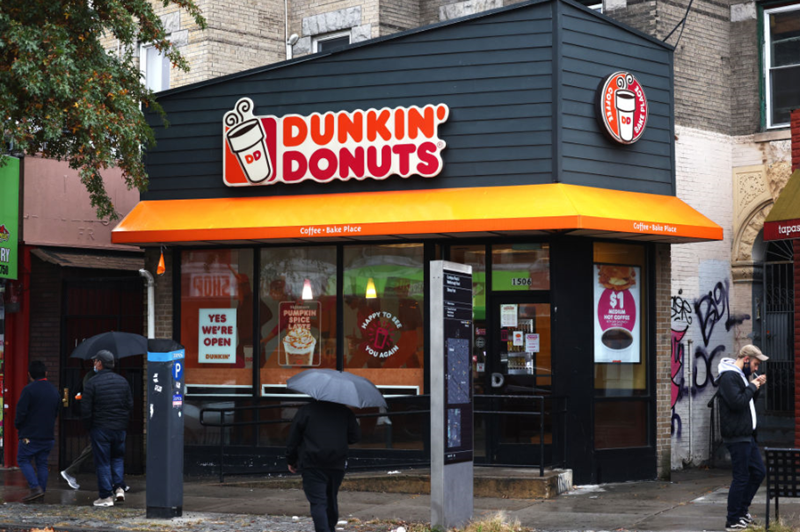 Roark Capital Group
has spent the past two decades buying up franchise-based businesses in the restaurant, fitness and retail industries. Now, the Atlanta-based private equity shop is eyeing an iconic coffee and donut brand for what could be its biggest deal yet.
Inspire Brands
, a restaurant franchisor launched a few years ago by Roark, is in talks to acquire
Dunkin' Brands
, the parent of Dunkin' (known as Dunkin' Donuts until a 2018 change) and Baskin-Robbins, in a deal worth roughly $8.8 billion, according to The New York Times. The reported possible price of $106.50 per share marks a nearly 20% premium to Dunkin' Brands' stock at last Friday's close, causing the company's shares to surge more than 16% on Monday.
Dunkin' Brands has struggled along with the rest of the restaurant industry in 2020. The company's stock price plunged nearly 50% between early February and late March, when the public markets cratered due to COVID-19, bottoming out at less than $40 per share. And in July, Dunkin' announced plans to close roughly 800 locations to make up for revenue lost due to the pandemic. But shares in the Canton, Mass.-based company have rallied in more recent months, reaching $88.79 apiece prior to the deal rumors. Dunkin' Brands will report earnings this week.
RJ Hottovy, an analyst at Morningstar who studies the restaurant sector, said coffee shops have been hit hard by the pandemic, in part due to huge declines in morning commuters and customers no longer being able to hang out indoors. But Dunkin' is likely in a better financial position than many independent coffee shops and other smaller competitors, he said. That, along with new backing from Roark, could put the company in a position to consolidate its place in the market in a post-pandemic world.
"A lot of [coffee shops] are not going to make it through the pandemic," Hottovy said. "I think that leaves players like
Starbucks
and Dunkin' in a really good position to gain market share. I think that's really the motivation behind this."
If a deal is consummated, Dunkin' Brands would become the latest jewel in Roark's fast-food empire. The firm launched Inspire Brands in 2018 when Arby's, an existing portfolio company, acquired
Buffalo Wild Wings
for some $2.9 billion. Inspire has aggressively expanded in the years since, adding on
Sonic
at an enterprise value of $2.3 billion and
Jimmy John's
for an undisclosed sum. Overall, Inspire claims to now produce more than $14 billion in annual sales through the 11,200-plus restaurants operating under its ownership.
Hottovy indicated that he wouldn't be surprised to see more leveraged buyouts in the restaurant space in the near future.
"I know there's a few others that are being worked on right now," he said. "I think it's the same kind of M.O. as Dunkin'. These asset-light, highly franchised models that maybe are either kind of positioned for growth or in a state of flux. Both of those channels are wide open right now."
Last month, Roark made a franchise-focused deal in a different sector, paying a reported $1.5 billion for the
ServiceMaster
portfolio of cleaning and restoration brands.
Dunkin' Brands has proven to be a lucrative investment for private equity before. In 2006,
Bain Capital
,
The Carlyle Group
and
Thomas H. Lee Partners
acquired the business for around $2.4 billion and held it for five years until a 2011 IPO. The company priced that offering at $19 per share, establishing an initial market cap of around $2.3 billion, and its stock price soared some 47% on its first day of trading. Each of those three investors made a profit of $600 million
and roughly tripled their original investments
, according to The Washington Post.