Retail
Sycamore set to take $1B out of Staples
March 25, 2019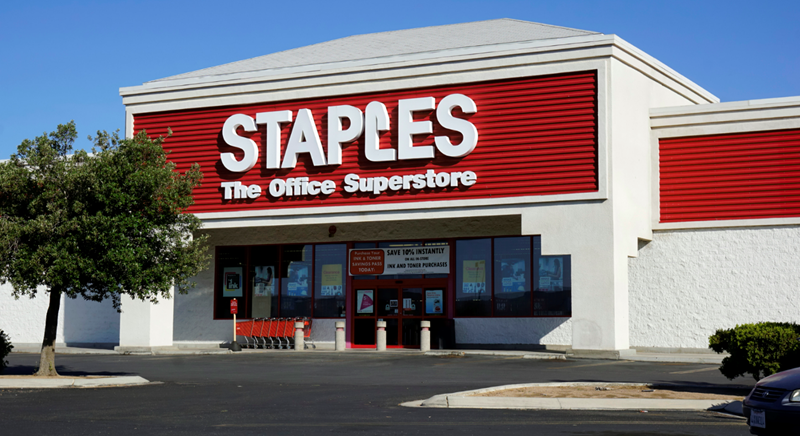 In the private equity industry, dividend recapitalizations have drawn increased media scrutiny as many companies with heavy debt loads have had to file for bankruptcy. But the tactic, which involves a firm adding new debt onto a portfolio company to give itself, shareholders and/or limited partners an early payout, is still being utilized.
Retail-focused
Sycamore Partners
is planning to cash in on its investment in
Staples
through a $1 billion dividend recap, according to Bloomberg, pushing the office supplies company's total debt to more than $5.3 billion, or about 4.7x adjusted EBITDA net of cash. Sycamore took Staples private for $6.9 billion in 2017, putting a reported $1.6 billion of its own money into the deal. With the dividend recap, the firm already stands to make back nearly two-thirds of that original investment—independent of a full exit in the future.
It's unclear if the move will have any impact on Staples' operations. But Bloomberg, citing a source, reported that Sycamore could look to exit the company over the next year, with an initial public offering the most likely option.
Adding debt before an exit could come with its own set of issues, as some PE-backed companies with substantial debt have struggled on or around the public markets.
Apollo Global Management
-backed
ADT
, which had more than $10 billion in debt when it went public in January 2018, has seen its stock price drop some 50% in the ensuing 14 months. Last week, Blackstone postponed a planned IPO for healthcare benefits manager
Alight
—with some analysts raising concerns over the business's long-term debt of $3.4 billion.
Looking back, dividend recaps have had varied effects on PE-backed retailers, with some going mostly unnoticed and others potentially contributing to an eventual bankruptcy.
TPG Capital
and
Leonard Green & Partners
executed a pair of dividend recaps that totaled more than $1.1 billion in the near decade they owned
Petco
, and they were then able to sell the business for a reported $2.7 billion profit to
CVC Capital Partners
and Canada Pension Plan Investment Board in 2016. To that end, CVC and Leonard Green acquired
BJ's Wholesale
for some $2.8 billion in 2011, then pulled out $1.8 billion before it raised around $650 million in a successful IPO last June. Both companies seem to have since fared well.
For others that went through dividend recaps, things ended quite poorly. A recent example came when
Golden Gate Capital
and
Blum Capital
bought discount retailer
Payless
through a leveraged buyout in 2012 and paid themselves more than $350 million in dividends. The company ultimately filed for bankruptcy in 2017, with Alden Global Capital taking majority control of operations while 400 stores closed. Still struggling to combat competition from online sales and too much debt, Payless subsequently posted -$63 million in EBITDA in 2018. Then this past February, the company filed for bankruptcy again, with creditors including Alden choosing to close the company's 2,500 North American locations as some 16,000 people lost their jobs.
Related read: 5 PE-backed retail deals that didn't end in disaster
Join the more than 1.5 million industry professionals who get our daily newsletter!