Healthtech
Telemedicine startups see sharp demand driven by coronavirus fears
March 13, 2020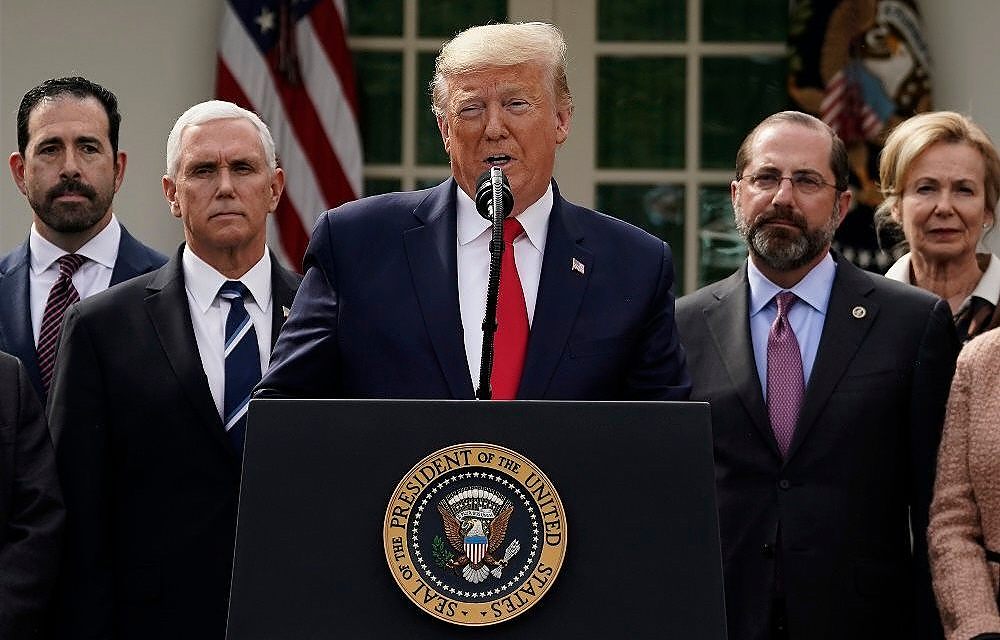 Telemedicine startups in the US are experiencing a surge in demand amid the coronavirus outbreak, helped in part by a push from the federal government and health insurers.
The volume of virtual visits has roughly doubled for AI-enabled telehealth platform
98point6
. Virtual clinic usage at
Amwell
(formerly American Well) has surged roughly 40% above normal in recent days, and startup
Ro
said it has seen "significant" growth in coronavirus-related online visits.
In response to the pandemic, all three startups have rolled out COVID-19 screening tools. Ro made its assessment available to the public and will offer free video consultations with physicians for patients who are symptomatic or have other risk factors.
After declaring a national state of emergency Friday, thus making $50 billion in funding available, President Trump touted increased access to telehealth as one tool to fight coronavirus.
More coronavirus news: Continuing coverage from PitchBook.
Trump described telehealth as a "fairly new and incredible thing that's happened in the not-so-distant past." Telehealth efforts date back decades, but Trump is not alone in seeing it as an unfamiliar concept. Despite the universal adoption of mobile technology, fewer than 10% of Americans have used a telemedicine service and the vast majority either lack access or aren't aware of telehealth options, according to a mid-2019 J.D. Power survey.
In an effort to expand access, new federal legislation removed some restrictions on telehealth services for elderly Medicare patients, and some large insurers are temporarily waiving telemedicine costs.
Healthtech has seen strong investment growth in recent years, claiming a record $7.8 billion in VC investment in 2019, according to PitchBook data. But over the past three years, virtual health companies saw just 6% of that total. Amwell accounted for much of the funding, raising more than $500 million to date from investors including
Allianz X
and
Philips
.
US VC deal activity in healthtech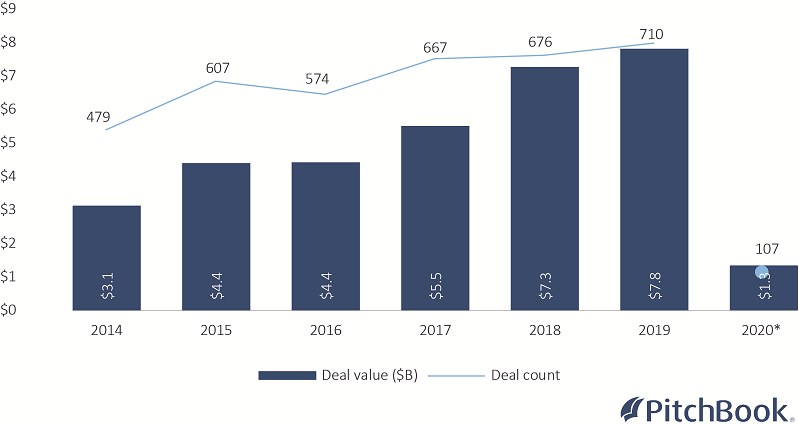 For patients, telemedicine provides faster care and helps them avoid hospitals, where they risk either infecting others or coming into contact with the disease. Virtual care can also reduce the strain for the healthcare system and help track the spread of diseases across geographies.
One thing virtual doctors can't do is test people for the disease. But they can help to coordinate with healthcare centers or direct symptomatic patients to the drive-thru coronavirus testing centers that are now cropping up around the country.
98point6 began developing its tool in January, well before the virus began to spread organically in the US. "I'm an emergency physician with a background in preparedness, so certainly I had on my mind what the potential surge impact could be to the business," said Bradley Younggren, chief medical officer at 98point6. The company now has a designated COVID-19 response team.
Both Amwell and 98point6 are staffing up to meet the surprise demand. In addition to seeing more patients, 98point6 has also signed new clients. The startup employs around 50 full-time physicians and has received backing from the
Goldman Sachs Merchant Banking Division
, among others.
Telehealth could be one of the rare winners in what many fear could become a prolonged economic slowdown. Shares of telemedicine company Teladoc are up around 52% since the start of the year.
But the outbreak may also have longer-term effects for the industry, exposing more people to telemedicine services and increasing its profile in the US.
"People are recognizing the value of virtual care," said Younggren.
Join the more than 1.5 million industry professionals who get our daily newsletter!