Fintech
Blend becomes latest fintech startup to bank a mega-round in 2019
June 24, 2019
With the advent of AI, blockchain and other novel technologies, the fintech industry of today has greatly evolved from what it was even five years ago, and VCs have been quick to capitalize on the opportunity for growth. Deal count and capital raised in the fintech industry have both increased exponentially over the decade, and 2019 has already seen its fair share of mega-rounds, which have become an integral part of late-stage funding.
The latest example is
Blend
, the developer of a consumer lending platform that announced Monday that it raised $130 million in a Series E co-led by Temasek and
General Atlantic
, with participation from existing backers
8VC
,
Founders Fund
,
Lightspeed
and
Greylock Partners
. Founded in 2012, Blend has raised around $310 million in total VC financing, including a $100 million Series D that valued it at $500 million in 2017.
Based in San Francisco, Blend was co-founded by current CEO Nima Ghamsari, who belongs to an Iranian immigrant family. Ghamsari wrote in a blog post that he was inspired to launch Blend to help individuals "build long-term wealth through homeownership," after his parents bought a home in the US.
Blend works with more than 150 financial institutions, including Wells Fargo and US Bank, and claims to process nearly $2 billion in mortgages and consumer loans daily. The business has recently expanded its offerings to include home equity, deposit account openings and homeowners' insurance. Blend has also added former Pixar CFO Ann Mather, who also serves on the board of Alphabet, Airbnb and Netflix, to its board.
Since the beginning of 2019, VCs have closed around
310 fintech deals
in the US, with the funding from those investments totaling more than $5.6 billion, per the PitchBook Platform. Of that, a whopping $2 billion has been spread across just seven transactions—meaning that around 36% of the capital invested accounted for less than 2.3% of the year's total deal count. In 2018, capital invested in fintech startups had a spike of 76% YoY, while the deal count increased by about 22% YoY: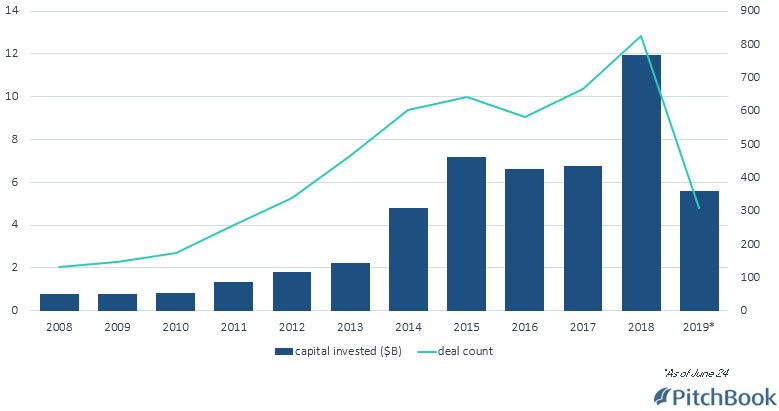 Are mega-rounds the new normal?
In the last few months, several US-based fintech companies have picked up massive VC financings.
Personal finance company
SoFi
is in the top spot so far for 2019, after picking up a $500 million round led by the Qatar Investment Authority in May. The San Francisco-based business is now valued at $4.8 billion, up from the $4.3 billion valuation it attained with a $500 million financing led by
Silver Lake
in 2017. The company has teamed up with
Coinbase
to develop a cryptocurrency trading platform, per a CNBC report from February.
In April, Josh Kushner's
Thrive Capital
led a mega-round for
Affirm
, which provides consumer loans issued during checkout on ecommerce websites. Valued at $3 billion, Affirm was co-founded by CEO Max Levchin, who also co-founded in
PayPal
.
Equity management platform
Carta
reached a unicorn valuation through a $300 million round led by
Andreessen Horowitz
in May. The Palo Alto-based company, which manages over $500 billion in equity on its platform, is an SEC-registered transfer agent that helps public and private companies issue, value and transfer securities.
And, finally,
Lemonade
picked up $300 million in a round led by
SoftBank
, with Forbes reporting a valuation of more than $2 billion. Founded in 2015, the company uses AI and behavioral economics to power its peer-to-peer insurance platform.
The IPO impact
Many high-profile VC-backed tech unicorns have crossed the bridge and gone public so far in 2019. However, the fintech sector seems to be lagging when it comes to public debuts. In fact, not one of the
10 most valuable fintech companies
in the world seems particularly close to an offering. Plentiful capital and investor appetite for mega-rounds are potential reasons for the IPO aversion, according to a
recent PitchBook fintech report
.
The report also notes that valuable fintech companies such as
Robinhood
and Coinbase are focusing on growth in order to compete with incumbent banks, whether that means expanding their current markets, diversifying their products or building new business lines.
If the recent surge in mega-rounds is any indication, fintech companies seem to already be successful at amassing large pools of private capital, making them unlikely IPO candidates—at least in the near future.
Related read: Where are all the fintech IPOs?