Buyer beware: Breaking down the carnage from 5 pre-crisis mega-deals
April 6, 2018
Private equity fundraising had a banner year in 2017, while deal multiples to continue to rise amid a US economy that posted a 2.6% annual growth rate in 4Q 2017. A bull economy has raged for nearly a decade, and there's more competition than ever before. It was probably only a matter of time before the industry's heavyweights began striking the sorts of mega-deals that were the norm before the 2008 recession.
The latest example came in late March, when The Carlyle Group and Singaporean sovereign wealth fund GIC agreed to buy the specialty chemicals unit of
AkzoNobel
for €10.1 billion (about $12.6 billion). In January, meanwhile, Blackstone inked its biggest buyout pact since the crisis, agreeing to purchase a 55% stake in the financial and risk unit of
Thomson Reuters
in a $20 billion transaction. Blackstone's takeover includes a $14 billion financing package, while earlier reports had indicated that any PE takeover of the AkzoNobel chemicals unit would also be highly leveraged.
It's been a pricey start to 2018 for US PE firms, which have already completed or announced
six deals of at least $5 billion so far this year
, per the PitchBook Platform. If that pace continues, there's a reasonable chance 2018 will play host to more completed mega-deals than any year since 2007: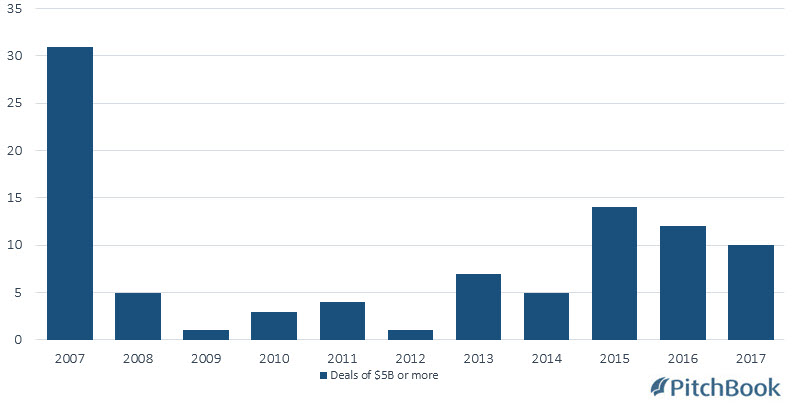 Those pre-recession mega-buyouts were all the rage. There were some winners, but it's also worth remembering the epic flops. Let's look at five LBOs in particular that might make big GPs think twice before taking the plunge themselves—especially when KKR is predicting a
100% chance of recession in the next two years
.
Cerberus tries to save Chrysler
In 2007, Cerberus Capital Management acquired 80.1% of
Chrysler Group
from
DaimlerChrysler
for $7.4 billion, with Stephen Feinberg's shop aiming to revive the Detroit automaker as it dealt with struggling sales in a rough economy. Cerberus channeled $5 billion of that capital into the Chrysler business and more than $1 billion into the car company's financial services arm, with DaimlerChrysler taking home $1.35 billion.
But the issues continued. Following rumored merger attempts with Nissan and
General Motors
and massive layoffs, Chrysler filed for Chapter 11 in April 2009 with a debt load exceeding $10 billion. Italian automaker Fiat eventually bought most of the company's assets—excluding Chrysler Financial—that June.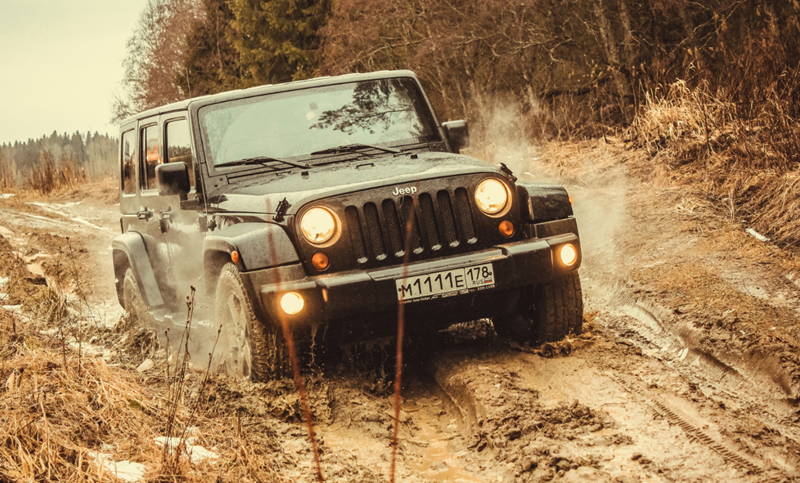 But Feinberg's firm still found a way to recoup a significant amount of its original investment. About 18 months after unloading the bulk of Chrylser to Fiat, Cerberus sold the Chrysler Financial unit to
Toronto Dominion
for $6.3 billion in the final days of 2010.
Where are they now?
Fiat Chysler retail sales reportedly jumped 11% in March, thanks in large part a 70% increase in Jeep Wrangler sales. That continues a stretch in which the company's share price has more than tripled, rising from below $7 per share in 2016 to $22.58 per share at the end of trading April 5. Meanwhile, Chrysler Financial was renamed TD Auto Finance in 2011 and currently serves as a subsidiary of TD Bank, which has seen its stock price jump nearly 70% since the end of 2010.
KKR, TPG and Goldman fall short with record LBO
No LBO was more emblematic of the lucrative run-up to the crisis than the $48 billion deal KKR, TPG and Goldman Sachs struck for utility company TXU (now known as Energy Future) in 2007. The trio of firms reportedly contributed a combined $8 billion in equity and financed the remaining $40 billion. But that was before a rise in fracking helped lead to a natural gas boom in the US, causing electricity prices to plummet. And suddenly, what was at the time the largest buyout ever was in danger of going bust.
Owing more than $40 billion to a range of investors, the company filed for bankruptcy in 2014, nearly wiping out the firms' original investments, per Bloomberg. As of its filing, it was the 10th largest Chapter 11 in history in terms of assets, according to Reuters, on par with Enron's 2001 filing as one of the largest ever for an energy company.
Not exactly the type of history any PE firm wants to make. But as you may have guessed, KKR, TPG and Goldman still came out OK. While their equity investments nearly vanished, the firms still shared a $300 million transaction fee and more than $1 billion in management fees, according to Bloomberg and industry estimates, as well as tax write-offs from the loss.
Where are they now?
After nearly four years toiling in bankruptcy, Energy Future finally cleared one of the final steps to exit the process last month when it won approval to sell
Oncor Electric Delivery
, reportedly the largest utility company in Texas, to Sempra Energy for some $9.5 billion.
PE consortium takes over Univision, can't find way out
It might be unfair to characterize this investment as a failure just yet, but a consortium that included Madison Dearborn Partners, Providence Equity Partners, TPG Capital, Thomas H. Lee Partners and Saban Capital probably never envisioned owning Univision for a dozen years when it took the Spanish-language media giant private for $13.7 billion in 2006. Yet, here we are.
The reasons for Univision's struggles vary. But a major one was a 45% drop in prime-time audience numbers between 2013 and 2017, per the Los Angeles Times, which drove down advertising prices in the process. The company has also faced stiff competition from
NBCUniversal
-owned rival
Telemundo
, which won rights to broadcast the FIFA World Cup in 2018 and 2022.
Where are they now?
Last month, Univision officially requested to withdraw plans for an IPO it had first sought in 2015, then announced the next day that CEO Randy Falco will retire at the end of the year. Shortly after that came a round of layoffs. Facing more than $8 billion in debt, according to The Wall Street Journal, as well as a broadcasting industry upended by new streaming options, the search for an exit by the company's private equity owners continues. Maybe
that $20 billion-plus asking price
was too high, after all.
Bain Capital, KKR topple Geoffrey the Giraffe
The demise of
Toys R Us
has been well documented. See
here
.
Here
. And
here
. But it bears repeating that the brick-and-mortar retailer's troubles trace back to when Bain Capital, KKR and Vornado Realty Trust bought it for $6.6 billion in 2005. The company abandoned an IPO in 2013, then filed for Chapter 11 bankruptcy last September in hopes of trimming some $5 billion in debt. Instead, creditors opted to liquidate, essentially shuttering 735 locations in a move that will lead to a reported 33,000 direct job losses—not to mention send a wave of side effects through the rest of the toy industry.
Where are they now?
Billionaire Isaac Larian, the founder of Bratz dolls maker MGA Entertainment, reportedly made a bid for Toys R Us Canada in mid-March. In the weeks since, Larian helped launch a GoFundMe campaign called #SaveToysRUs that's seeking to raise $1 billion via crowdfunding, cash that would "be added to other capital being gathered by the potential purchasers of some or all" of Toys R Us. So far, the effort has collected more than $200 million in commitments.
Apollo, TPG come up short in Las Vegas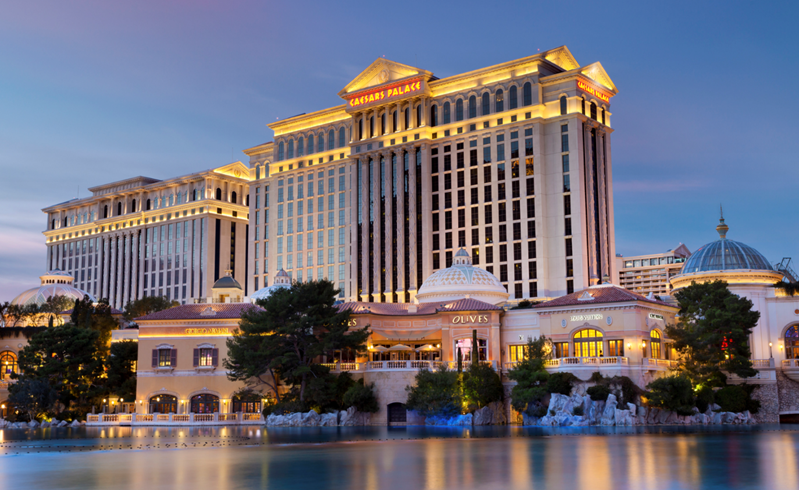 The house doesn't always win. In 2006, TPG Capital and Apollo Global Management took casino and gaming operator Harrah's Entertainment private for some $27.8 billion (about $34 billion factoring in inflation), including roughly $10.7 billion in debt. The company was later renamed
Caesars Entertainment
, in honor of Caesars Palace, but that mattered little when the company filed for bankruptcy in late 2015, weighed down by a reported debt load of $24 billion that piled up as tourism to Las Vegas collapsed during the recession. ​
To escape all that debt, TPG and Apollo resorted to measures that their creditors found questionable, including selling a series of Caesars' assets to themselves. That led to the company's debtholders filing a lawsuit alleging that TPG and Apollo committed "unimaginably brazen looting," which in turn forced TPG co-founder David Bonderman and Apollo co-founder Marc Rowan reportedly being forced to hand over personal financial documents. We've got
much more on the timeline
of one of the messiest private equity deals in recent history.
Where are they now?
TPG and Apollo struck a $5 billion agreement in late 2016 to end the bankruptcy, though the company didn't officially emerge from the proceedings until late last year. As part of the deal, the company separated its real estate holdings from its gaming operations and shed some $10 billion in debt, with TPG and Apollo handing most of the company to creditors.
Related read: Bain Capital back under the microscope with iHeartMedia, Toys R Us exits