Can Netflix fend off big-name challengers?
June 26, 2018
Media sits at the center of some of the most exciting movements in the M&A space. From giant telecom acquisitions to the drama surrounding a possible merger between
Viacom
and
CBS
, traditional definitions of who is in the entertainment business, how viewers connect with content and how profits can be captured are changing rapidly.
Netflix
, in turn, sits at the center of this disruption. It has capitalized on its first-mover advantage after pivoting away from the DVDs-by-mail business in 2007 and going all in on movies over wires. Rapid growth followed: Worldwide streaming subscribers increased to 118.9 million in the first quarter of 2018, thanks to a successful push into exclusive content that started with "House of Cards" in 2013.
Now, the number of Netflix subscribers equals that of all Pay TV subscribers combined. And as a recent survey of US consumers from PWC consultants has shown, "cord-cutting has more momentum than ever," as traditional cable and satellite subscribers continue to fall.
Meanwhile, Netflix's success has forced would-be usurpers to shell out big bucks on M&A in a bid to adapt amid the shift to streaming.
Barbarians at the gate
The current wave of M&A activity threatens Netflix and its dominant position in the streaming media space as old competitors are amalgamated into larger, more powerful challengers. The company has a target on its back, and these new giants are aggressively hunting it down.
AT&T
argued before US regulators that its recently approved $85.4 billion acquisition of Time Warner was needed to compete not only against streaming services such as Netflix, but also new media entrants like
Facebook
,
Amazon
,
Apple
and
Google
, as the future of how viewers will consume entertainment comes into focus.
Since 2007, Facebook has
completed 80 M&A transactions
, including some $35 billion in combined deal value just to purchase
WhatsApp
,
Oculus
and
Instagram
, which last week launched long-form video feature IGTV to compete with the likes of
YouTube
. Meanwhile, the social media giant reportedly plans to drop as much as $1 billion on original content this year.
In addition to its 2013 acquisition of
SportsStream
, Facebook has struck several rights deals down the years to secure streaming contracts with organizations like the Union of European Football Associations and Major League Baseball.
Likewise, Amazon has struck several deals to stream live sports and bought the streaming video game platform
Twitch
Interactive for
$970 million in 2014
. The result's been nothing less than
a virtual cornering of that market
.
But the ecommerce giant's M&A strategy for competing with Netflix hasn't entirely paid off. Last year, Amazon shuttered LOVEFiLM, a $200 million acquisition from 2011, which shipped DVDs by post to subscribers in the UK and Germany.
Not to be outdone, rivals from the entertainment industry have cut big checks of their own for streaming services in a bid to buy into the space. Last year,
Disney
struck a deal for longtime partner
BAMTech
in a bid to launch its
ESPN
-branded multisport video streaming service later this year and, above all, to set up its new Disney-branded direct-to-consumer streaming service slated to launch next year.
And lest we forget, AT&T's Time Warner purchase comes with not only
HBO
, but also its hugely popular HBO Now subscription service for cord-cutters.
Paying for the views
In this new golden age for television, with per-show costs swelling towards the $20 million threshold amid rising competition and raised budgets, the race to produce exclusives isn't going to slow anytime soon. Netflix isn't taking its foot off the throttle either, with plans to spend $8 billion on new shows and movies in 2018, up from $6 billion in 2017, and announcing initiatives such as a production deal with President Barack Obama.
2017 non-sports programming spend ($B)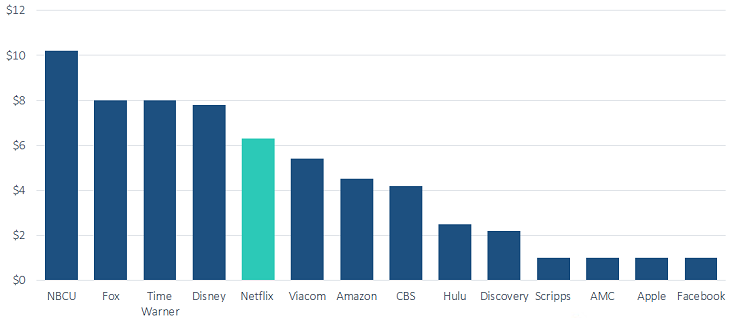 The hope for competitors is that deal synergies and deeper pockets will help them chase down Netflix. At the risk of overspending for acquisitions, which will then limit the balance sheet flexibility needed to fund new programs and movies.
For AT&T, it's that vertical integration coupled with bundled service offerings can ford the moat around Netflix. But that's a big if: Would you rather watch "Stranger Things" streaming at 480p on a new iPhone for $7.99 per month with Netflix, or "Game of Thrones" in HD for free with AT&T?
For Disney, it's a reliance on decades of already-beloved content. For the Big Tech players, a mix of ecosystem convenience, hardware integration and vaults of cash to burn. Amazon is spending $1 billion to bring "Lord of the Rings" to its Prime Video service in what will be the most expensive TV series ever. Apple recently outbid Netflix for a show starring Jennifer Aniston and Reese Witherspoon and also has both Steven Spielberg and Oprah Winfrey working on content.
A hard pass on M&A
By contrast, Netflix would hardly appear to have an appetite for acquisition—much less the voracious one that characterizes the other FAANGs. Since 2007,
Netflix has picked up just one company
, comic book publisher
Millarworld
, for an undisclosed sum, per the PitchBook Platform, in a bid to bolster its stable of superhero programming.
In short, Netflix has, in maintaining a build over a buy strategy, kept to its lane and found success.
Since shares bottomed in 2012—following a fiasco involving higher prices and a de-bundling of DVD-by-mail and streaming services—shares have posted an eye-watering return of more than 5,200%. Disney's shares are trading at levels first reached in 2015. CBS has drifted lower from highs set in early 2014. AT&T is below levels seen in the summer of 2016.
Goldman Sachs analysts upped their price target for Netflix ahead of the approval of the AT&T-Time Warner case earlier this month. Likewise, Guggenheim analysts remain confident, citing Netflix's focus on creating original content, a best-in-class platform and a nimbler business model than its competitors.
But the battle is set to grow increasingly bloody. Netflix will face intensifying competition over the next five years, according to Morningstar equity analyst Neil Macker, who expects the company's long-term debt to grow from $2.4 billion for 2015 to a forecasted $8.5 billion in 2019.
The wild card is Netflix's inability to rely on other profit centers—like Amazon's AWS cloud-computing platform or Apple's iPhone business—to fuel content spend. Earnings and revenues are there: The company reported $290 million in net income last quarter, up from $178 million in 1Q 2017, on 40% revenue growth, per PitchBook data.
But free cashflow is on a falling trajectory from negative $53 million in 2014 to nearly $2 billion last year. The company expects a free cashflow burn of upwards of $4 billion this year.
If it becomes a war of attrition, Netflix could well find itself surrounded by invaders with more resources ready to wait it out. Like Apple, which is holding a cash hoard of
nearly $270 billion
. Money enough for plenty of binge-worthy programming.
Related read: 4 takeaways from the ruling on AT&T's $85.4B acquisition of Time Warner

PitchBook is a Morningstar company.