High Fidelity: Meet the world's top backer of unicorns
September 12, 2017

As part of our
2017 Unicorn Report
, we ranked investors—venture capital, private equity, corporate and nontraditional alike—by the number of US unicorns in their portfolios. Silicon Valley's VC heavyweights made up a healthy portion of the list, but the firm that claimed the No. 1 spot, once again, was mutual fund Fidelity Investments.
Why is a mutual fund outnumbering VC firms, which exist to fund the latest and greatest startups, and find the next unicorn?
By backing unicorns, mutual funds are trying to boost overall fund returns by moving into pre-IPO, illiquid securities in the hope of a post-IPO payout—a "reach-for-yield" theme
common in this low-interest-rate environment
.
Fidelity's history in the private markets
With stakes in Blue
Apron
,
Snap
and
Cloudera
, which all went public this year, Boston-based Fidelity has seen a number of its recent investments reach an exit. Flash back to 2011, and filings show Fidelity also had stakes in
Facebook
,
Zynga
and
Groupon
, among other big-name companies.
This is its second consecutive year topping our list of the most unicorns, after finishing 15th in 2015, per the PitchBook Platform. In addition to rising in the rankings, the investor is picking up the pace when it comes to funding unicorns: Two years ago, it had just eight in its portfolio, before tripling that number in 2016 and reaching 34 in 2017. Those billion-dollar companies currently include
Airbnb
,
Spotify
,
Peloton
, Uber and
Magic Leap
.
In addition, Fidelity isn't the only mutual fund making a splash in the private markets.
T. Rowe Price
, which ranked fifth this year with 27 unicorns, previously invested in formerly VC-backed bigwigs
Twitter
,
LivingSocial
and
GrubHub
. Its current portfolio boasts
Dropbox
,
Warby Parker
and
Flipkart
.
Mutual fund participation in unicorn rounds
However, while mutual funds may be scouting unicorns like venture capital firms, VC firms they are not. Mutual funds tend to be less involved with their portfolio companies and are typically less represented on startups' boards of directors.
Here's a closer look at mutual fund participation in funding rounds for unicorns: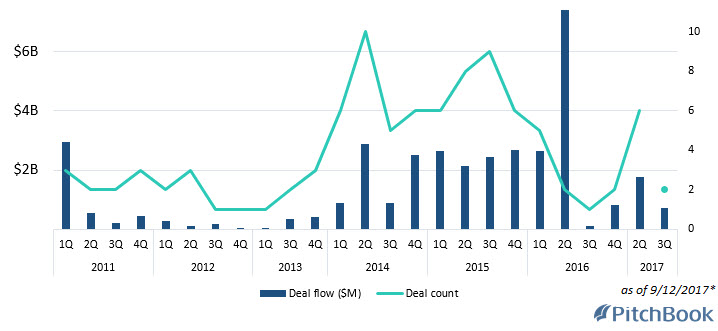 Mutual funds have participated in eight deals for companies worth $1 billion or more so far this year, following 10 completed deals last year. The jury is still out on the wisdom of the surge of VC-stage investment by mutual funds that occurred a few years ago, a trend that has since slowed along with IPO and exit activity.
Read our 2017 Unicorn Report here.