Mega-Funds
KKR's €5.8B vehicle adds to Europe's record year for PE mega-funds
November 5, 2019
PE giant
KKR
has raised €5.8 billion (around $6.4 billion) for its largest-ever flagship European fund just over a year after the vehicle's launch, as investors pour more money into private equity.
The mega-fund will follow its predecessor's investment strategy, focusing on upper-middle-market deals in Western Europe and targeting companies with enterprise values between €500 million and €2 billion on average. The New York-based firm hasn't ruled out larger deals similar to its takeover of
Unilever
's Spreads business in 2017 for nearly €7 billion.
Not wasting any time, KKR has already used the capital pool to finance five deals on the continent—four of which are minority equity positions alongside management or founders. Perhaps the highest profile of the transactions is the investor's acquisition of a roughly 43% stake in German media business
Axel Springer
for €2.9 billion in August. Others include a minority position in founder-led wealth management company
Söderberg & Partners
and a 30% holding in security systems provider
Sector Alarm
, which KKR acquired in February and July, respectively.
This latest fund is KKR's first foray into the European markets since 2015, when it closed its €3.4 billion fourth vehicle, which has now been fully deployed across 14 investments and has seen two major exits in the past few months. In September, KKR cashed in shares along with other firms such as
Alven Capital
in rail ticket provider
Trainline
, which went public in June at a reported valuation of some £1.7 billion (about $2.2 billion at today's conversion rate). Then in October, cloud technology provider
SoftwareOne
, in which KKR held a 25% pre-IPO stake, hit a market cap of 2.9 billion Swiss francs (around $2.8 billion at the time) when it listed.
A longtime investor in Europe, KKR completed its first deal across the pond in 1996, and its maiden fund targeting the region closed three years later on some $3 billion. The firm's EMEA private equity platform currently has $11.6 billion to invest. It's no wonder as to why LPs keep committing capital—in the last decade KKR has invested €7.1 billion across 33 deals, generating a 2.6x gross multiple and 23.6% gross IRR. KKR European Fund IV ranks third in a benchmark against 10 peers, including
Bain Capital
's fourth vehicle and
Equistone Partners
' fifth, according to the PitchBook Platform.
Generally, private equity fundraising this year has been rather bleak, with only 64 vehicles having been raised so far—the lowest count in a decade—according to PitchBook's
3Q 2019 European PE Breakdown
. However, a record high of six PE mega-funds have closed so far this year, including KKR's, per PitchBook data. October was an especially active month, as London-based
Permira
closed its seventh and biggest flagship fund on €11 billion and
The Carlyle Group
secured €6.4 billion for Carlyle Europe Partners V.
Europe's PE mega-fund fundraising history has been choppy as demonstrated by the chart, with the number of funds and amount of capital raised fluctuating from year to year. Despite significant political uncertainty, it appears that the world's largest PE firms are still betting on Europe as an attractive destination for deals.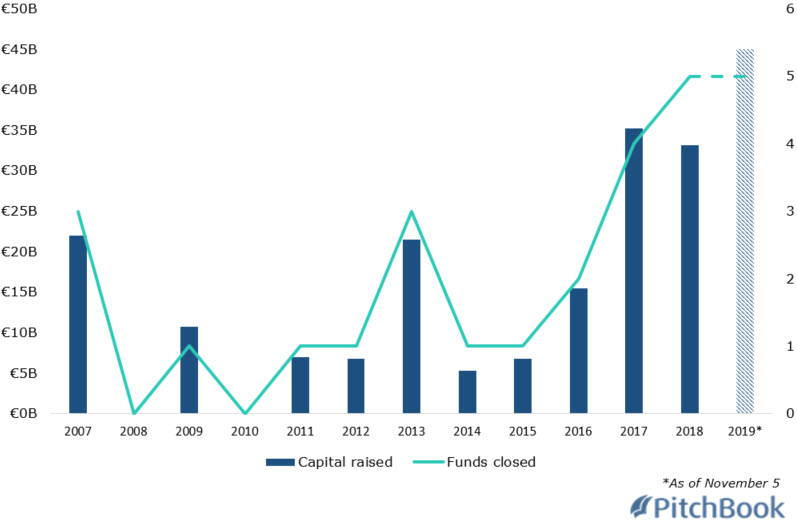 As interest rates remain low and allocations to private equity increase, it seems inevitable that more billion-euro funds will be raised in the near future as an economic downturn looms—potentially replicating 2008 or 2010's fundraising results.
Featured image via mustafasen/iStock/Getty Images Plus
Related read: KKR set to intensify efforts in Asia with new fund