Why one VC says Seattle's new head tax is bad for startups
May 22, 2018
View comment

(1)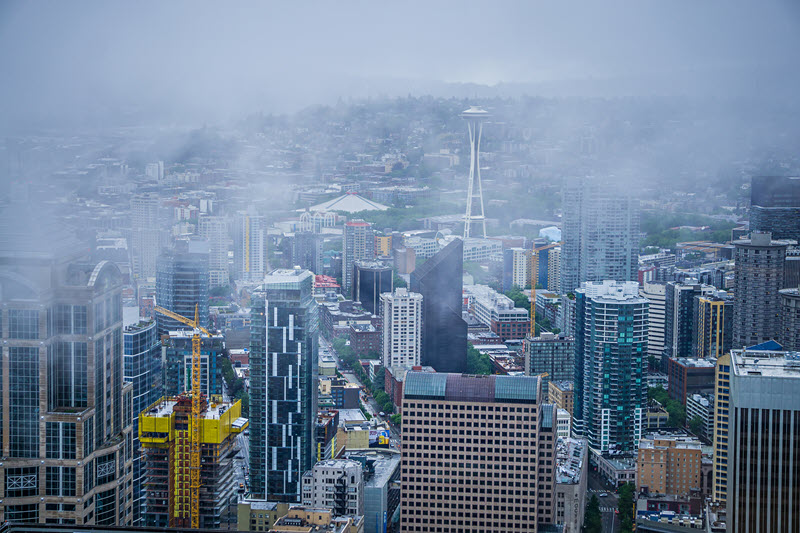 While lawmakers were going head-to-head with
Amazon
over Seattle's head tax, a measure requiring local businesses with gross revenue above $20 million to pay $275 annually for every full-time worker in the city, area startups were pulling in a decade-high amount of venture capital.
The latter is good news for Seattle's startup ecosystem, but many founders and VCs are not thrilled with the tax. Matt McIlwain, managing partner at
Madrona Venture Group
, which announced its latest $300 million vehicle Tuesday, has been a vocal opponent of the head tax.
"We've got companies in our portfolio that are going to have to think long and hard about growing their teams here," McIlwain told PitchBook.
Members of the Seattle City Council were initially seeking a levy of $500 per person per year but ultimately passed a smaller, though still sizable, $275 head tax in a 9-0 vote earlier this month. The council says the ordinance will bring in about $47 million per year
to fund measures meant to help
get Seattle's homeless population off the streets.
Before the council passed the tax, Seattle tech leaders, including John Kelly,
Starbucks
' senior VP of global public affairs and social impact, didn't shy away from expressing their disapproval.
"This City continues to spend without reforming and fail without accountability, while ignoring the plight of hundreds of children sleeping outside," Kelly said in a statement released shortly after the vote. For its part, Amazon VP of global corporate and operations communications
Drew Herdener
said the ecommerce giant remained "very apprehensive" about its future in Seattle.
The pair of blunt statements followed
an open letter to the Seattle City Council
from a group of more than 100 local tech leaders, all of whom opposed the tax and argued in favor of choosing another approach to the city's homelessness problem that didn't target job growth. (PitchBook is headquartered in Seattle. Founder and CEO John Gabbert has publicly opposed the tax.)
"The City Council's proposal for a 'head tax' is not a solution," wrote the group, which included
Smartsheet
founder Brent Frei,
Rover
CEO Aaron Easterly and Madrona's McIlwain.
"I think it will definitely hurt job growth, and it will hurt the folks that are directly involved in the tech world, but also restaurateurs and construction workers and others in the greater ecosystem," McIlwain said.
The new law may send some startups running. Manny Medina, the CEO of enterprise software startup
Outreach
, which raised $65 million earlier this week at a reported $500 million valuation,
told GeekWire
the tax made him feel like his company was being forced to "pay for excellence" and that Outreach might consider moving to Bellevue, just east of Seattle. Tacoma, located 40 miles south, has already begun campaigning for its neighbor's startups. On Tuesday, Pierce County, where Tacoma is located, announced plans to offer companies a $275 tax credit for each employee paid more than $65,000 per year.
Seattle's robust startup ecosystem
But the promising fundraising numbers so far this year underscore the strength of the local VC ecosystem. And perhaps fresh pools of capital will encourage Seattle companies to continue to invest in the city.
McIlwain said that Madrona, at least, remains committed to the Pacific Northwest.
The firm, which has been the
most active investor in Seattle
since the beginning of 2014, per the PitchBook Platform, has closed on $300 million for its seventh flagship fund. The vehicle is the same size as the firm's last two flagship funds and will be used primarily to support Seattle-area founders.
The fund close follows that of
Pioneer Square Labs
, another Seattle area firm, which is run by former Madrona partners. It recently wrapped its debut fund on $80 million to back companies in the Pacific Northwest. And in April,
Flying Fish Partners
held a first close on
$23 million for its debut vehicle
. The firm,
co-founded by Heather Redman
, also plans to invest locally.
Here's a look at Seattle fundraising activity since 2012, according to PitchBook data.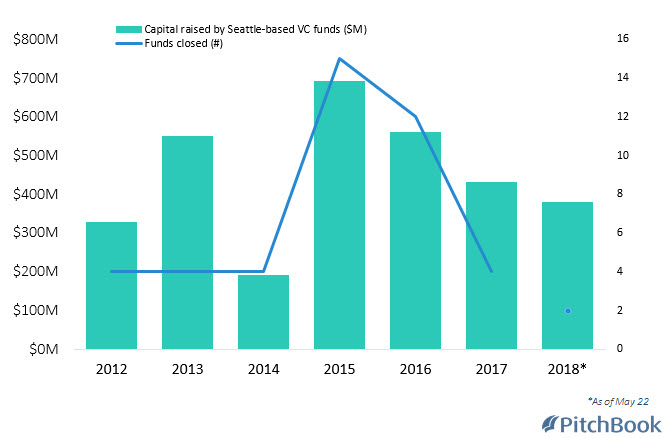 Recently, several companies out of Seattle completed high-profile IPOs, including
DocuSign
,
Avalara
, Smartsheet and
Redfin
. And VC activity has trended upward, with 2018 easily on pace to reach a decade high.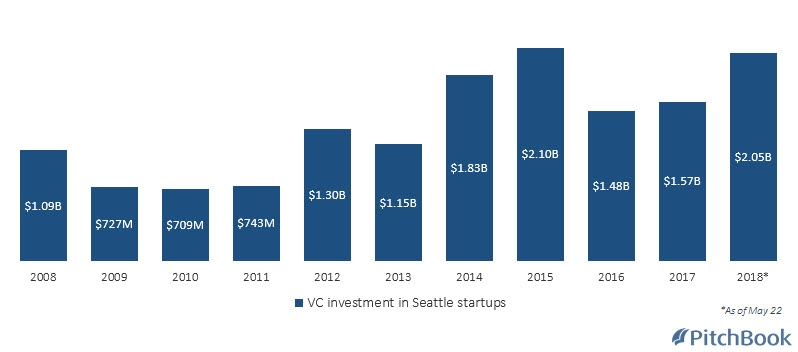 In addition to Outreach's $65 million Series D, recent financings include online identity protection company
Ath0
's $55 million round and cloud automation startup
SkyKick
's $40 million fundraise. Women-first co-working space The Riveter
snagged roughly $5 million in March
, followed by
RealSelf's $40 million round in April
.
Rover, a Seattle-headquartered dog walking startup,
is poised to enter the unicorn club
with an upcoming round. The startup recently filed to raise up to $125 million in Series G funding.
What's next?
Business leaders banned together following the council's decision to unanimously pass the head tax to form a campaign to overturn the levy. They reportedly have until mid-June to secure enough signatures in support of a referendum.
"I'm hopeful that this referendum will get on the ballot and the citizens will vote to overturn that tax," McIlwain said. "Even in the interim, while that tax has been signed into law, I think it will discourage big companies from investing in talent in Seattle. I have already heard from Bellevue companies, some of the bigger companies that were thinking of adding an office in Seattle, that are deciding not to do it."
Related reads: Why Amazon should invest in more startups