Seattle
Big tech and big checks: Seattle startups claim VC funding record
December 17, 2019
View comment

(1)
When Seattle-based
Convoy
, a startup whose digital platform matches truckers with freight jobs, hauled in $400 million this year, it was in some ways a surprise. After all, the region hadn't seen a venture round that large in more than a decade.
Viewed another way, the investment might've been inevitable.
Perhaps it was only a matter of time before Seattle's resident tech giants would train the leaders of several heavily funded startups. (In the case of Convoy CEO Dan Lewis, he worked at both
Microsoft
and
Amazon
.) Those leaders would then find that Seattle, which has added more high-tech jobs in recent years than almost any other US city, wasn't a bad place to start a company.
And it wouldn't be long before those founders attracted investment from well-heeled locals—Amazon's Jeff Bezos and Jeff Wilke were early backers of Convoy—as well as larger venture capital firms, hedge funds and strategic investors.
The forces that shaped Convoy have also built the region's burgeoning startup ecosystem, which, through mid-December, has claimed a record $3.51 billion from venture capital investors across 374 deals this year, according to PitchBook data. Seattle's record was made possible by a new generation of rapidly growing startups, a funnel of talent from tech firms and investors' growing comfort with writing big checks.
Seattle metropolitan area deal flow
"Larger rounds, in general, are more prevalent," said Robert Nelsen, managing director at
Arch Venture Partners
, which is based in Chicago but has a Seattle office. "If you can find the right management teams, then you can raise a lot of money."
Late-stage financing accounted for nearly 60%, or $2.1 billion, of the total venture funding this year in the Seattle region. And more than a third of the cash came from mega-rounds of more than $100 million. Startups to clear that bar this year included
Remitly
,
Sana Biotechnology
, Flyhomes,
Icertis
,
Outreach
and
Auth0
.
The proliferation of high-value companies hasn't gone unnoticed by investors. "We are prioritizing Seattle as an area to hunt more in," said Karan Mehandru, general partner at Menlo Park, CA-based
Trinity Ventures
, which has current investments in Seattle-area unicorns Outreach, which operates a sales engagement platform, and Auth0, the developer of identity and authentication services.
"It has become easier for companies to raise outside of the Bay Area as tech talent has become more distributed," Convoy CFO Brian Kreiner said in an email. All of the new investors announced in Convoy's latest round are based outside of the region.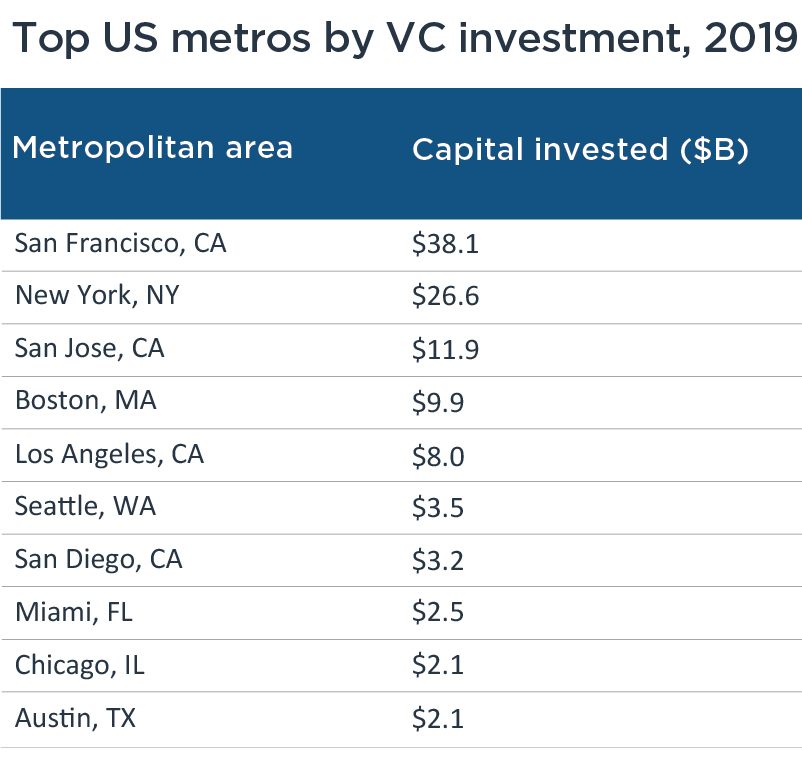 Local venture capitalists are also well-equipped to fund new ventures. The region has the fifth-highest level of venture capital dry powder, with nearly $2.2 billion ready to be deployed by firms in the region at the end of last year, according to a
recent PitchBook analyst note
.
The Seattle area can claim something no other city can: It's home to two of the five largest companies in the world—Microsoft and Amazon—which have spawned a generation of startup founders.
"We're seeing like the first stage of [Microsoft and Amazon] alums going and raising those billion-dollar valuations," said Daniel Li, a principal at Seattle-based
Madrona Venture Group
.
In addition to Convoy, several of Seattle's most valuable software startups—including newly minted unicorns Auth0, Outreach and Icertis—are run by Microsoft veterans.
In recent years, the city has become a strategic outpost for Silicon Valley giants like
Facebook
and
Google
that have put down roots to gain access to the city's engineering talent, particularly in cloud computing.
Apple
also this year unveiled plans to hire around 2,000 people in the city over the next five years. And after his company acquired Seattle-based
Tableau
for $15.7 billion this summer,
Salesforce
CEO Marc Benioff called Seattle the firm's "HQ2."
Seattle is one of five metropolitan areas that accounted for 90% of US job growth in the "innovation" sector—i.e., high tech—between 2005 and 2017, according to a
recent report
from The Brookings Institution. The region added over 56,000 jobs in high-tech industries over the period, second only to San Francisco.
Investors hope this upswell of talent translates into high-growth startups.
"Every successful, high-growth company creates a diaspora of high-performing young founders," said Chris DeVore, managing partner at Seattle-based
Founders' Co-op
, an early investor in Outreach.
In the biotech sector, the poster child of this virtuous cycle is Sana Biotechnology, which launched this year with $219 million in funding from Arch and others. Sana was started by the co-founders of
Juno Therapeutics
, another Seattle success story that sold to
Celgene
for $9 billion just five years after it was founded. Juno in turn was spun out of the Seattle-based Fred Hutchinson Cancer Research Center.
As the healthcare industry's largest challenges are increasingly being solved through machine learning and cloud computing, Seattle may benefit from a fusion of two of its strongest industries. "Having Microsoft and Amazon around as they get more and more interested in healthcare, I think, will be an advantage," Nelsen said.
Despite ascending to the sixth-highest funded metro area in the US, Seattle remains well below the level of the Bay Area, New York, Boston or Los Angeles. The city faces a number of challenges if it is to break into the top tier.
For starters, high numbers of talented engineers don't automatically lead to successful startups. "Finding experienced management teams that can be backed with a lot of money is hard. Seattle's biggest constraint is recruiting and the human capital side," said Nelsen.
There's also a downside to running a scrappy startup in the shadows of giants. "Amazon and Microsoft have been so successful for so long, that there hasn't been a lot of reasons to leave," said Madrona's Li.
The City of Seattle and Amazon faced off last in a heated dispute last year over a proposed tax aimed at large corporations. Those tensions flared up recently during a city council election in which Amazon spent $1.5 million on a pro-business super PAC. Amazon's primary critic on the city council, socialist Kshama Sawant, won reelection anyway.
"I actually do worry about the political situation in Seattle," said Nelsen. However, he and Mehandru both said local politics had not played a significant role in prior investment decisions in the region.
Despite these challenges, Mehandru remains bullish, adding, "This train isn't slowing down. If anything, it's speeding up."
Featured image via aiisha5/iStock/Getty Images Plus