Big Things
Six big things: With Lyft's filing, IPO madness is almost here
December 6, 2018
It's already been a busy 2018 for startups shifting their focus from Silicon Valley to Wall Street. Dozens of high-profile companies with venture backing have conducted initial public offerings, including big names like
Dropbox
,
DocuSign
and
Guardant Health
, all of which were valued at well over a billion dollars in their debuts.
But all year, there have been whispers that the real wave of VC-backed IPOs is still on the horizon. Now, it's starting to look very close indeed.
One reason for that is
Lyft
, which in a rather paradoxical move this week issued a press release announcing it has confidentially filed for an IPO with the SEC. While there were no indications of when such a listing might occur, the move seems to put Lyft at the front of a line of enormously valuable companies that are expected to go public next year. Ridehailing rival
Uber
is perhaps the primary example, but
Airbnb
,
Palantir Technologies
,
Postmates
and
Pinterest
are among the other unicorns that might take the leap in 2019.
If you just can't wait until the calendar page turns for a massive IPO, then keep an eye on the NASDAQ on Friday. That's set to be the first day trading for
Moderna Therapeutics
, a drug developer valued at over $7 billion with its latest round of venture funding. This coming surge in enormous offerings is one of six big things to know from the past week in VC:
1. An IPO looms for Lyft
The announcement of Lyft's filing with the SEC comes a little more than five months after the company wrapped up a $600 million round of funding at a $15 billion valuation, which was a step up from an $11.7 billion valuation just three months prior and a $7.5 billion figure only nine months before that. While Lyft surely won't approach the $120 billion IPO valuation that Uber is said to be seeking, it could very well be an eyebrow-raising number.
2. As the scooter wheels turn
News emerged several days ago that Uber was talking takeover with
Bird
and
Lime
, two of 2018's hottest companies, in a deal that would add widespread scooter offerings to Uber's mobility services ahead of a looming IPO. Late Wednesday,
TechCrunch reported
an imminent deal with Bird at a valuation somewhere around $2 billion, although Bird issued a prompt denial. Twelve months ago, who would've known scooters would be the source of so much drama.
3. Unicorns raise nine figures
Hotel-booking specialist
Oyo
has experienced explosive growth in 2018, and the company started off the year's final month by bringing in about $100 million in additional funding from
Grab
, less than three months after reportedly raising $1 billion at a $5 billion valuation. The week also provided a new unicorn in the form of
Looker
, a data visualization startup that collected $103 million at a reported valuation of approximately $1.6 billion, up from an $850 million valuation last year.
4. Celebrity celebration
Two of the most popular human beings on the planet deepened their ties to VC this week. Stephen Curry, the two-time MVP of the NBA, participated in a $21 million Series A for
SnapTravel
, the Toronto-based creator of a conversation bot that uses AI to help users book hotels. And
Arrive
, a venture firm launched last year by rapper Jay Z, has raised $20 million toward a $40 million target for an opportunities fund, per a filing that emerged this week.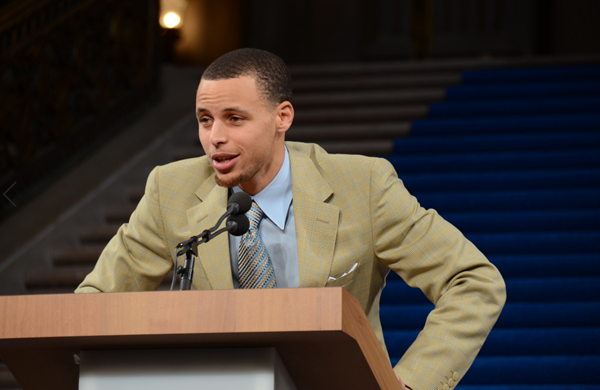 5. NEA offshoot gets $1.35B for growth
Earlier this year,
Kleiner Perkins
announced its growth team would branch off into a new outfit led by star Mary Meeker, with the rest of the firm returning its focus to early-stage deals; in November, a Business Insider report indicated that firm's intent to raise about $1.25 billion for a maiden growth fund. There were echoes of that move this week, when a team of former
NEA
investors at NewView Capital Management closed a debut fund on $1.35 billion and announced the acquisition of a portfolio of growth-stage stakes from NEA itself. It seems like another sign of how companies choosing to stay private for so much longer is changing the venture model.
6. Hungry employees
You need a hook to stand out in the crowded field of food delivery startups. For
Chewse
, which brought in $19 million in funding this week, that hook is going family-style at work: The business partners with restaurants to deliver and host group meals for offices. The San Francisco-based company, which received initial backing from
500 Startups
, is now approaching $35 million in total funding from the likes of
Foundry Group
and
Upslope Ventures
.