Corporate VC
3 things to know about CVC activity in 2019
August 22, 2019
View comment

(1)
Unlike most independent venture capital firms that manage downward pressure from LPs to deliver returns, CVCs and their portfolio founders seem to enjoy the perks that come with a greater degree of freedom–including longer-term investments, new product and cost synergies and more.
CVCs have become more sophisticated investors over the years, partaking in some of the most high-profile deals with the loftiest valuations, while also expanding to lower-profile strategic deals at the other end of the spectrum, according to PitchBook's latest
VC Valuations Report
.
In 1H 2019, CVCs poured $30.7 billion into US startups and participated in nearly 70 mega-deals. Here are a few key things to know about the impact of CVC activity on the venture capital ecosystem in the US.
CVC deal activity picks up after an explosive 2018
Corporate investors participated in a record number of deals in 2018 and funneled more than $68 billion into VC-backed startups in the US—roughly 86% more than the average of the three preceding years. This spike in deal value is in part due to
SoftBank
's $100 billion Vision Fund, a deep-pocketed outlier that injected a substantial amount of capital across a handful of mega-deals last year, backing companies including
W
ag
,
DoorDash
,
Uber
and
Compass
.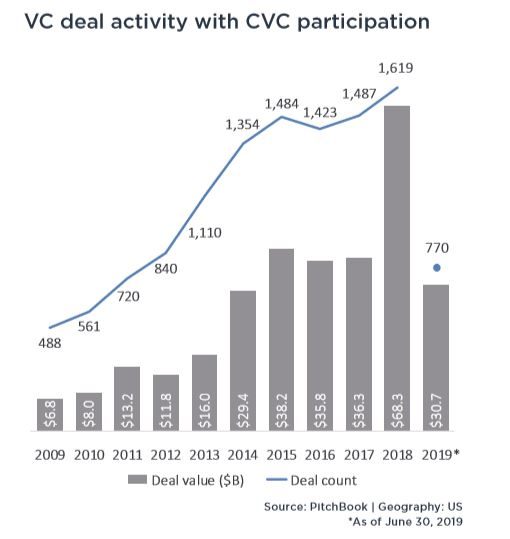 So far in 2019, SoftBank has backed several high-profile US businesses, such as freight forwarding software provider
Flexport
and
Opendoor
, which operates a real estate marketplace. It remains to be seen how much of an impact the Japanese conglomerate will have on 2H 2019 deal activity via its
upcoming Vision Fund II
. Investors including
Apple
,
Microsoft
and
Sumitomo Mitsui Banking
are expected to make contributions to the fund, which plans to start investing as soon as September, according to The Wall Street Journal.
Median late-stage CVC pre-money valuation soars
VC-backed companies are staying private for longer than they have historically. CVC investors are contributing to the trend and increasingly taking part in large rounds at later stages. Although the median pre-money valuation of late-stage deals with CVC involvement has consistently been higher than VC deals without a corporate investor, the gap has widened even further in 2019. The median pre-money valuation of late-stage deals with CVC participation skyrocketed to $151.1 million in 1H 2019, led by companies like
UiPath
and
Reddit
raising rounds at unicorn valuations.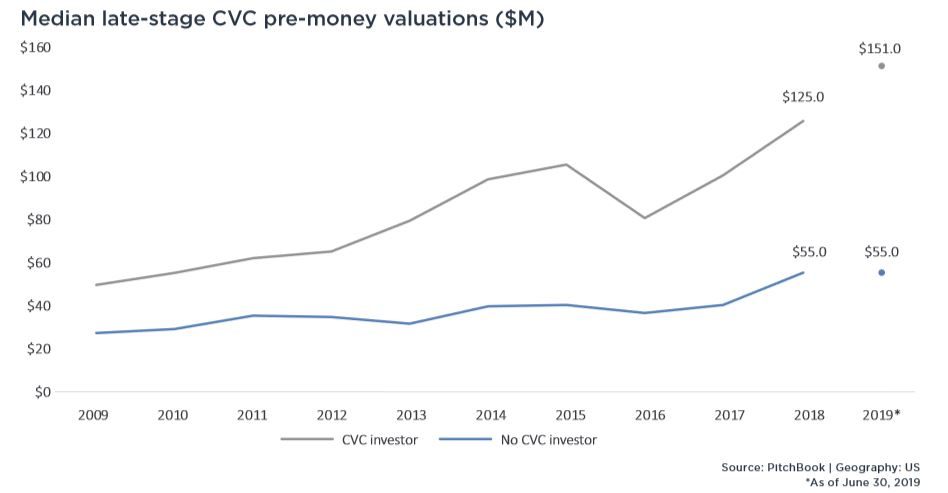 A continued focus on mobility
Some of the biggest VC deals in 2019 have gone toward mobility startups backed by CVC investors. In February, Flexport raised $1 billion in a SoftBank-led round. That same month,
Amazon
contributed to a fundraise of over $530 million for autonomous vehicle business
Aurora
. And it isn't just mega-deals that are attracting CVC participation in the industry.
BMW i Ventures
led a $40 million round for
Zum
, the provider of an on-demand ridehailing service for children and families.
According to a
recent PitchBook report
, the transportation industry should continue to bring in CVC dollars this year due to high demand from automotive original equipment manufacturers like Toyota,
GM
and
Ford
for technology partnerships, as well as more opportunities to fund autonomous driving companies.
Featured image via Unsplash
Related read: The three-headed monster leading a new CVC boom