VC Fundraising
The year in charts: VC defies 2020 expectations despite the pandemic
December 21, 2020
View comments

(2)
In its now-infamous
"Black Swan" letter of warning
to startup founders and CEOs in March about the coronavirus and its potential impact on the industry,
Sequoia
got a lot right about the pandemic.
Businesses would cut spending and headcount to offset a drop in sales. Supply chains would be disrupted. The Federal Reserve would slash rates. Software companies would be less exposed than, say, hardware companies.
But the storied VC firm was off on one count: that private financing "could soften significantly." With the benefit of hindsight and data, we now know that 2020 was in many respects a standout year for venture capital in the US.
Perhaps it shouldn't be surprising that venture capitalists—whose business models entail placing big bets on long odds—would manage to set decade highs in a year defined by unlikely outcomes.
From VC financing to mega-funds, mega-rounds and IPOs, here are five charts that sum up an improbable year:
US VC deal activity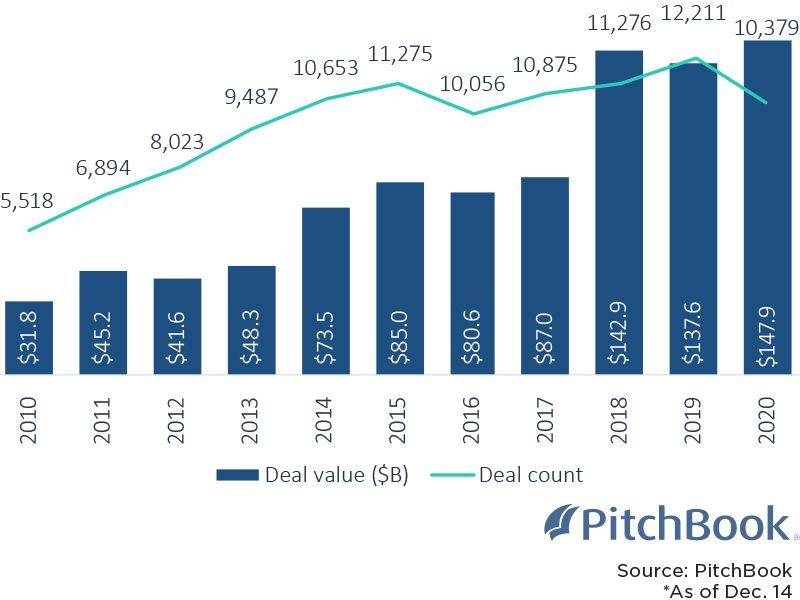 VC dealmaking in the US remained incredibly resilient in 2020, with companies raising nearly $148 billion as of Dec. 14, according to PitchBook data—already a decade high. The total number of VC deals this year, however, dipped from a high achieved in 2019.
Much of that funding activity can be attributed to the fat checks investors wrote for their existing, later-stage portfolio companies better suited to survive the worst of the pandemic. That didn't bode well for early-stage investments, which have dropped off significantly this year.
VC-backed IPOs in the US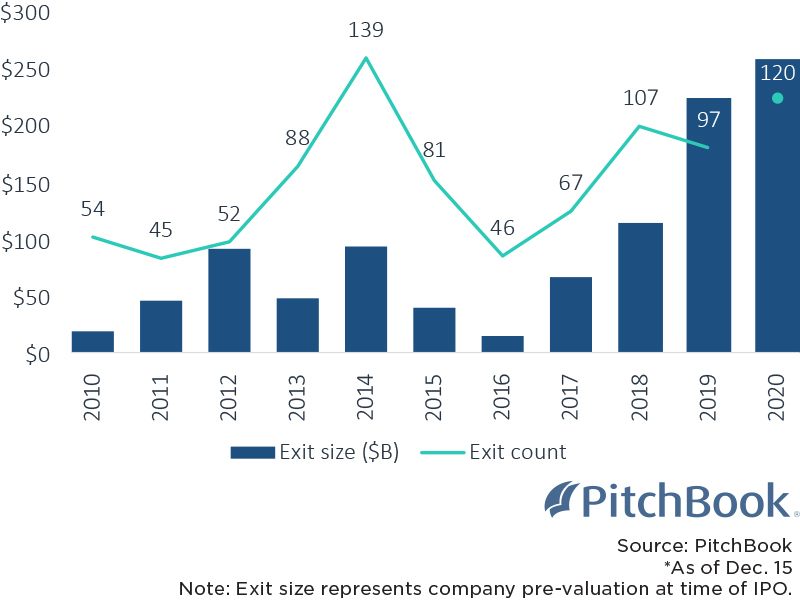 After an improbable comeback in the second half of the year, the US IPO market delivered the decade's biggest year in terms of exit value, or pre-money valuation at the time of the initial public offering. US exchanges hosted 120 VC-backed IPOs worth a combined $259.8 billion as of Dec.15, according to PitchBook data.
Airbnb
topped the list
with an exit value of $37.2 billion, followed by
Snowflake
($29.8 billion) and
DoorDash
($29 billion), PitchBook data shows. Real estate tech company
Beike
and electric carmaker
Li Auto
, both based in China, also cracked the top ten most valuable IPOs on US exchanges.
US VC mega-funds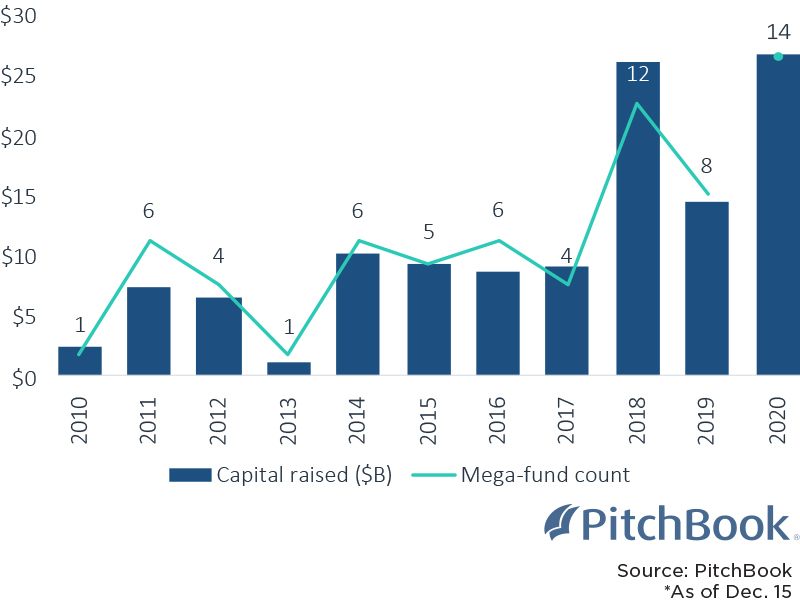 VC fundraising showed continued strength in 2020, with the annual total surpassing 2018's record. Fourteen US venture capital mega-funds of $1 billion or more claimed almost $27 billion as of Dec. 15, according to PitchBook data, the highest in terms of both total capital and fund count since 2010.
Silicon Valley helped the industry hit the 2020 high.
Andreessen Horowitz announced a pair of mega-funds
with $4.5 billion in commitments
in November and
Lightspeed
closed its largest-ever vehicle on $1.8 billion in April.
General Catalyst
,
NEA
and
Flagship Pioneering
also
tacked on to the tally with mega-funds
of their own.
US VC mega-rounds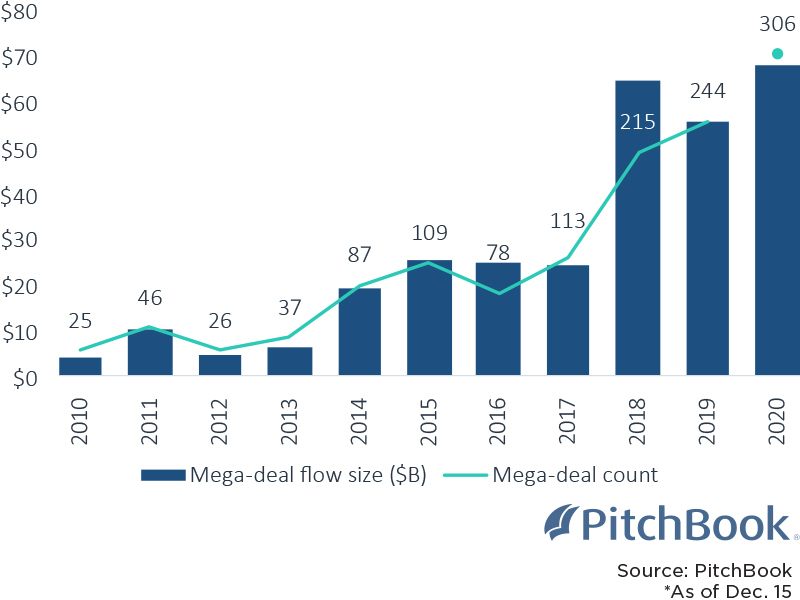 The number of US VC mega-rounds of $100 million or more has jumped to 306 so far this year, comfortably surpassing 2019's total of 244, according to PitchBook data. Tech companies like
Robinhood
,
Instacart
and
Stripe
contributed to the record-breaking achievement by taking advantage of changing consumer behavior in a nation under stay-at-home orders, as well as investors' increasing preference for follow-on and late-stage deals.
Through Dec. 15, the total mega-round haul came to just over $68 billion, with
Alphabet
-owned
Waymo
taking the crown for the single largest deal at $3 billion. Additionally, the period saw the crowning of 87 unicorns in the US, also a decade high.
VC-backed M&A in the US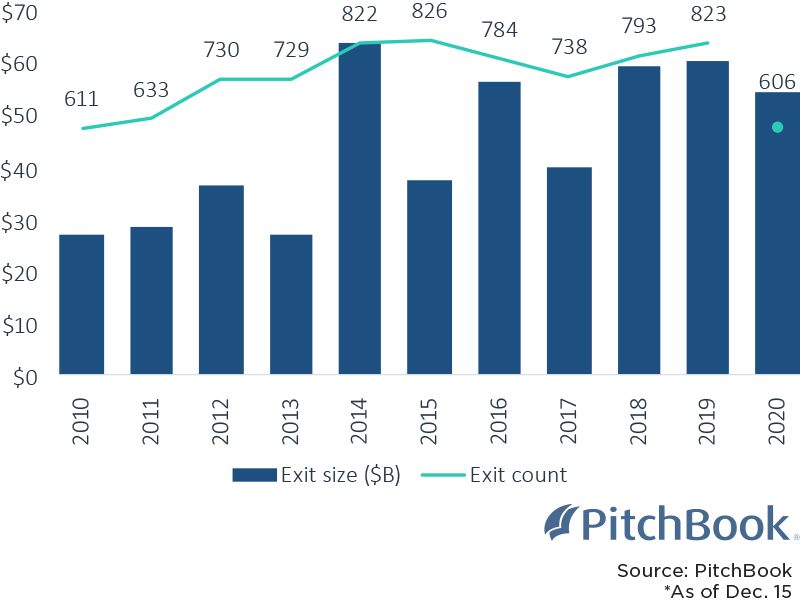 In a total reversal of the decade highs set across the US venture capital industry this year, 2020 marked a 10-year low for VC exits via a merger or acquisition. As of Dec. 15, only 606 such exits were completed, down over 26% from a decade high of 826 in 2015.

Among 2020's biggest venture-backed M&A exits were Intuit's $8.1 billion purchase of Credit Karma and Aurora's $4 billion deal for Uber's self-driving unit.

Featured image via Micheile Henderson/Unsplash
Join the more than 1.5 million industry professionals who get our daily newsletter!