Private equity (PE) and venture capital (VC) are two major subsets of a much larger, complex part of the financial landscape known as the private markets. Because the private markets control over a quarter of the US economy by amount of capital and 98% by number of companies, it's important that anyone in any business capacity—from sales to operations—understands what they are and how they work.
In a previous article, we discussed the key differences between the public and private markets. Namely, that companies within the public markets sell shares to the general population—who can then buy, sell or trade them on a stock exchange—whereas companies within the private markets give professional investors equity in exchange for funding. Here, we'll focus on the two largest markets that make up the private market landscape: PE and VC.
Similarities between PE and VC
PE and VC firms both raise pools of capital from accredited investors known as limited partners (LPs), and they both do so in order to invest in privately-owned companies. Their goals are the same: to increase the value of the businesses they invest in and then sell them—or their equity stake (aka ownership) in them—for a profit.
How are PE and VC different?
At a glance: The main differences between private equity and venture capital
PE and VC primarily differ from each other in the following ways:
A closer look: PE vs. VC
Private equity investment firms often take a majority stake—50% ownership or more—in mature companies operating in traditional industries. PE firms usually invest in established businesses that are deteriorating because of operational inefficiencies. The assumption is that once those inefficiencies are corrected, the businesses could become profitable. This is changing a little as PE firms increasingly buy out VC-backed tech companies.
By contrast, venture capital investment firms fund and mentor startups. These young, often tech-focused companies are growing rapidly and VC firms provide funding in exchange for a minority stake of equity—less than 50% ownership—in those businesses.
How does venture capital work?
To raise the money needed to invest in companies, VC firms open a fund and ask for commitments from limited partners. Using this process, they're able to draw from a pool of money that they invest into promising private companies with high growth potential. As companies grow, they go through different stages of the venture capital ecosystem. VC firms usually focus on one or two VC funding stages, which impacts how they invest.
If a company a VC firm has invested in is successfully acquired or goes public through the IPO process, the firm makes a profit and distributes returns to the limited partners that invested in its fund. The firm could also make a profit by selling some of its shares to another investor on what's called the secondary market.
Examples of VC-backed companies
Examples of VC firms
How does private equity work?
Similarly, PE investors also raise pools of capital from limited partners to form a fund—also known as a private equity fund—and invest that capital into promising, privately owned companies. However, the companies PE firms want to invest in usually look different from the startups VC firms get involved with.
For starters, private equity investors might invest in a company that's stagnant, or potentially distressed, but still has growth possibilities. Although the structure of private equity investments can vary, the most common deal type is a leveraged buyout (LBO).
What is a leveraged buyout?
In an LBO, an investor purchases a controlling stake in a company using a combination of equity and a significant amount of debt, which must eventually be repaid by the company. In the interim, the investor works to improve profitability so that debt repayment is less of a financial burden for the company.

When a PE firm sells one of its portfolio companies to another company or investor, the firm usually makes a profit and distributes returns to the limited partners that invested in its fund. Some private equity-backed companies may also go public.
Examples of PE-backed companies
Examples of PE firms
Why the private markets are becoming more valuable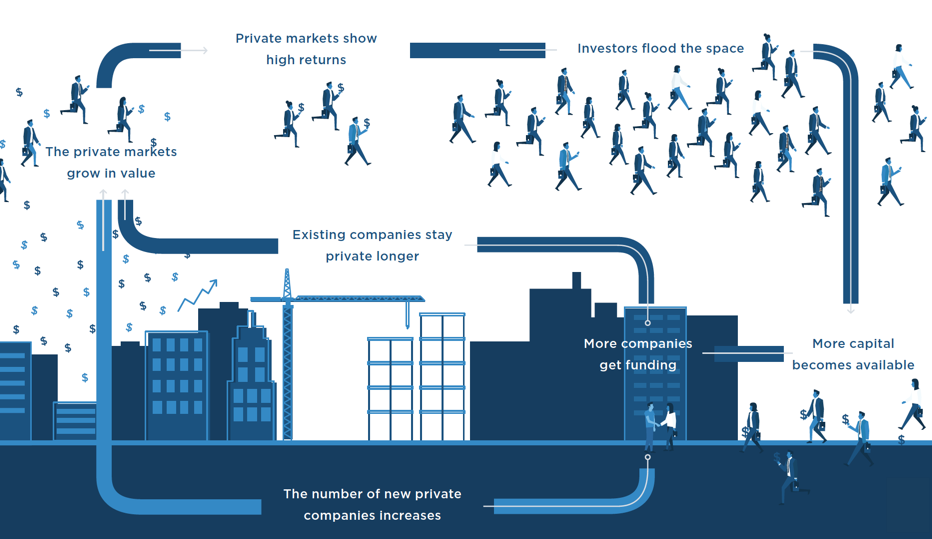 In the past, private companies often went public when their need for capital exceeded what private investors could provide. With a public debut, a company could quickly raise a large sum of money from public shareholders and use it to scale. In the last decade that approach has become less common for two main reasons:
Investors have flooded the private markets
Drawn in by the potential of high returns, more and more investors have entered the space, creating an influx of available capital. This in turn has altered the trajectory of private companies because they're no longer forced to raise capital on the public markets. With companies now taking longer to go public, many PE firms have turned their sights to
crossover investments
, which emulate VC activity. Changes in the private market have also led to an expansion of
venture debt and growth equity
, two investment strategies that bridge the gap between VC and PE.
More private companies are getting funded
As more investors pour more money into the private markets, it's now easier than ever for new private companies to get the funding they need to grow. As a result, we've seen a sharp influx in the number of VC-backed startups and PE-backed companies in recent years. In other words, as more money flows into this space and as more companies stay or start up within it, the private markets will continue to grow in value and opportunity.
How PE and VC work together
As capital flows through the private markets, it moves from entity to entity through a series of financial transactions. Every time capital changes hands in the private markets, professionals advise on or execute the transaction, which then initiates a growth or transition phase for the company or companies involved. The map below illustrates a simplified version of these exchanges.
Hover or click on the map to see where businesses and service providers can enter the process.