M&A graveyard: The 11 largest failed deals in Europe
July 31, 2018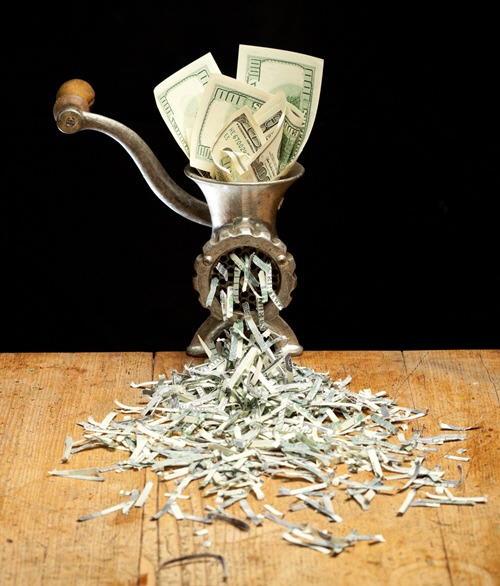 It's over.
A trade spat between China and the US led Chinese regulators to quash
Qualcomm's proposed $44 billion acquisition
of Dutch business
NXP Semiconductors
last week.
The deal would have created one of the largest technology companies in the world, and it also would have ranked as one of the biggest deals for a European semiconductor company.
But exactly how big was it, in that context? With that question in mind, we decided to examine the top 11 failed M&A deals in Europe by value. So, where does NXP rank?
To avoid confusion and potentially tedious arguments in the future, for the purposes of this article we are not including targeted companies that relocated to Europe mainly for tax reasons, deals that were speculated on by the media but categorically denied by one of the companies involved, and rumoured attempts of businesses trying to sell themselves.
That means
Pfizer
and its $160 billion attempt to corral
Allergan
is cut. Teva/
Mylan
is cut.
AT&T
's denied €70 billion offer for Telefónica, you're gone.
Hexagon
, I like your hustle in reportedly trying to sell yourself for $20 billion last year…that's why it was so difficult to cut you.
Let's now run through the continent's biggest canned deals, in reverse order, with the acquirer first and target company second, followed by the date of cancellation. Where applicable, deal values have been converted to euros for consistency at an exchange rate as close to the deal date as possible.
11. Vonovia/Deutsche Wohnen, February 2016 (€14 billion)
Hostile bids are always a messy affair, and
Vonovia
's pursuit of
Deutsche Wohnen
in 2015 and 2016 was no exception. The real estate giant took its €14 billion offer directly to Deutsche's shareholders, only to see its proposal garner support from less than a third of them.
10. Endesa/Iberdrola, February 2001 (€15.2 billion)
The electricity utility companies' agreement to merge in 2000 would have potentially valued the combined business at some €36.6 billion and moved it up to a reported fourth place in terms of globally installed capacity. However, the two ultimately chose to cancel the €15.17 billion tie-up, reportedly citing onerous concessions put forth by the Spanish government.
9. HP/PwC consulting business, November 2000 (up to €17.8 billion)
Before being embroiled in lawsuits over acquiring Autonomy and splitting itself in two,
Hewlett Packard
was making other eyebrow-raising strategic calls. This included a phenomenal effort to acquire PwC's consultancy arm for up to $18 billion in a bid to boost HP's technology advisory services. The tech company ultimately dropped its attempt, however, after the two parties could not agree on terms. Incredibly, two years later, HP rival
IBM
scooped up the consultancy unit for just $3.5 billion, with HP also in pursuit again at the time.
8. Aviva/Prudential, March 2006 (€24.7 billion)
Sometimes, you just have to walk away. More than a year before the near-implosion of the global banking system, financial services was still a booming sector.
Prudential
was one such business, with the insurer posting a 33% jump in yearly operating profits in 2005. This was the precursor to an informal £17 billion approach by peer
Aviva
. Yet despite a week in the air, Prudential boss Mark Tucker refused to discuss the deal, leading to Aviva dropping the bid rather than go hostile.
7. PPG Industries/Akzo Nobel, June 2017 (€26.9 billion)
One of the most hostile takeover attempts last year involved
PPG Industries
' pursuit of paints and chemicals company
AkzoNobel
. The Pittsburgh-based company stalked AkzoNobel over three months from March, ultimately pulling the plug after its third and final €26.9 billion offer was rejected. The corporate fracas also saw hedge fund Elliott Management agitate the Dutch company by attempting to oust chairman Antony Burgmans. He stepped down of his own volition at the end of his term in April 2018.
6. Deutsche Boerse/London Stock Exchange, March 2017 (€35.2 billion)
Not once, not twice, but three times a failure. After unsuccessful attempts in 2000 and 2004 to strike a deal, the German and London exchange operators finally agreed a £21 billion tie-up in 2016. However, questions about competition dogged the deal from the get-go, while the UK's decision that summer to leave the EU heightened political tensions about where the new business would be based.
Ultimately, the European Commission made such ideological grandstanding moot, blocking the merger in 2017 on competition grounds. The fact
Deutsche
Boerse
's CEO Carsten Kengeter had to step down amid continuing allegations of insider trading certainly did not help the process.
5. Qualcomm/NXP Semiconductors, July 2018 (€37.7 billion)
The latest addition to the list placed fifth, after having been flogged in the public eye for nearly two years. After seemingly getting through the majority of the clearance process regulation-wise, the deal had the misfortune of being used as a political pawn between China and US amid a growing trade war. China ended up canning the deal but has left the door open to both companies to resolve the antitrust concerns. The announcement of massive share buyback programmes by both Qualcomm and NXP in the takeover's place suggest that reconciliation isn't an option either of them is actively pursuing.
4. Eon/Endesa, April 2007 (€42.3 billion)
Endesa
makes its second appearance on the list, this time as the target of a move by
Eon
. The German energy giant led a year-long campaign, beginning in February 2006, and looked destined to succeed after a €27.50 per share bid was cleared by EU and Spanish regulators. Yet the move was sideswiped as rivals
Enel
and
Acciona
each built minority positions in Endesa, with the idea of launching their own takeover bid. Despite increasing its offer to some €40 per share, Eon admitted defeat and instead agreed to buy several assets from Enel and Acciona worth €10 billion altogether.
3. AbbVie/Shire, October 2014 (€42.6 billion)
Although Shire is one of the crop of companies that moved to Ireland for tax purposes, the fact that it is originally from the UK rather than outside Europe means it makes our list—and how. A £32 billion deal was agreed with US-based
AbbVie
, which itself was using the agreement to relocate its corporate base to Jersey for tax purposes. This was one of a wave of so-called "inversion" deals, however, and the US Treasury took notice, bringing in new rules to dissuade US companies from using acquisitions to redomicile. In response, the AbbVie board and shareholders voted against the deal.
2. Monsanto/Syngenta, August 2015 (€43.7 billion)
US agricultural giant
Monsanto
was spoiling for a fight with its hostile stalking of Swiss company
Syngenta
. After having an initial $45 billion offer spurned in May 2015, Monsanto returned with a further bid which valued the business at around $47 billion. Yet again Syngenta rebuffed the approach, saying that the deal price was "inadequate" and that regulatory and headquarter concerns were unaddressed. Monsanto dropped its bid in August 2015, before being acquired by
Bayer
nearly three years later for $66 billion. It wasn't long before Syngenta found a deal value that it could agree on, either, opting to be acquired by
ChemChina
for $43 bill…wait, what?
1. Kraft Heinz/Unilever, February 2017 (€134.3 billion)
The brightest stars often shine for the shortest time.
3G Capital
- and
Berkshire Hathaway
-backed
Kraft Heinz
shocked everyone in 2017 by launching an audacious $143 billion bid for the Anglo-Dutch consumer goods giant
Unilever
, which was flatly rejected. Just one business day later, the US company agreed to drop its pursuit, with reports suggesting it had underestimated just how hard it would be to get the deal through regulators and shareholders. The attempt did spark a flurry of activity from Unilever, however, with the company launching a strategic review and looking to dispose of a number of businesses shortly after.
Check out more of our M&A coverage here.