Coronavirus
Coronavirus updates: Coronavirus effects on private markets (July 6-July 12)
July 10, 2020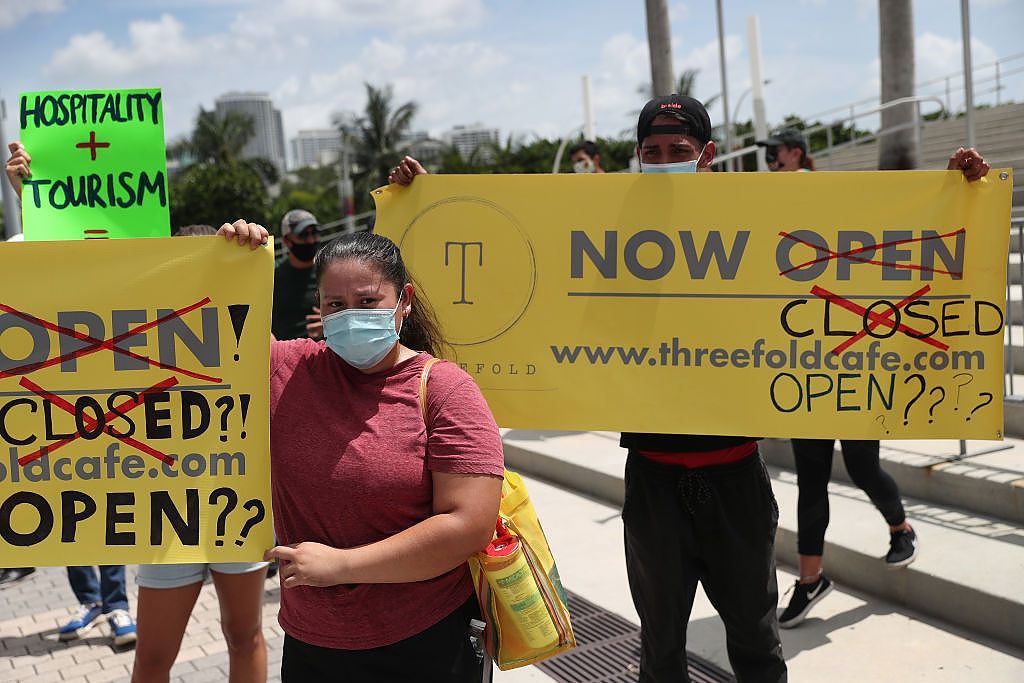 PitchBook is providing ongoing coverage of the coronavirus outbreak and its effects across the private markets and the economy.
Latest news on the coronavirus
In case you missed it:
PE strategies shift in Q2 as the pandemic persists
During the first six months of 2020, private equity deal value in the US was down nearly 20% from the first half of last year, a stark sign of how the pandemic has transformed the industry landscape. Firms have sought to back out of some deals and passed on others, shifting their focus away from traditional buyouts and toward add-ons, PIPE deals and other strategies.
The changes extend into every nook and cranny of the PE industry, including exits and fundraising. PitchBook's
Q2 US PE Breakdown
has the data behind all the developments, with other key takeaways including:
Median buyout size has declined in 2020 for the first time in five years
Exit activity collapsed in Q2, with firms opting to hold marked-down assets rather than sell at a discount
A few mega-funds buoyed fundraising activity, although last year's record amount of capital raised will likely remain out of reach
—Wylie Fernyhough and Andrew Akers, 12:35 p.m. PDT
Coronavirus effects on venture capital
Over 8,000 privately backed companies got billions in PPP loans, SBA data shows
PE and VC portfolio companies were approved for as much as $13.4 billion worth of loans meant to curb job losses from the pandemic,
according to a PitchBook analysis
of government data.
More than 2,500 PE-backed companies and 5,600 VC-backed companies received loans, the majority of which were for less than $1 million, the data shows.
The federal disclosures offer the first glimpse into the massive stimulus program for small businesses and are vital to understanding its impact, industry experts say.
Yet several companies on the list have denied taking out loans, casting doubt on the accuracy of the data.
—James Thorne, 6:03 p.m. PDT, July 8
Farmers seek help from startups after food supply chain disruption
When the coronavirus outbreak forced many restaurants and their food supply channels to suddenly shut down, it left farmers who provide much of the produce to that industry scratching their heads as to what to do next.
"A few months ago, I suddenly felt like everything was a question mark," said Sean Hagan, founder of Maine-based Left Field Farm, which grows organic vegetables, fruits and seedlings. "We did not know who we were going to be able to sell to."
As heaps of produce sat with nowhere to go,
local farmers were in need of technical support and a robust network
to pivot their produce from restaurants and other low-demand sectors to the retail industry. This is where supply chain startups stepped in.
—Priyamvada Mathur, 12:00 p.m. PDT, July 8
Who really accepted PPP loans?
Confusion reigned after the US government's list of Payment Protection Program loan recipients named various high-profile startups and venture capital firms, including some who denied even applying for the $669 billion pandemic relief program.
In the spring, a fierce debate erupted across the business world over whether companies with wealthy investors should accept emergency relief funds.
Among the VC firms that said they had been listed in error were Andreessen Horowitz, Index Ventures and Foundation Capital. Bird, the venture-backed scooter rental startup, also cried foul for being named in the list published Monday by the Small Business Administration.
The SBA didn't immediately comment on the claims of erroneous data.
In a statement earlier in the day, the agency said the list reflects 4.9 million approved loans totaling more than $521 million through June 30. The average loan size was about $107,000, with the vast majority under $50,000 and more than 4,800 loans ranging from $5 million to $10 million.
—Alexander Davis, 6:26 p.m. PDT, July 6
Talking about tech's response to COVID-19 on 'In Visible Capital'
In the
latest episode of our "In Visible Capital" podcast
, PitchBook emerging tech analyst Ryan Vaswani dives deeper into his analyst note "Accelerating History: Pandemic-Driven Tech Opportunities." The topics discussed include:
How the healthcare industry and others have accelerated their tech capabilities in response to COVID-19 and how companies have focused resources to improve the accuracy of tests.
Where investors have directed their capital to help the pandemic response, what's next for edtech companies and why the move toward digitization is inevitable.
—Adam Lewis, 5:13 p.m. PDT, July 6
Not all VC investors are being slowed down by the pandemic
As the venture capital industry pumped the brakes on dealmaking, a handful of investors are taking a different tack.
Among the 20 most active US VC firms with assets under management of $500 million or more, just five have recorded more deals in the first half of this year than in the same period last year, according to PitchBook data.
Some of the venture world's biggest names⁠—including
NEA
and
Kleiner Perkins⁠
—have done half as many deals as they did last year. Industry-wide, the quarterly pace of dealmaking has dropped to its lowest level since 2012. But some firms sense there's
a small window of opportunity in the coronavirus era
, as companies experiencing a tailwind look to capture more market share.
—James Thorne, 3:41 p.m. PDT, July 6
Coronavirus effects on private equity
PE-backed Lucky Brand files for Chapter 11
Lucky Brand
, a Los Angeles-based seller of denim and other apparel, has filed for Chapter 11 bankruptcy protection and intends to close 13 stores, citing the pandemic. As part of the agreement, SPARC Group, the operator of brands including
Nautica
and
Aeropostale
that's backed by
Authentic Brands Group
, has agreed to purchase the company's operating assets as a stalking-horse bidder. Lucky was originally acquired by
Leonard Green & Partners
for around $225 million in 2014.
—Adam Lewis, 5:10 p.m. PDT, July 6
KKR-backed cafe owner crumbles
Myriad restaurants have gone bankrupt or shut down for good in recent months, unable to overcome slowing sales and forced closings caused by the pandemic. A growing list of UK eateries backed by private equity firms is no exception, despite the deep pockets of their owners.
The latest example is
Casual Dining Group
, the
KKR
-backed owner of the Café Rouge and Bella Italia chains in the UK and beyond. The company went into administration Thursday, a move that will result in CDG immediately closing 91 locations and laying off nearly a third of its 6,000 workers. CDG first filed to appoint an administrator in May, according to reports, with hopes of deciding on a restructuring plan that would allow it to avoid legal action from its landlords.
—Eliza Haverstock, 2:30 p.m. PDT, July 6
PitchBook reports on the coronavirus impact on private markets
Shifting VC landscape marked by layoffs, dip in deals
Since March 11, nearly 45,000 employees have been laid off across more than 370 venture-backed companies. That's just one of many startling statistics from the past several months. But it may be the starkest indication of the widespread changes the pandemic has wrought across the startup scene.
In the new edition of PitchBook's
Quantitative Perspectives
, our analysts turn their attention to the past, present and future of how US venture capital fares during times of economic turmoil, with data on everything from current macroeconomic trends to the exit environment during the global financial crisis. A few key takeaways:
A pull-back from nontraditional VC investors could help drive down deal flow
The IPO market has so far proven resilient, but that may change as the pandemic unfolds
More startups may turn to debt financing as a way to avoid down-rounds and dilution
—Daniel Cook, Andy White, Van Le and Masaun Nelson, 2:45 p.m. PDT, July 7
Predictions vs. reality in the 2020 venture landscape
After a decade of record-setting growth, expectations were high for the venture industry in 2020. Instead, this has become a year the likes of which the world has never seen.
As VC faces a fundamentally altered reality amid the effects of the coronavirus pandemic, PitchBook analysts
revisit the predictions
they made at the end of last year.
—Kyle Stanford, Joshua Chao and Cameron Stanfill, 2:28 p.m. PDT, July 6
Did you miss any of our continuing coverage of COVID-19? Find our previous updates below: